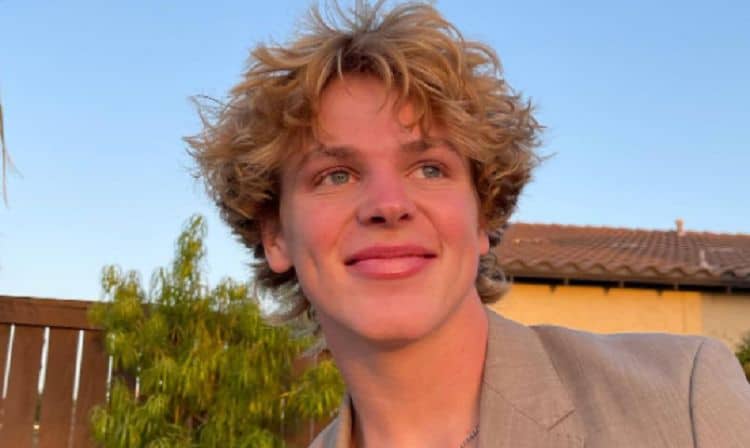 Over the last year or so, Jack Wright has become incredibly popular over social media. Now with more than a million followers, he has gotten the opportunity to reach people all over the world. While he is well known for creating wholesome content, his name was recently in the mix of a very disturbing story. Several sources have reported that Jack's ex-girlfriend and fellow content creator, Sienna Mae Gomez, sexually assaulted Jack. Sienna has spoken out to deny the allegations, but Jack seems to be doubling down on the alleged incident. Although things may not have been easy for him as of late, Jack is still doing his best to stay upbeat and positive. Keep reading for 10 things you didn't know about Jack Wright.
1. He Went To High School With Sienna
Since Jack and Sienna are both influencers, most people probably assume that they met online. In reality, however, they met in a more 'old-fashioned' way. The two actually attended high school together According to Jack's friend, Mason Rizzo, Sienna also has a history of being verbally abusive to people in high school.
2. He Spends A Lot Of Time Outdoors
Being on the internet all day is how Jack made a name for himself, but that doesn't mean all he wants to do is sit and stare at a screen all day. He loves to get outdoors and explore the beauty of nature. Some of his favorite outdoor activities include swimming and working out.
3. He Loves To Travel
Jack Wright is only a teenager, but he's already gotten the chance to experience more of the world than most people can even imagine. He loves getting to visit new places and try new things and has traveled to several destinations across the United States including Hawaii and Puerto Rico.
4. He Has A YouTube Channel
TikTok and Instagram are the social media platforms people tend to think about when Jack Wright comes to mind. However, he has also experimented with creating longer content through his YouTube channel. At of now, his channel has 121,000 subscribers and more than 1.9 million views.
5. He Belives In The Importance Of Mental Health
Although conversations surrounding mental health have become more and more common over the last few years, it can still be a very sensitive subject for a lot of people. Jack, however, is hoping to change that. While talking to E! News, he said, "I think it's really important to beat the stigma around teen mental health. I think anyone can see a therapist because it's so important to talk to someone. For me, I've struggled with a couple of things through the past nine months and I just know that talking to people and talking to therapists and talking to my parents just really helps me through it."
6. He Has A Twin Brother
James comes from a very close knit family, and that's something he's proud of. He has an especially close relationship with his twin brother, James. James is also really popular on social media and he currently has 3.8 million followers ok TikTok. The twins do not appear to be identical.
7. He Got His Nipple Pierced
Thanks to the success he's had on social media, there are a lot of things about Jack's life that are vastly different from other kids his age. Undernearth it all, however, he's still just a teenager who likes to get a littl wild and spontaneous from time to time. In a YouTube video, Jack shared the process of getting one of his nipples pierced after he was dared to do it.
8. He's Fairly Private
Because social influencers spend so much of their time posting on the internet, some people mistake them for being the kinds of people who like to share their business with the world. However, Jack, like many other influencers, is actually a private person. He very rarely posts anything having to do with his personal life.
9. He Was A Track Star
Nowadays, Jack is most well known for his creative side, but there was a time (not so long ago) when his athleticism is what got him the most attention. He competed in track and field for several years and was a member of the high school track team. He participated in pole vaulting.
10. He Likes Fashion
Jack may not have any experience as a professional model, but has a nice sense of style and fashion is a great way for him to express himself. He loves to wear casual clothing and although he isn't into expensive name brands like some other influencers, he's capable of looking good in whatever he wears.
Tell us what's wrong with this post? How could we improve it? :)
Let us improve this post!