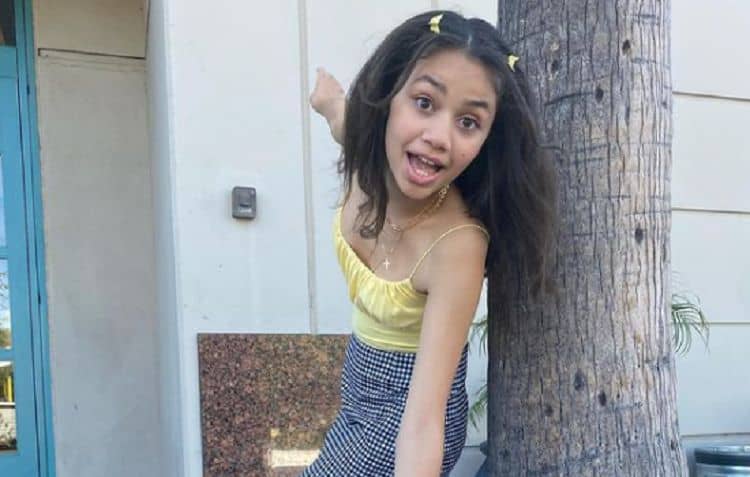 When kids break into the entertainment industry, there are lots of people who believe that they only get opportunities because they're little and cute. Izabela Rose, however, has proven that she is much more than just another cute kid. Despite being relatively new to the business, she still manages to carry herself like an experienced pro. In 2021, she got her big break when she was cast in the Disney series Secrets of Sulphur Springs and her star has been on the rise since the show was released in January. With another season definitely underway, the sky is officially the limit for Izabela's career. Keep reading to learn 10 things you didn't know about Izabela Rose.
1. She's A Georgia Native
Izabela Rose was born and raised in Georgia in a small town called Flowery Branch which is located about 45 minutes outside of Atlanta. She comes from a very tight family and had a happy upbringing. Although her hometown will always be near and dear to her heart, she eventually made the choice to move to Los Angeles to pursue her acting career.
2. She Has A YouTube Channel
Most people probably wouldn't consider Izabela to be a YouTuber, but she does have a channel on the platform. So far, she's only uploaded two videos, but there's a chance she will become more consistent in the future. Even with just two videos, the channel has more than 3,000 views.
3. She Loves Animals
Most people would agree that being an animal lover is typically a sign that someone has a compassionate personality. Needless to say, compassion is one thing that Izabela has plenty of. Izabela enjoys spending time outdoors and she loves all kinds of animals. That being said, it's unclear if she has any pets.
4. She Has Fashion Design Skills
Fashion is another one of Izabela's favorite ways to express herself, and she has a knack for being able to put outfits together. While most actors work with stylists, Izabela likes to come up with lots of her looks on her own. During an interview with Glitter Magazine, Izabela said, "Fashion is a big passion of mine, and I like to design my own dresses for important events. This all started from my pageant days!"
5. A Radio Announcement Started Her Acting Career
Izabela doesn't come from an acting family, but her parents have always been very supportive of her dreams. One day, she heard an open casting call on the radio and she decided that she wanted to go out for the opportunity. Little did she know it would eventually lead to the chance to work with Disney.
6. Steven Spielberg Personally Selected Her For An Opportunity
Steven Spielberg is one of the biggest names in the entertainment industry, and Izabela is on his radar. Spielberg personally chose her to appear in Apple TV's Amazing Stories. The role was her first major opportunity and she is thankful that Spielberg noticed her talent and gave her a chance.
7. She Hopes To Inspire Others
Of course, Izabela hopes that viewers will always be entertained by the work she does. However, she hopes to do much more than that. She would love to user her talents to inspire others and help them gain the confidence to know that they can achieve all of their dreams.
8. She's A Singer
Acting is what Izabela is best known for at this point in her career, but it isn't the only area of the arts she's talented in. She is also a great singer. Izabela hasn't released any of her own music yet, and there no information on if she plans to. Hopefully, however, she will get the chance to act in a project that allows her to use her singing skills as well.
9. She Wants To Do An Action Movie
Izabela may still be very early on in her career, but that doesn't mean that she can't dream about the future. She's open to doing a wide variety of projects, but she hopes that one day she gets the chance to start in an action movie. Not only would an action role be fun for her, but it would be a great way to show the world that she can do any genre.
10. She Likes To Meditate
Being in the entertainment industry can be overwhelming, especially at such a young age. Still, however, Izabela is determined to keep herself grounded. One of the ways she does this is by meditating. She told Glitter Magazine, "This helps me focus – and it keeps me in my happy place!"
Tell us what's wrong with this post? How could we improve it? :)
Let us improve this post!