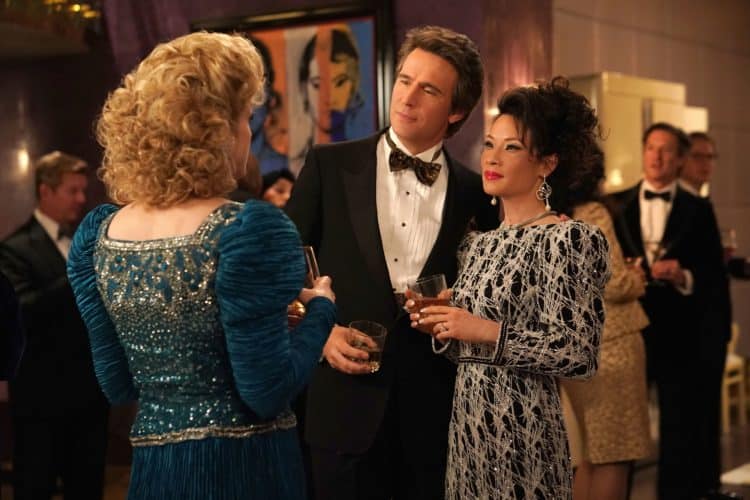 Jack Davenport has been fortunate to have an acting career that consists of two things that are nearly impossible to come by: consistency and longevity. He has been acting on screen for nearly 25 years and in that time he has become well-known and well-respected by peers and fans alike. Davenport's ability to bring any character to life has served him well throughout his career. No matter what kind of project you see his name attached to, you know that he is going to make it something special. On top of it all, Jack has managed to remain humble and his fans really love him for it. Keep reading for 10 things you didn't know about Jack Davenport.
1. His Parents Are Actors
To many people, Jack's decision to get into acting probably didn't come as much of a surprise. His father, Nigel Davenport, had a successful career on the screen and the stage. His mother, Maria Aitken has also had a very successful career. Despite the fact that they had both had great careers, Jack's parents never pushed him towards acting.
2. He Grew Up In Spain
Jack was born in London and that will always be the place he considers home, but that isn't the only place that has served as home to him. For the first 7 years of his life, he and his family lived in Ibiza. The island, which is located off the coast of Spain, has become well-known as a beautiful tourist destination.
3. He Went To Boarding School
Jack's parents divorced when he was around 11-years-old, and they made the decision to send him to boarding school. Although he ended up thriving in the environment, being away from his parents wasn't easy – especially at such a delicate time in his life. Still, however, he highly recommends the Dragon school in Oxford.
4. He Doesn't Spend A Lot Of Time Watching Himself
There are some actors who love to watch all of their projects on repeat and some who prefer to never watch a single thing. Jack is somewhere in the middle. He told Mirror, "I don't settle down with a boxset of me of an evening. I'll watch it once because I'm curious to see how it turned out and I want to see what everybody else did. The scenes you're not in are much more enjoyable because you can relax, but I'm dubious about actors who say, 'I never watch myself,' because why wouldn't you? You need to see if something works or not, you have a duty to check how it panned out."
5. He's Been On Broadway
There's something about being on stage that many actors simply can't resist. Even though on screen roles come with more notoriety, the stage is where performers tend to feel the most at home. In 2018, he got made his Broadway debut in a production of Saint Joan.
6. He's A Private Person
Jack genuinely loves what he does, but he has never been the type of actor to get caught up in all of the extras that come with being a celebrity. He is a very private person and he intends on keeping that way. Not surprisingly, he isn't active on social media at all.
7. He Studied English And Film
Drama school is typically par for the court for someone who wants to pursue a career in acting. But Jack decided he wanted to do things a little differently. While talking to Interview Magazine Jack said, "I decided to go to university instead of drama school, because I thought it might be my last chance to study something that wasn't entirely related to drama." While at university he studied film and English literature.
8. He Once Wrote John Cleese To Ask For A Job
Sometimes you have to be willing to step outside your comfort zone to get an opportunity, and early in his career Jack was willing to do just that. During his interview with Mirror Jack revealed an interesting piece of information. He said, "I wrote a letter to John Cleese when I was 22 to try and get a job as a runner on Fierce Creatures and he gave me a part as a zookeeper. No one has ever played a smaller part in anything ever. You'd have to freeze the frame and look really, really carefully to find me in the crowd."
9. He's A Husband And Father
When Jack isn't working, he's spending as much time as he can with his family. Jack has been married to actress Michelle Gomes since 2000. Michelle is best-known for her role in shows like Bad Education and The Book Group. The couple has one child together: a son who was born in 2010.
10. He Was Almost Cast In Titanic
The 1997 film, Titanic, is one of the most successful movies of all-time, and Jack Davenport almost got the chance to be a part of it. At one point in time, he was being considered for the role of Cal Hockley, but the casting team felt he was a little too young. The part ultimately went to Billy Zane.
Tell us what's wrong with this post? How could we improve it? :)
Let us improve this post!