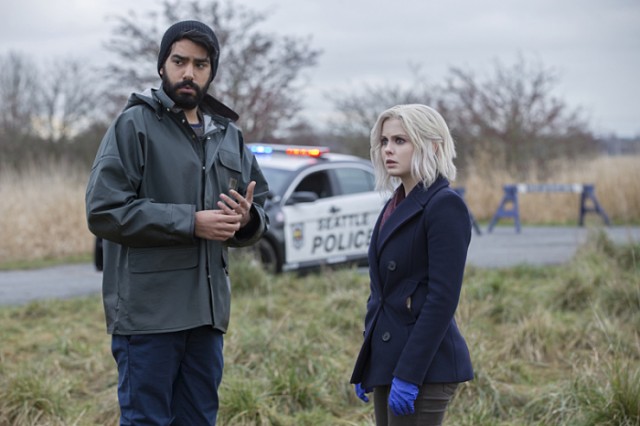 The past couple episodes of iZombie have switched gears a little bit. Instead of the show focusing on the "brain of the week" that Liv eats and how it affects her relationships and the cases she works with Clive, it has been paying more attention to the serialized elements of the series, including Liv, Ravi, and Major's search for the Utopium, the rivalry between Stacey Boss and Blaine, and Clive and Bozzio's investigations into the Chaos Killer and the Meat Cute Massacre. However, this change hasn't been a bad thing; in fact, it's led to two of the busiest but also best episodes of iZombie Season 2, with last week's "Physician, Heal Thy Selfie" and tonight's all-new hour, "The Whopper."
The main reason why episodes like "Physician, Heal Thy Selfie" and "The Whopper" have worked so well is that they're beginning to bring the disparate storylines of iZombie Season 2 together. There's an argument to be made that the show is trying to do too much this year, but I appreciate the fact that every single character on iZombie has multiple things going on in their lives. No one is just a love interest or a stock villain, and everything on the show, from Major's work with Max Rager to even Liv's relationship with Drake, is beginning to converge, leading to quite the dramatic crescendo, one that, if the final few episodes of iZombie's first season are any indication, should be incredibly satisfying.
The best parts of tonight's episode were when season-long storylines began to make real progress or take unexpected twists and turns. Liv's connection with Drake leads to her discovering where the bodies are buried, so that she, Ravi, and Major can finally acquire the Utopium they've been searching for. And it happens just in time, too, since New Hope has died, previewing the expected fates for Major and Blaine if Ravi can't create a proper cure.
Meanwhile, Blaine not only discovers that Major is the Chaos Killer in this episode, but he begins working with him, ordering him to release his father from his frozen state and giving him specific members on his client list that he can take out, such as the reporter that we met last week. This development allows for Major to be the connective tissue between Blaine, Stacey Boss, and Vaughn Du Clarke, the three big bads that iZombie has set up over the course of Season 2. However, Blaine knowing the truth about Major also means that there's a good chance that Liv could soon find out. Even though he's not killing people, there's a lot that Major would have to explain to Liv, and I'm guessing that it would be a lot more awkward than the conversation that the two of them have in this episode, where Liv lies about Drake being in her bedroom, pretending that it's her brother, Evan.
In a short space of time, iZombie has been able to create an intricate web of stories, with each one just as important as the other. Every character, whether he or she knows it yet or not, is connected to Season 2's main plots; nothing happens in a bubble on this show. However, the iZombie writers, such as showrunner Rob Thomas, who wrote tonight's installment, also ensure that the more emotional moments on the series have time to breathe and are given equal weight to the plot. For example, while Major's conversation with Liv tonight was primarily about his confrontation with Blaine, it also carried the sadness and awkwardness of their break-up in it; Liv and Major still behave like exes trying to be friends, even given the heightened nature of the situations in which they find themselves.
And of course, the real highlight of "The Whopper" is its terrific ending, set perfectly to "One Day More" from Les Miserables. The song works masterfully throughout the hour's final scenes, adding even more comedy and absurdity to Blaine's prank on his father (and the subsequent torture he makes his dad go through when he won't change his will) before becoming louder and serving as the perfect anthem for Liv, Ravi, and Major's victory, as the trio discover the bodies with the Utopium. It's a wonderful closing sequence, made even better with the episode-ending freeze frame, and it proves yet again just how well iZombie utilizes music. For further evidence, one only needs to look to "Der Kommissar" during Major's zombie-killing rampage in the Season 1 finale, or Blaine and Ravi fighting over the cure while The Cure plays in the background.
Still though, even without its final 10 minutes, "The Whopper" would have been an excellent episode of iZombie. It's another strong hour that propels this season's major storylines forward while still providing us with plenty of great character moments, such as Ravi listening to "The Dark Side Podcast" during the episode's opening scene. Here's hoping Season 2's final six episodes can be just as great as the past two have been.
Other thoughts:
There were some fun moments of Liv lying throughout the episode. I especially loved her bartending story, in which she promised Clive that she was the inventor of a drink called "The Orgasm."
Rose McIver's wonderful delivery of "It's not a tumor" has me wanting an episode where Liv eats the brain of a celebrity impersonator, and you know that she'd have to bring back her Arnold impression for it.
A small but nice moment that I really appreciated: Clive talking with Ravi about Liv taking on the personality of the murder victims. He thinks it helps her get into her "psychic mind-frame," but I hope it's a hint that Clive will finally discover the truth about Liv by season's end.
I really can't get over how amazing the scene between Blaine, dressed as an old man with make-up and fake beard, and his newly unfrozen father was. Their entire conversation was fantastic, and then the inspired musical selection of "One Day More" made it even better.
Going off of The Dark Side Podcast's question from the beginning of the episode, what do you iZombie/Star Wars fans think about Kylo Ren? I personally liked him a lot in The Force Awakens.
"So someone's gotta make an obligatory popsicle joke, right? When'd it get so highbrow in here?" Never change, Blaine.
What did everyone else think about this week's episode of iZombie? Comment below and let me know.
[Photo credit: Photo: Jack Rowand/The CW]
iZombie Season 2 Episode 13 Review:
Summary
Liv makes a huge discovery, and Blaine confronts Major in another excellent episode of iZombie.