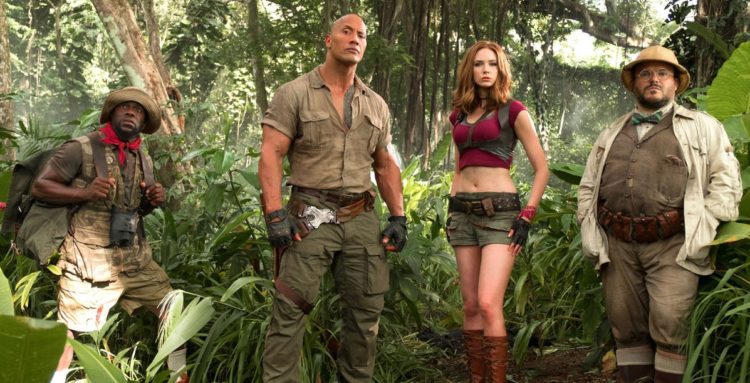 When speaking of what people will pay to see, Ryan Scott of MovieWeb is right, another Jumanji movie will no doubt pull in viewers in a big way since it's already established itself as a presence on screen and something that people enjoy. But the dip in interest between Welcome to the Jungle in 2017 and the latest entry is at least a little noticeable, and a lot of fans have taken note that even bringing in legends like Danny DeVito and Danny Glover really didn't up the value of the movie that much since the story changed in such a drastic way that it felt a little…off. There was plenty of adventure, plenty of humor, and the effects were still spot on, but the story could have used a little more oomph to it, a more definitive punch than was given when the heroes went up against the final boss of the game. A Jumanji berry? In a way it almost felt as though the writers came up with a few of the ideas at the last second without really digging in to why they were important. It's not at all surprising that a part 4 will be coming down the pipeline or why it will be at the forefront of Sony's To Do list when the studios reopen, but trying to think of why this would happen yet again and why the game is so determined to break free is kind of difficult given that in the first Jumanji, with Robin Williams, and up until Welcome to the Jungle, it was content to sit and wait to be activated.
That the game has taken on a life of its own at this time isn't hard to see thanks to the ending of the last movie, but what we'll see in regards to the game at this point is kind of up in the air as some folks have been calling for the return of Van Pelt, the hunter from the first movie, considering that he was the big bad the first time around. With Dwayne Johnson expected to return, along with the rest of the cast, it's hard to think that the vicious hunter would be any worse than the other two villains that ended up being kind of 'meh', but maybe with an update he could be every bit as ferocious. After all, Dr. Bravestone can't really punch a guy from a distance, can he? Plus, we did get to see in the last movie that each character gained a strength and a weakness, so perhaps there's something more to the idea than is being seen at the moment. Still, it's a wonder as to whether this idea is going to be worn down until it finally can't produce any longer, which is one of the biggest fears of any movie franchise these days since the bar has to keep raising higher and higher until it's nearly unattainable since at that point most movies have gone as far as they can in terms of effects, story, and credibility.
One thing that a lot of people, or maybe just a few of us, would hope to see is another tribute of sorts to the man that helped to make Jumanji as memorable as it is, Robin Williams. There was a nice tribute to his character, Alan Parrish, in Welcome to the Jungle, so perhaps we'll see another one in the movie yet to come since it would be remiss if he wasn't at least mentioned. The guy made the movie worth watching really since the kids, cute as they were in their roles, weren't enough, and he was after all the central character that was first sucked into the game and made to live on his own in the jungles of Jumanji. Since he came back as such a wild man however it does make a person stop and think that maybe human interaction is what's been making Jumanji change over the course of the last couple of movies, giving it the strength to keep coming back and advancing to each new level. Obviously the game is a thinking presence, as it's been evolving with each movie and finding new ways to survive and to challenge those that it deemed worthy, in a way, of continuing the game. It's odd to think that it's had such rigid, internal programming since the start since otherwise things might have been different in Welcome to the Jungle, but obviously the game does exist by its own rules and doesn't break them, though it certainly knows how to bend and move around them as a living thing might. Maybe the next movie will show Jumanji as antagonist or protagonist, or both, since there is something to those gems the characters have to liberate before yelling "Jumanji" to set things right. Tara Aquino of Mental Floss has a few facts that might shed a little more light on the game.