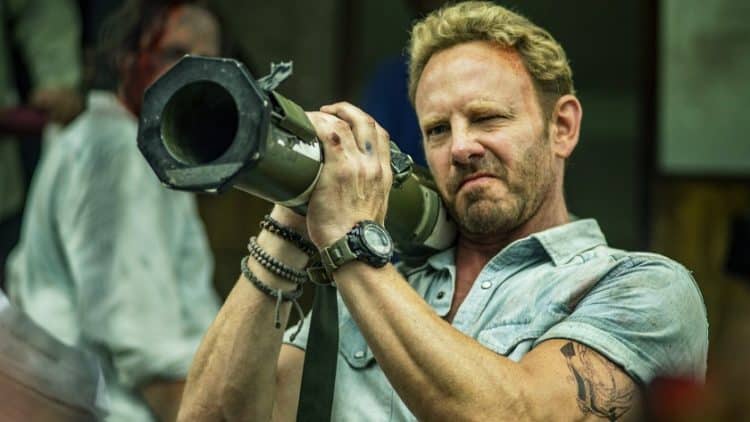 Ian Ziering is back, and not just in BH90210. He's back on the Syfy channel in a sort of spin off to the "Sharknado" series that premiered on SyFy in 2013 and had five sequels. Ian Ziering's production company brings us "Zombie Tidal Wave" which premieres Saturday, August 17 at 9 pm as part of SyFy's "Off the Deep End Weekend". The SyFy event will also include the Sharknado series. While about as campy as "Sharknado", "Zombie Tidal Wave" tries to add some more realistic gore to the spoofy genre.
Is Zombie Tidal Wave the Next Sharknado?
Back in 2013 the SyFy channel came out with one of the campiest, laughable and most popular sensation, "Sharknado." The movie was a major spoof on disaster films like "Earthquake" and "Twister" and also a spoof on summer suspense films like the most classic, 1975's "Jaws". "Sharknado's" plot was about a waterspout that mysteriously lifted up sharks out of the ocean and spun them in tornados throughout Los Angeles. Ian Ziering played the hero, Fin Shepard, a former surfer. The "Sharknado" series starred Ian Ziering and Tara Reid. As it gained popularity, the movies featured cameos by famous celebrities. The film spawned five sequels with the last one released last summer.
Plot
Similar to "Sharknado", "Zombie tidal Wave" features a rare ocean phenomena that launches a danger to people. Instead of Shark's in funnel clouds, this disaster is a tidal wave filled with zombies that wash ashore on a quite island, terrorizing its inhabitants. Ian Ziering plays Hunter Shaw, a former New York City fire fighter. After the terrorist attacks on September 11, 2001, Shaw retires and moves to a remote southeast Asian island in Emry's Bay to deal with the loss and his grief. He settles into a quiet life and becomes a fishing boat captain. Shaw must now face a natural disaster. A mysterious tidal wave washes ashore and it's filled with zombies that terrorize the islanders and tourists. Hunter Shaw must rise up and save the day.
Production
As he finished filming the last "Sharknado", Ian Ziering had an idea. Why not make a new movie similar to "Sharknado" but with more horror. He pitched the idea of "Zombie Tidal Wave" and SyFy was on board. Ziering's production company, I.Man Productions teamed with Darby Parker's Stronghold Entertainment collaborated on the movie. "Sharknado" screenwriter Thunder Levin was also on board. "Sharknado" director Anthony C. Ferrante was definitely on board to direct and write the movie. Ferrante is known for his roles and directing several zombie and horror films including "The Revolting Dead", "Headless Horseman", "Boo", "House of Bones" and "Forgotten Evil." With the amazing success of "Sharknado" and the same team of director and writers and Ian Ziering producing and starring in it, How could "Zombie Tidal Wave" fail.
The team wanted to make a movie similar to "Sharknado" but also different. Like "Sharknado", "Zombie Tidal Wave" is a spoof of disaster movies and B movies. Like "Sharknado", an ocean phenomenon causes a freak disaster. Like "Sharknado", there must be a reason for the outbreak. Is it the result of a biological experiment? The big question to solve in "Zombie Tidal Wave" is how to destroy the zombies. These zombies don't seem to go down so easily. Apparently you can't just destroy their brains to stop them from destroying people.
What Ian Ziering and his team of writers wanted to create was something a little different from "Sharknado". There are no references to sharks in "Zombie Tidal Wave". While the sharks in "Sharknado" and the gore that ensued were computer generated, the Zombies are real actors in "Zombie Tidal Wave". There is some computer generated effects. Some zombie scenes were duplicated to create a more frightening larger horde of zombies being pushed to shore by a tidal wave. Ziering and Ferrente wanted this movie to be more horrific and more realistic in its gore than "Sharknado" was. They also didn't want to have a cast of famous people or a repeat of the cast from the "Sharknado" movies. They wanted "Zombie Tidal Wave" to be able to stand alone. "Zombie Tidal Wave" was filmed in Krabi, Thailand and most scenes take place on the beautiful beaches in daylight. Ferrente wanted to do this to pay homage to some of his favorite zombie movies like Lucio Fulcinass' 1980's cult horror movies including the "Gates of Hell" trilogy.
Ian Ziering
Ian Ziering is best known for his role as Steve Sanders in the popular 1990's series "Beverly Hills 90210". The show revolved around a group of teenagers growing up in the middle of the United States' most posh zip code. After the show ended, we didn't hear much from Ziering until he appeared in "Dancing With the Stars". Following that, Ziering directed some movies and was a guest star on some television shows. In 2013 Ziering was performing with the Chippendales in Las Vegas. Then in the summer of 2013 "Sharknado" was shown on the SyFy channel and that brought back the attention of Ian Ziering. The campy spoof of disaster films and "Jaws" was instantly popular because it's premise and writing were so silly. It became a summer sensation and spawned five sequels featuring many celebrity cameos. Sadly, "Sharknado's" last movie, "Sharknado 6: It's About Time" put an end to the movie series last summer. Ziering now appears in the reboot of "Beverly Hills 90210" which has the original cast playing exaggerated versions of themselves. Now Ziering is bringing back his SyFy career.
Hope for sequels
Ian Ziering and Anthony C. Ferrente hope that "Zombie Tidal Wave" will at least match the success of "Sharknado." They hope that the zombie disaster movie will have sequels. If it does, maybe there will be celebrities that join the cast or appear in cameos. Reviews of the movie are positive so far, so we may get to see more zombie horror.
Tell us what's wrong with this post? How could we improve it? :)
Let us improve this post!