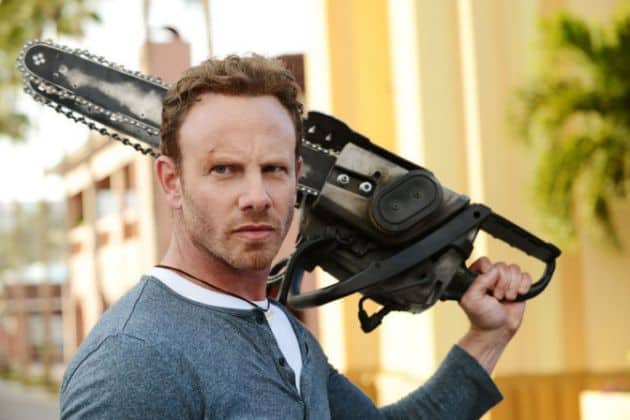 Remember when Ian Ziering seemed to be going nowhere really fast? Well to be fair he wasn't really going nowhere, but he wasn't exactly the most popular guy in the world. That's kind of amazing really when you look at his filmography since he's been in the business for some time, ever since the early 1980's in fact. His film career has been kind of spotty and he hasn't really done anything since 2013 but when it comes to TV he was really bailed out by one of the most unlikely and inane movie series that has ever come about, Sharknado. Some people swear by these movies and others vow that they'll never watch them in a million years. The great part about is: those that like them don't care. It's a movie series that's meant to be cheesy and unrealistic and it's something that people have embraced largely because it's owning the ridiculous nature that it was given.
Of a shark tornado can't exist, and of course half of the stuff that they do is impossible, but in the movies the impossible is only limited to one's imagination, and the creator of Sharknado has played upon that fact with wild abandon, taking something that people roll their eyes at typically and making it into something so hokey and corny that people love it just for those reasons. And as for Ian Ziering, just being associated with it has given his career a boost that it needed badly after so many years. Lest we forget, this guy hasn't really been all that popular since he was a part of 90210, when he was considered to be one of the hottest guys around.
If you want, take a look at the road he had to traverse to get here.
His role on 90210 was a hit, but it wasn't bound to last forever.
As Steve he was a really popular character who was an integral part of the show and offered kind of a contrast to Luke Perry and Jason Priestley. He was one of the more popular guys but he wasn't exactly the dreamboat or the bad boy but that was okay since he was more or less the guy that had all the ambition and sometimes could deliver one what he wanted to do. He didn't always get the most respect out of everyone but he tried so hard to be the guy that could fit in anywhere and do anything that he seemed almost manic at times. But despite all this he was still very popular and in this role was someone that people tended to pay attention to. After this show was over however a lot of the cast members went onto bigger and better things while he just kind of went on to one job after another.
Domino wasn't really the best look for him, but it was a return to film.
If ever he looked out of place it was in this film as he and his fellow 90210 alum Brian Austin Green were seen to be chumming around with a trio of bounty hunters. They weren't exactly welcome with the trio but they were there to document the hunt and to gain a bit of publicity for themselves. You can imagine how that went since they were in the company of some truly bad people and weren't at all equipped, character-wise, to handle them. Even though they played themselves both men kind of played a very weak and ineffective role in this film that wasn't all that well-received in some ways only dragged the film down that much more.
And here we are now at one of the most sought after TV movies of the modern era.
It's simply amazing how far the Sharknado series has gone, enough so that it defies easy explanation really. The premise, the plot, and the acting are so uniquely horrible that only in the 80's would this have been as acceptable as it is now. But people are fully expecting these movies to come out now, which is likely why there's a Sharknado 6 on the horizon. How such a film about a freak weather occurrence somehow mixed with one of earth's deadliest predators came to be is easy enough to figure out. But how it came to be loved by so many is something that still begs a lot of discussion. As it was stated above though there's a lot of honesty with this film. People know it's going to be horrible going in, but they still want to watch it, and why not? It's got blood, guts, gore, and all the stuff you'd want from a film. If you can get past the acting component then you might be able to enjoy the ridiculous parts about sharks falling from the sky.
It's certainly helped Ian.