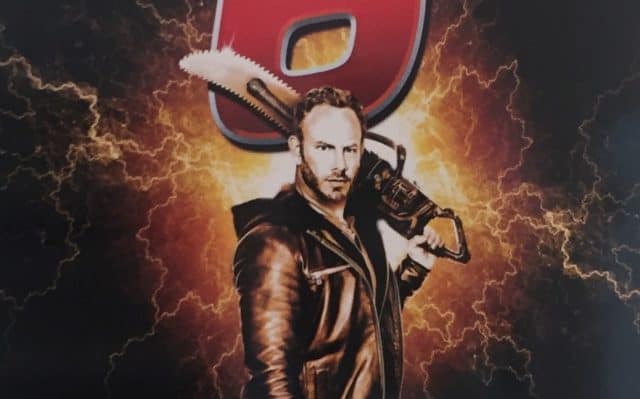 If you're a fan of comedy/sci-fi/disaster/horror movies, then Sharknado is probably one of your favorites. This American movies series, started in 2013, follows the lives of husband and wife duo Fin Shepard, played by Ian Ziering, and April, played by Tara Reid, as they encounter shark-filled tornadoes seemingly everywhere they go. The movie's popularity is responsible for the additional success of Sharknado- influenced video games, comics, spin-off films, and, now, an upcoming sixth movie. The conclusion to the six-part Sharknado series is set to be released on August 19, 2018. The Last Sharknado: It's About Time will see the Shepards return for one last watery shark attack but with a twist. Due to traveling in time, they will see Noah's ark, knights, Nazis, and even dinosaurs. We have a sneak peak at the bottom of this article
Read on for ranking of the other five Sharnado movies.
5. Sharknado 4: The 4th Awakens
In the fifth reincarnation, there hasn't been another shark-filled tornado in five years. However, Fin and company are all in for a surprise when both tornadoes and sharks get whipped up in the least likely of ways and places. Just like the name implies, this rehash of Sharknado was a play to the movie-hype. It has a little bit of everything, from celebrity appearances (such as David Hasselhoff, Gary Busey, Cheryl Tiegs, and Gilbert Gottfried) to nerdy cult movie references, it's clear they tried really hard with this one; it just didn't seem to hit the mark.
4. Sharknado 2: Another One
On their way to the Big Apple, Fin and April are interrupted by a category seven hurricane which brings torrential rain, extreme storm surges, and yes, Sharknadoes, much like the first movie, just in a different place. The plot, although much the same, gets even more ridiculous adding in some incredulous human feats that we believe border on unnatural. We get it, a tornado full of sharks isn't going to happen, either, but in the movie, it's supposed to be feasible. It's supposed to be about "normal" people. However, the ridiculous acts can get a good laugh. Still, it's too much like the first one.
3. Sharknado 3: Oh Hell No!
In this third movie of the series, a horrendous tornado filled with hungry sharks is unleashed on the Eastern Seaboard. The massive shark-filled tornado ravished Washington, DC before moving down the coastline destroying a pathway into the theme parks of Florida. Fin must do something crazy, risking it all, just to save the children. Some may think this third film was the peak of the series and we'll admit it could trade with second place. This movie showed some mad creativity, probably more so than the others. It's harder to choose which one is our favorite of these last three, to be sure, but, spoiler alert, there are sharks in space! If you've ever thought "where are they going to go next?", this one takes the cake! As with the others, it is a bit cheesy, but isn't that one of the things we love about Sharknado?
2. Sharknado 5: The Global Swarming
The world braces for a shark-filled tornado to hit globally as much of American lies in ruins in the aftermath. Fin and family take up travel, going around the world in order to stop the gargantuan Sharknado. Yes, the last, soon to be second to last, is second in this ranking, although, it was tough choosing between 5 and 3. Nonetheless, the innocence which barely remained before is now entirely gone in this around the world sharknado-filled movie. It's not filled with celebrity guests, nor is it as cheesy as one may have anticipated. Instead, it's filled with clever insults and it's just plain fun.
1. Sharknado
In this first movie of the series, one of the ocean's scariest beasts and deadliest killers is taken into the sky when a ferocious tornado breaks out over the shark-infested waters of the Santa Monica coast. A group of friends band together to help save the day and we meet Fin and April for the first time. We really have no choice but to choose the first Sharknado to take the number one place. After all, the first is always best, or at least, most of the time. The movie, and its producers, were under no obligation to "try it again" and they knew exactly what they were trying to do. It seemed like a good movie/good movie idea on a shoe string budget. It was innocent and genuinely bad. It was so bad it was good. It was great! It spawned more movies, merchandise, and a following. Now if it ever happens for real, we'll know who to call!
Let's see what 6 has to offer!
Tell us what's wrong with this post? How could we improve it? :)
Let us improve this post!