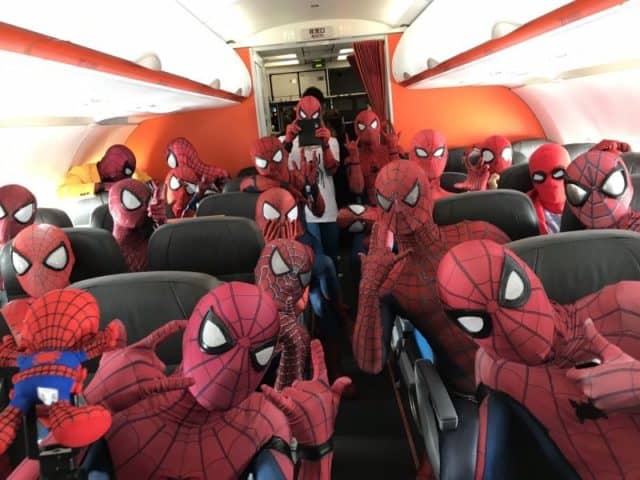 Leave it to the Japanese to continue their tradition of coming up with creative gimmicks and themed buildings, vehicles, planes, you name it. Recently budget carrier Jetstar unveiled a Spider-Man themed plane in Japan and filled it with Spider-Man cosplayers. This is all part of Jetstar's summer campaign, which is tied to the release of Spider-Man: Homecoming.
The Spider-Man plane itself isn't necessarily anything to write home about, but how often do you get a chance to ride a plan with all of these friendly neighborhood cosplayers on this plane taking off from Tokyo bound for Osaka? You might also be wondering just how these cosplayers got on this flight (since it was free for them).
Folks applied to ride the Spider-Man plane's maiden flight, with one of the stipulations being that they had to be in Spider-Man costumes. Makes sense. How come the United States never seems to do stuff like this first? It's always countries abroad.
Check out more of the fun below:
わらわらスパイダーマンが!#SpiderManHomecoming #スパイダーマンホームカミング #スパイダージェット pic.twitter.com/QbP4FFhS0k

— NAWOQI 10/20 ルビハロはトニー (@NAWOQI) June 20, 2017
#新しいプロフィール画像 pic.twitter.com/E9XjxHZ60Q

— るぱ〜ん (@moroboshiataro) June 21, 2017
#スパイダージェット わずー pic.twitter.com/TugoGOdFYv

— じゅん: (@spa_jun) June 21, 2017
#スパイダージェット その2 pic.twitter.com/zRiYFSWqXn

— じゅん: (@spa_jun) June 21, 2017
今日はとてつもなく楽しいショートトリップをしてきた。インスタのストーリー見て欲しい。#スパイダージェット pic.twitter.com/klLI7uNAmA

— 瀬戸あゆみ (@setoayumi) June 21, 2017
とã'Šã'えずçµ'ã'ã'Šã®é€Ÿå ±!
さいっっこうやった!#SpiderManHomecoming #Spidey #スパイダーマンジェット #スパイダージェット #スパイダーマン pic.twitter.com/SBL7cZTTn9

— うっでィ (@g36kcostom) June 21, 2017
https://twitter.com/bar_rest_245/status/877502505273262080
https://twitter.com/Rua_0430_xoxo/status/877393400374243328
関空到着しました#スパイダージェット#SpiderManHomecoming pic.twitter.com/wTJzJxJl4f

— yumi (@yumi_yummyyum) June 21, 2017