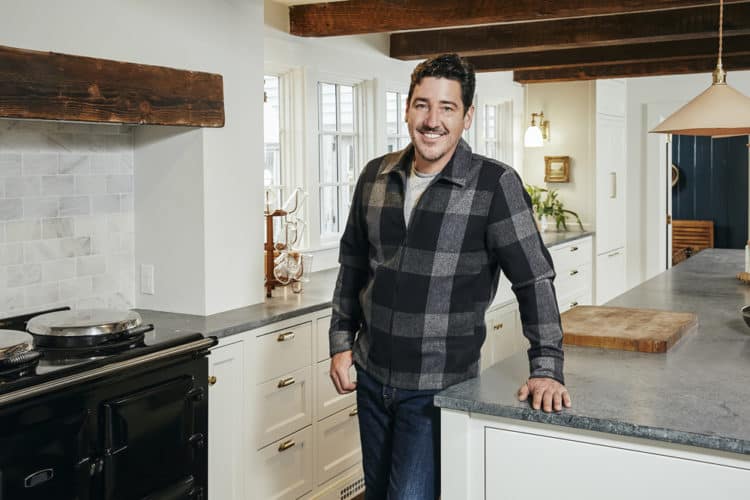 Home renovation shows have become increasingly popular over the last several years, and Farmhouse Fixer is no exception. Hosted by New Kids on the Block star, Jonathan Knight, Farmhouse Fixer is all about blending the old with the new. During each episode of the show, Jonathan and his crew work hard to restore a New England farmhouse to its former glory by creating the perfect balance between modern touches and the property's original character. While the show is undoubtedly fun to watch, viewers have wondered whether or not what they're seeing is really how things go down on the show. After all, there have been quite a few home renovation shows that have been deemed 'fake'. Could Farmhouse Fixer be another one that should be added to the list? Continue reading to find out if Farmhouse Fixer is fake.
How The Show Came About?
There are lots of people out there who may be confused as to how Jonathan Knight got involved with a show on HGTV. It goes without saying that pop music and home projects don't really have much of a connection. What many people don't realize is that Jonathan has been in the home design space for more than 20 years. He has been in talks about doing a show for nearly 10 years Farmhouse Fixer was originally announced back in 2018. An HGTV press release dated October 2018 said:
"Renovation expert Jonathan Knight, best known as a member of the Grammy®-nominated boy band New Kids on the Block, will take fans step-by-step when he restores a centuries-old New England farmhouse in a new HGTV pilot, Farmhouse Fixer. The episode will feature Jonathan—who has renovated more than 200 houses over 20 years—as he preserves the farmhouse's historic charm and adds a modern layout with high-end amenities. The pilot is slated to air in 2019."
It's unclear what causes the delay in the show's release, but it didn't actually debut until 2021. As a New England native, Jonathan is particularly passionate about the architecture in the area. Jonathan even lives in a farmhouse of his own. He loves being able to breathe new life into these old homes.
Is The Show Fake?
Farmhouse Fixer fans will be happy to know that there's no information to indicate that the show is fake. That said, however, the show is still so new that the rumor mill hasn't gotten a good chance to start churning yet. On top of that, the nature of producing a reality show typically means that everything isn't as it seems. There's a good chance that certain reactions and other aspects of the renovation process are manipulated and/or edited to seem more entertaining. If there are elements of the show that are 'fake', cast members are likely asked to sign an NDA. This document legally prevents that from discussing the show's production process.
Who Pays For Renovations On Farmhouse Fixer?
One of the most common questions when it comes to any home renovation show is who foots the bill for the changes being made to the property. While there are some shows where homeowners have most or all of their costs covered, there are others where they're responsible for paying for the project. According to Reality Titbit, there's a good chance that Farmhouse Fixer falls into the second group. An article on the website explains that the show likely follows the same format as Fixer Upper. This means that homeowners pay for the renovations. However, HGTV likely contributes to one big item for the home.
How To Get Cast On Farmhouse Fixer
If you have a farmhouse that could use a little extra TLC, you may be wondering how you can get featured on Farmhouse Fixer. In 2020, a casting call for the show was published in Northshore Magazine and the following requirements were mentioned: The team is looking for homes built before 1940, a location within 50 miles of Ipswich, and an existing renovation budget of $150,000. The renovations will encompass four or five spaces in each home, and homeowners must be comfortable with vacating during the remodel and with Jonathan and Kristina taking the reins."
People who are interested can fill out an application directly on the Highnoon Entertainment website. Unfortunately, there's no additional information on what happens after people apply. Chances are though, that producers only reach out if they're considering moving forward. Since the show has yet to be renewed for a second season, it's unclear what's going on with the casting process. However, since the application is still posted it can't hurt to apply if you're interested.