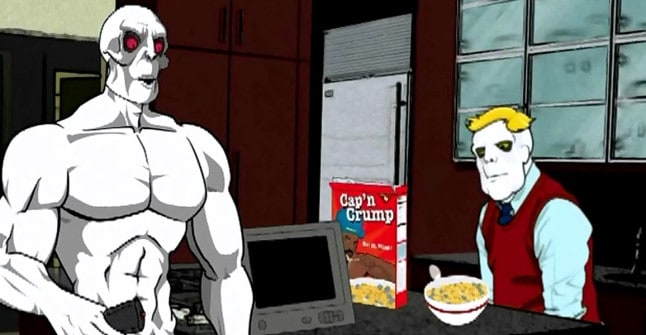 Given that the show Frisky Dingo had to work through two different titles before settling on its name and the fact that it didn't survive the initial run of its series even on Adult Swim it's a big question as to whether it should be revived or not. It did manage to last from August 2007 to March of 2008 but beyond that it wasn't deemed worth renewing for many different likely reasons. Shows such as Frisky Dingo usually seem to be akin to fever dreams that come from not enough sleep, an unhealthy diet, or perhaps too much time spent at the bottom of a bottle if one wants to be painfully obvious or blunt about it. Granted it did have its own style and sense of purpose but on Adult Swim every show seems to have this right up until it becomes something so insanely wild and outrageous that the lines become drawn between those that love it and those that don't want to spend another minute on it.
One of the great things about shows that land on Adult Swim is that they're not always supposed to make perfect sense. That's the whole point of them in fact. These shows tend to be released in a manner so as to test the sensibilities and humor of those that will watch and determine just which ideas will take root and which won't. The only downside here is that fans are extremely fickle and will almost always tend to gravitate towards one show until something new and possibly more exciting crops up and therefore nabs the interest from their favorite show and steers them in another direction. Adult Swim has for some time enjoyed a fairly loyal fan base that has seen a large number of shows come and go, but the attention given to one program versus another sometimes seems to vary depending on the subject matter and how likable the characters are.
Rick and Morty is a great example since it's one of the more out of control shows that has attracted a wide and assorted fan base that are completely loyal to the show and during the Mulan sauce controversy actually went stark raving mad in various McDonald's restaurants when it was revealed that the sauce was not available. As far as Frisky Dingo goes it seems that many people would be hard-pressed to remember this show or that it even existed a decade ago. This is the speed with which TV works however, it replaces one show swiftly enough that it soon becomes a memory and, if it's not preserved, will cease to be thought of all that much when people are quizzed on it later on. Frisky Dingo might have been an interesting show during its run but it didn't last nearly long enough or inspire that many individuals to become something that could be called a cult legend. There are bound to be those that remember the show and would be excited to see it come back, but at the very least it seems that bringing it back for a test run would be the safest bet.
Trying to bring it back for more than a single season at this point might be a mistake unless it was to receive such high praise that extending its run would be the only viable option. One thing that is true about TV, and Adult Swim, is that the craziness of any show is typically what gets noticed, but the story that goes with it and grounds the nutty nature of any program is what keeps it around. Even with shows that seem to make no sense, which at times describes a lot of Adult Swim's roster, there is always a story within the madness that helps to keep people interested and serve as a core of the show so that it doesn't fly off the tracks without any guidance at all to steer it back on course. Frisky Dingo had a story line of course, it's almost impossible to stage a show without one, but it's also evident that it wasn't strong enough for an extended run, something that must have been recognized by the producers when it failed to create the interest that was needed to keep it running.
In bringing it back there's no doubt that some interest would be generated and a bit of hype would certainly help it to go a much longer way than it did before. But still it seems as though Adult Swim has kind of moved on from this show and would be backtracking far too much to pick it up once again in an attempt to revive something that a lot of people have likely forgotten about over the years. It'd be worth a try, but putting too much into it might be a risk.