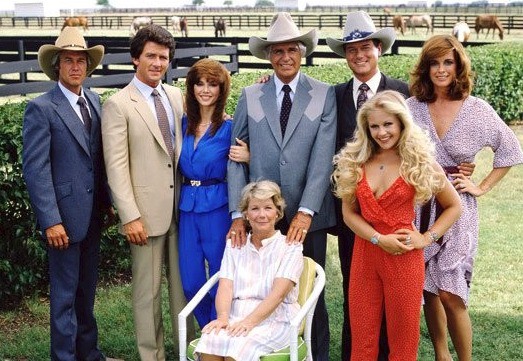 If you remember Dallas then it might be because your parents watched or you watched and made the show one of the most popular on TV, ever. The series had people talking about it again and again, especially after iconic episodes that seem to turn the entire show on its head a time or two. For those of us that didn't really get into it's almost like recognizing a point in history when people were truly fond of something and giving it props in a very peripheral sort of way. For those that truly enjoyed the show these scenes might feel like they happened just yesterday.
It seems safe to say that the reboot of Dallas didn't catch on quite as well.
5. Bobby's Return
It's an odd feeling when you realize that someone's in your home and you don't know who it is, but she seems strangely calm as she gets out of bed to go investigate the noise. It could be that she half-expects what she's going to find but even then it seems a little too nonchalant of a moment to really pass muster. Back then however for a show like this it seems like it was the norm, so people just let it slide.
4. Roger kidnaps Lucy
It seems like women today might put up more of a struggle than this or at least start screaming in the hopes that someone nearby might hear them. But then there's the fear that the person might hurt them or that no one could hear them at all. But of course back in the day with this show in particular, and because she knows the guy, it could be that the drama of it was desired a little too much.
3. Bobby brings Christopher home
It's supposed to be a joyous occasion when you bring a baby home for the first time. The one glaring error that many people might notice is putting the kid in the front seat, facing forward no less. Of course these were different times and as a result the practice would be seen as perhaps slightly more acceptable. But then when Bobby brings the kid and he becomes a big deal Bobby doesn't look too happy about it.
2. Bobby dies
Dramatic as the show could get there were always those moments when you didn't really know how to feel other than one way or another. It was hard to dredge up more than one emotion at a time with this show every so often. While it was tragic when one of the main characters got hurt you still had the idea that things were going as they should simply because of how they show was set up.
1. JR gets shot
If you really want a controversial and mind-blown moment in TV this was the one that blew everyone away when it happened. Cries of "who shot JR?" were heard around the office and wherever people congregated for a while after this show.
In fact even today you might hear about it now and again.
Tell us what's wrong with this post? How could we improve it? :)
Let us improve this post!