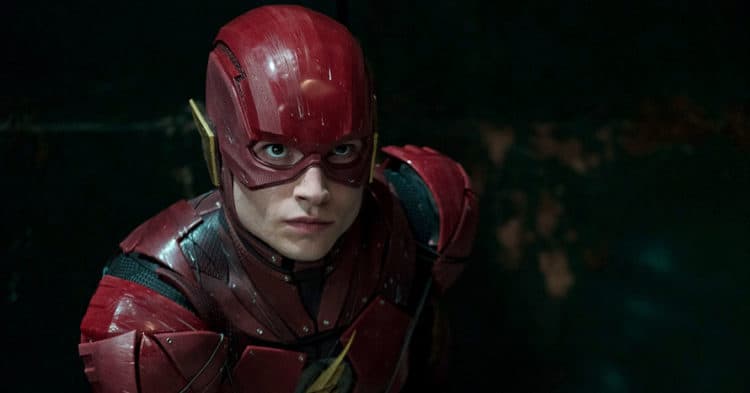 Like a lot of people at this time, Adam Wallis from Global News is wondering if this video that apparently shows Ezra Miller choking a random individual is staged or if it's real. Even if it is staged it's a disturbing image of a celebrity that might think he's entitled to do what he wants whenever he wants to. Of course if it's real then it should be grounds for an assault charge that should hopefully stick. With that being said it's also a reason why many people are already stating that they'd like to see Grant Gustin take on the part of the Flash in the movie that's somehow been coming for a while but hasn't seen the light of day just yet. The Flash movie has been discussed since Miller was shown in a brief clip in Batman vs. Superman and the talk only increased when he showed up in Justice League, but thus far the reputation of DC on the big screen hasn't been able to move beyond Wonder Woman, Aquaman, or Shazam when it comes to their successes, and The Flash has been kind of deadlocked for a while as the idea has been talked about more than once but has never really moved ahead in a decisive manner. It's kind of ironic that things are moving so slowly for the fleet-footed hero, but if what's been seen on the video above is real the hope of a lot of fans is that it will grind to a halt until Gustin is given the role and Miller is made to realize that being a star doesn't always mean that a person can get away with what they want.
I have rewatched this video of Ezra Miller choking a woman like 50x lmfao this is y'all tone deaf cop sympathizing–style stealing narcissistic white icon? #EzraMiller pic.twitter.com/LA1PNZCIQt

— Ren(aissance) (@Hood_Vampire) April 5, 2020
Christian Bone of We Got This Covered has made it clear that a lot of fans are now calling for Gustin to take on the role of Barry Allen, especially considering that he's had the role for much longer than Miller, and has a much more loyal fan base. It might take a bit of work to make it happen but rewriting the character a bit, updating the costume, and adjusting the story just enough to accommodate the changes. It could be done really, and it might be a wake-up call to start punishing celebrities for their indiscretions rather than allowing their influence, reputation, and money to get them out of a jam now and again. The only issue of course is whether this was staged or not, and considering that there were witnesses and the person taking the video does sound distressed, it could be that an assault charge might need to be headed Ezra's way. As of this video it sounds as though the actor was in Iceland ahead of filming for The Fantastic Beasts 3 movie, and for one reason or another managed to get in altercation with a fan. It does feel as though there is more to this story than is being revealed, but the act of putting his hands on someone is enough for many people to instantly vilify Miller and request that he be yanked from The Flash movie, though whether people want him yanked from Fantastic Beasts is hard to say.
There are a few things to consider, such as the fact that the fan wasn't protesting too loudly or trying to fight back. Some might say that Ezra was just too intimidating, which should likely provoke a gale of laughter from many people, or it could be that since this is said to have happened in a public place the fan might have thought he was joking. At this time the image that people have been given is that Ezra is full-on assaulting an individual that was doing nothing and saying nothing to him, which is a huge no-no wherever a person happens to be in the world. Erika Delgado of the CheatSheet is at this time questioning whether this will seriously impact Miller's chance to move forward with the DC universe and if it will be forgiven by fans anytime soon. From the Twitter reaction one might say no, but then it has to be remembered that for every Twitter storm there's still a chance that a celebrity can come back with enough spin and a PR team whose expertise is wading through the crap to remind people of how 'rock solid' this actor is and all the good things they've done and how they shouldn't be judged for one slip. Choking a fan is a pretty big slip though, and the fact that Ezra hasn't bothered to respond at this moment isn't making the star look any better at the moment. An explanation at the very least of what was happening might allow more people to support him with a clear conscience, but continued silence is only going to push people further away.