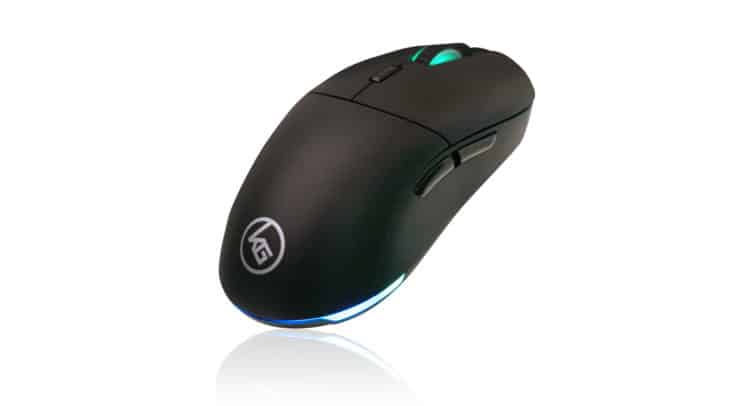 I've gotten a chance to take a look at several brands that I am unfamiliar with, the most recent of which being IOGEAR, who has released a new gaming mouse and a couple of mouse mats at an affordable price, but do the products swap quality for affordability? I received a couple of samples to review, including the Symmetre II gaming mouse, Surfas II gaming mouse mat, and the Surfas II Pro gaming mouse mat. While I don't typically take the unboxing experience into my reviews, I will say that I was highly unimpressed when removing the gaming mouse (Symmetre II) from the package. After opening it, everything just fell out of the box and it was just not great. So, what do you need to know about IOGEAR's new gaming mouse and mouse mats?
Symmetre II Gaming Mouse
Right off the bat, one of the first things that comes out of the box for the Symmetre II gaming mouse is a slip of paper that says "Warning: This product may expose you to chemicals including styrene which is known to the State of California to cause cancer, birth defects or other reproductive harm." Immediately, that set off a red flag for me. Why would any product – a gaming mouse especially – be able to expose its users to a chemical that could potentially cause harm? Already, that made me weary to use this gaming mouse, but alas, I did. Overall, there's not particularly anything special about this gaming mouse, other than the fact that it has side buttons on each side, in case you want to use it as a left-handed mouse. It comes with a few weights that you can place inside if you prefer a heavier mouse. As with just about any gaming mouse that you'll see nowadays, there's some pretty neat RGB effects that you can cycle between, which is always a plus. Unfortunately, if you're looking for a gaming mouse that's really centered around RGB, then you're probably going to want to find something else, because there's only a few options, and it doesn't seem like the mouse wheel has any color options except blue. The lighting effects aren't really that smooth, which is probably because there aren't many individual LEDs, but it doesn't really make it look bad, just different. All in all, the mouse itself is pretty boring and plain, but I suppose you get what you pay for when you only spend $50 on this gaming mouse.
Surfas II Gaming Mouse Mats
Along with the Symmetre II gaming mouse, I was also sent a couple of mouse mats. They are both essentially the same exact thing, but the Surfas II Pro is an extended version of the original Surfas II. These are hard surface mouse mats, which definitely take some getting used to if you've been using soft surface mouse pads/mouse mats previously. While it is certainly an adjustment, I have to say I'm also pretty unimpressed with the Surfas II Pro. For starters, it comes in the box rolled up, so getting it to lay flat on a desk was a major pain. I understand that you can't really lay something like this flat out in a box, but there has to be a better option. In terms of actual usability, it just doesn't feel as good as my HyperX mouse pad. The Surfas II Pro just feels like it prevents the mouse from gliding smoothly across the surface, which is kind of the exact opposite of what you want from a mouse pad/mouse mat. Sure, there's a certain amount of friction that you want, so that your mouse doesn't feel like it's moving on ice, but it just feels like there's too much with this gaming mouse mat. However, I do like how thin the Surfas II Pro is, so if you're looking for something that will sit pretty much flush on your desk – provided, of course, that you can actually get it to lay flat – then at least the Surfas II Pro has that going for it. For $20 (Surfas II) and $30 (Surfas II Pro), these definitely aren't the worst mouse mats that you can buy, but there's definitely others that I would suggest before purchasing these.
Overall, I'm pretty disappointed with how IOGEAR's lineup of gaming accessories have turned out. With the Symmetre II gaming mouse, there's just not really anything special about it, and you can definitely find other mice for about the same price, and same goes for the mouse mats. Of course, it all pretty much comes down to personal preference, so in the end, it's really up to you to decide to try these products out, but they just aren't for me. Maybe IOGEAR will change my mind with their other accessories?