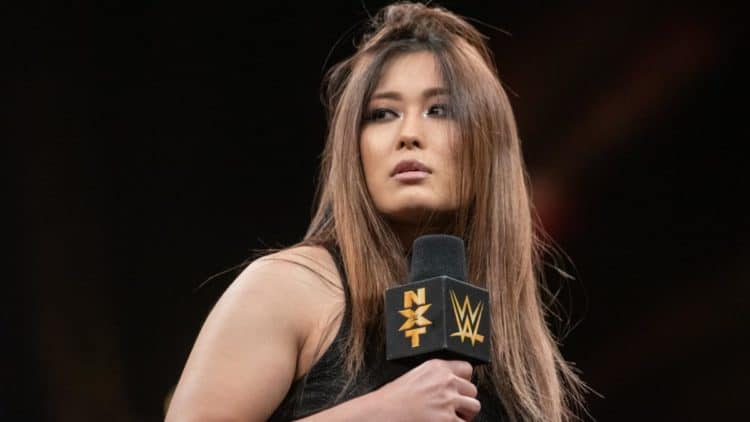 Since it began, WWE has attracted wrestlers from all around the globe, with some coming from as far as New Zealand, Ghana, Croatia, and England, among many other countries. Masame Odate, who is better known as Io Shirai, is one of the female wrestlers whose origin is Japan. She has made significant strides since her days in Joshi promotion and now is on her way to becoming a WWE superstar. Here are a few things to know about her.
1. Her dream opponents
If ever a chance opened up for Shirai to choose her opponents, top of the list would be Charlotte, Asuka, and Sasha Banks. Charlotte was SmackDown Women's Champion this year for a brief moment after defeating Becky Lynch. For Shirai, she must have been excited to watch Charlotte wrestle Asuka though it must have been hard to root for any since both are her idols.
2. Where she got the idea of the heel turn
It is not until you push yourself to the limits that you explore the potential you have kept hidden. Therefore Io knew that she had always been a babyface in her career, and it was time to change. She recalled her moments at Lucha Underground, where she played Hitokiri, a sinister character. Io did not last long with the company, but the time she spent there was enough to let her see that she could also play dark characters; hence she got the idea to start doing the heel turn.
3. Her heel turn gave her a new sense of confidence
You do not have to follow the path; sometimes, you have to create your trail, and that is what Shirai did. Viewers were used to seeing Kairi and Asuka, so she had to bring something new to the table to set herself apart from her fellow Japanese wrestlers. As she told SE Scoops, she wanted to make a significant change, and the heel turn gave Io a new sense of confidence.
4. Why she chose Poppy's music for her NXT entrance
When Io Shirai went to the ring to wrestle Candace LeRae, her entrance song was Poppy's "Scary Mask," whose high energy must have rubbed off on Io because she won the match. Asked why she chose the music, Io said that Poppy's music is similar to what she listened to in Japan, and since she had never done anything like that ever, Io felt it a privilege to be part of the unique experience. Io is a huge fan of Poppy's music and enjoys listening to her songs whenever she can, be it in the car or at the gym. The wrestler preferred the song for her entrance because of the emotions it evokes. She said it could be both fun and scary, and that is what she is looking for in her NXT character.
5. How she got into wrestling
At the age of 16, Io developed an interest in wrestling after watching her sister wrestle. Io teamed up with her sister, and before long, Asuka joined them to form Triple tails. Although now everyone has their career to focus on, Shirai hopes to one day wrestle with Asuka and create a tag team which she would call Twin Tails. Well, that would only be possible if Asuka is interested in reuniting with her, so we wish her the best.
6. Why she is regarded as one of the best wrestlers in Stardom
Io has been in Mexico working for AAA, and she won several titles. Later she joined World Wonder Ring Stardom, where she gained quite a reputation. Io spent seven years at Stardom, and never was she defeated. According to ProWrestling, she won every title from the bottom to the top. As per the article, Io has the second-best dropkick from any female wrestler and has been nicknamed the "Genius of the Sky" due to her beautiful moon saults.
7. She hopes to have a family one day
Marriage is not a prospect for most women, especially now that true love is getting harder to find, and divorces are the order of the day. However, Io is hopeful that one day she will find her soulmate and make a perfect bride. Besides being a wife, Io also hopes to be a mother. Other wrestlers have found love in the industry; John Cena proposed to his long-time girlfriend, Nikki Bella, in the ring. Although there is no word about who Io is dating, she might already have her heart settled on someone special.
8. She always wanted to join WWE
If there is one company that has made wrestling a professional sport that has made millions for its wrestlers, it has to be WWE. Io craved the opportunity to join WWE, and when she was invited to check out the Performance Center, she was more than happy to do it. Unfortunately, she did not sign up after a routine medical checkup showed a neck injury. Luckily, in 2018, the wrestler finally signed up with WWE's developmental brand, NXT.
9. She was featured in Japanese Playboy magazine
Playboy magazine has featured many female celebrities, without them necessarily posing nude. Thanks to the magazine, people like Pamela Anderson made a name for themselves. The magazine had a franchise in Japan, "Monthly Playboy," which was canceled, but they continued publishing under "Weekly Playboy." Io has been one of the many Japanese women to be featured in the magazine. Although it is not an edition of America's "Playboy," it still is an adult magazine.
10. She is allegedly being targeted by her former promotion to return to Japan
Io made her name at the World Wonder Ring Stardom, which helped her journey in joining WWE. She and Kairi Sane were both at Stardom, although Sane signed first with WWE. According to What Culture, the wrestlers are being targeted by the promotion to join them once the contracts expire. Sane's contract expires in three months, but there is not much information known about Io's agreement. However, it is not likely that she would want to return to Japan considering how much she wants to fight other WWE champions and make her mark in the industry too.