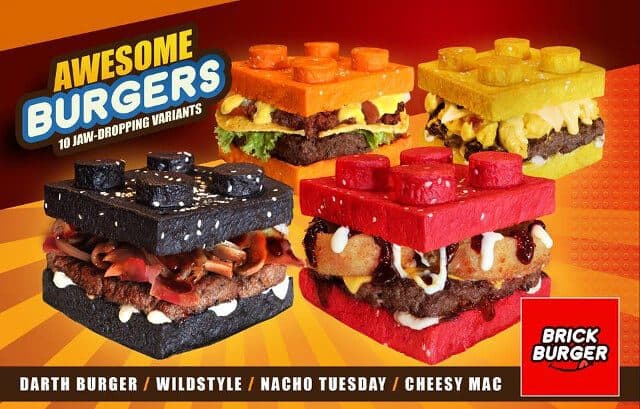 Given all of the LEGO hype that exists here in the United States I'm almost upset that this doesn't exist here. At this point in our culture I feel like there's LEGO news at least 2-3 times a day. Whether it's a movie, video game, television show, merchandise, or new figures coming out, I think LEGO is going to be as big as Disney. Seriously, you heard it here first. The company is on a meteoric rise. What's next on the menu? LEGO food. Yes, LEGO food.
Brick Burger is a LEGO themed burger restaurant based in the Philippines. The interior is all LEGO'd out and they even sell these burgers with buns that look like LEGO blocks. While the stacking of the burgers leaves plenty to be desired, the concept itself is excellent. While aesthetically and physically these burgers don't make an idea food eating situation the idea of a LEGO themed restaurant is obviously a no brainer.
As to whether or not there will be a Brick Burger here in the United States is still a mystery. One thing's for certain though: LEGO is capitalizing on its movie successes in a big way. I'll be very curious to see what LEGO's revenue numbers are for 2017. I'm telling you folks. You heard it here first. The next Disney. Here are some pictures of Brick Burger for your interest.