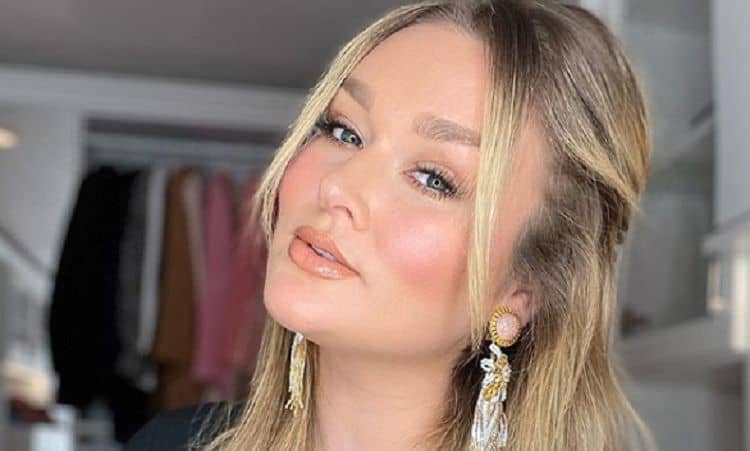 The standards you set for yourself are the same ones people will use towards you. Hunter took a long time to realize this and drowned in people's opinions about her body. She went so far as to starve herself, but today Hunter stands proud in her curvaceous body as a model. Here are ten things you didn't know about Hunter McGrady.
1. She is still on a self —acceptance journey
"What you think, you are" is an expression that has been used to help people have positive thoughts. Hunter is one person who all her life was told that she had to cover up her body in baggy clothes since she was a big girl. The words impacted her, and although she has become a model, accepting her curves has been a journey. Even today, she has to stand in front of a mirror regular and practice positive body affirmations, according to Fox News.
2. She is the curviest model for Sports Illustrated
They say men are visual creatures and Sports Illustrated ensures that it keeps its subscribers happy. Hunter became the curviest model to grace the pages of the magazine in 2017. She is also the first plus-size model on the cover of The Knot. To Hunter, the opportunity excited her since she could offer advice to women struggling from similar experiences. The magazine has more than 3 million subscribers, and each week, 23 million, inclusive of 18 million men read it. With Hunter as a featured model for three consecutive years, Sports Illustrated is sure to increase its readership figures.
3. She partnered with JED Foundation
No matter how physically fit you are, unless your mental health is in the best condition, your productivity will decline. We have lost many celebrities to suicide because they suffered from depression, and no one noticed. Hunter is taking care of her mental health and wants to help others to do the same. She admits that she suffered from depression and anxiety, which led her to partner with the JED Foundation. According to JED Foundation website, the foundation empowers teenagers and young adults by protecting their emotional health, thus preventing suicides.
4. Her fitness routine
While most of us concentrate on getting the right figure, Hunter is more concerned about her brain. She, therefore, prefers yoga and meditating is her way of working out. Positive energy is what helps her going; she can wake you to some Beyoncé's "Single Ladies" to kick start her day. Hunter also gets massages once a month to help work out her muscles. Since she is a huge fan of positive affirmation, Hunter ensures that her work out gear is also cute to give her a jumpstart.
5. She was bullied in high school for her looks
When the female members of your family are models, then you have to think that it runs in your genes and that is the path you have to take. Such was the case with Hunter, whose mother and grandmother were models. Although Hunter has realized her dream, it was not easy. In high school, when she aired her aspiration, she was bullied and told she did not have the looks to become a model. At 15, when she auditioned in 4 agencies, Hunter was urged to lose some more pounds around the hip which sent her on a slimming journey that never bore fruits.
6. Her turning point
At 16, Hunter landed herself her first modeling gig. Still, she was told she had to continue losing weight if she wanted to be successful as a model. Hunter, therefore, ate less, worked out excessively, and did anything that would ensure fitting into the description of a perfect model. Her efforts proved vain when she appeared on set only to be thrown out, with the agency saying they had not realized how big Hunter was. In tears, Hunter knew that she had to accept herself as she is and make changes for the better. By 19, she had evolved to be a curvier teenager and thought her modeling dream would never come to pass.
7. She envisioned her wedding at 14
It is the dream of every girl to find the right man and marry in a fantasy-like wedding. According to People, Hunter knew what she wanted her wedding to look like since the age of 14. She had even chosen a wedding gown that she would have loved to wear. However, being a plus-size woman made it difficult to find what she was seeking. While most plus-size women would have preferred to hide their curves, Hunter wanted to show them off. Therefore she had Watters Bridal custom-make a dress similar to what she had dreamed of at 14, and it turned out perfect.
8. She met her husband on Snapchat
When Brian Keyes went on a date, the lady asked him what he was looking for in a woman. Brian responded that he preferred blonde and curvy women. The reply prompted Brian's date to suggest that he follow Hunter on Snapchat. Brian did that and found Hunter hysterical, which attracted him to her. Therefore when Hunter asked her fans what to do in New York, Brian invited her for drinks. The first moment she laid eyes on him in Bobo, a bar in West Village, Manhattan, Hunter knew that Brian would be her husband.
9. Before meeting her husband, she had given up on dating
Love can be messy and make you want to rip your heart out of your chest and flush it down the toilet. However, we are human and negative feelings go away after a while and are replaced with positive ones sooner than we thought. When Hunter broke up with a guy she was dating, she wanted to work and put her mind off men for a while. Therefore when she went to New York, she was looking to be preoccupied with work. However, fate had better things in store for her because Brian made his move.
10. She is a stepmother
Brian went through a divorce in 2011 when his daughter was barely a year old. He had a hard time that resulted in his mother and aunt helping out with the infant due to the custody issues. Now that Brian married Hunter, Hunter has become fond of the little girl despite being nervous the first time they met. Hunter wanted the relationship with Brian to work out so bad that when her lease expired in 2017, she moved in with him. Hunter consequently got to spend more time with Brian's daughter, which made Brian love her even more.