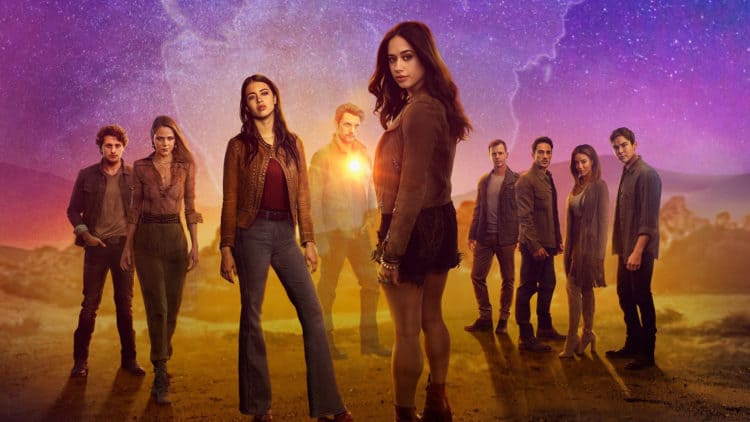 When news broke a few years ago that the late 90s/early 2000s show Roswell was getting a modern reboot, lots of people were excited. Although the show was fairly short-lived (three seasons) it still managed to build a significant fan base. When the reboot, Roswell, New Mexico premiered in 2019 it didn't take long for the show to become a huge hit. Now in its fourth season, the series is drawing to a close and it has already been announced that this season will be its last. That being said, quite a few things have changed since the show's first season. While some of these changes have been pretty noticeable, others have been fairly easy to miss. Let's talk about how Roswell, New Mexico has evolved since season 1.
Changes With Cast Members
If you've been watching Roswell, New Mexico since season one, you've probably noticed that a few cast members have come and gone. Trevor St. John and Amber Midthunder who were both parts of the original main cast left the show after the second season. There have also been quite a few changes among cast members who have had recurring roles on the show. In some cases, cast changes can be difficult for a show to recover from, but Roswell, New Mexico has managed to keep chugging along no matter who has parted ways with the show. Unfortunately, we weren't able to find any details on why Trevor and Amber left the show.
Murder Mystery
Roswell, New Mexico is a science fiction show, but the first season also incorporated a good old-fashioned murder mystery. While this was the focal point of the first season, subsequent seasons haven't followed this same format. For those who really love murder mysteries, this may feel like somewhat of a bummer. Realistically, though, viewers would've probably felt like the show was dragging the storyline out had the murder mystery continued after season one. The shift in focus from the murder mystery has allowed the show to introduce other storylines. Plus, even without the murder mystery, the show has done a good job of keeping people on the edge of their seats.
Time Slot
When Roswell, New Mexico debuted in 2019, the show aired on Tuesday nights at 9 pm eastern time. However, that was changed the following season when the show was aired on Monday nights at 9 pm instead. The show's timeslot was changed again for season three when it began airing on Mondays at 8 pm. Episodes during season four also air at this time. There are quite a few reasons why a show's time slot can change. Sometimes it has to do with other shows on the networks, and sometimes a show's ratings will dictate when it airs. Sometimes a timeslot change can be the kiss of death for a show that is already on the decline, but sometimes it can actually lead to a show becoming more successful.
Relationship Growth
Relationships have played a prominent role in Rosewell, New Mexico since season one. Over time, many of those relationships have evolved greatly and viewers have really enjoyed going along for the ride. In fact, this is probably one of the things that people love most about the show. Roswell, New Mexico has depicted a variety of relationships including those among people in the LGBTQ+ community. Now that the show is coming to an end, it'll be interesting to see how all of the relationships get wrapped up. Since the cancelation was announced ahead of the fourth season, the show shouldn't leave any loose ends behind.
Ratings
Since evolution is typically synonymous with progress, I'm not sure this technically counts as evaluation – but it's worth mentioning nonetheless. Since the show is getting canceled after season four, it goes without saying that ratings is something that has changed drastically since the first season. The first season regularly brought in around a million viewers per episode, but those numbers started to decline drastically at the start of the second season. As always, it's difficult to pin down exactly why the show's ratings started to tank. However, it's important to note that several other shows were canceled at the same time as Roswell, New Mexico. Unfortunately, though, once ratings start to go south, networks usually make the decision not to renew.
When news of the cancellation started to circulate the internet, the show's creator, Julie Plec, tweeted, "It's the Red Wedding at WBTV/CW today. Much more to say, but not today. Loads of gratitude coming for fans and cast and crew in future tweets. But today, we mourn."
Tell us what's wrong with this post? How could we improve it? :)
Let us improve this post!