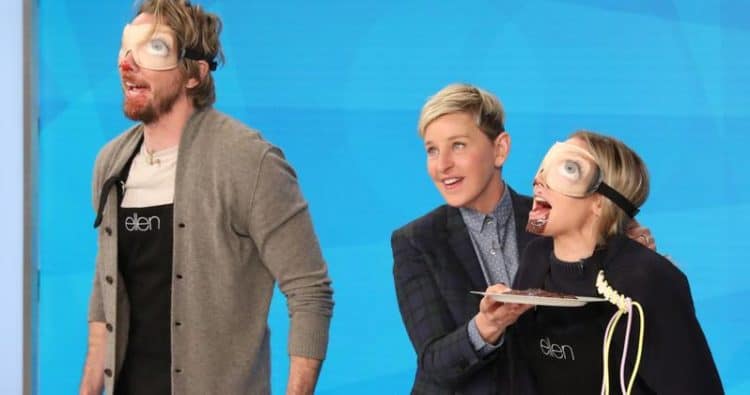 For decades, game shows have been popular all over the world. There's always been something about an intense competition that draws people in. Just when you think producers couldn't possibly come up with another idea, another one seems to come out of the woodwork. That being said, there's a new game show on the horizon that is poised to take over the summer/fall. Hosted by Dax Shepard and Kristen Bell, Family Game Fight is set to be the ultimate family competition show, but of course, there will be an interesting twist. The series will premiere on August 8, 2021, at 10:30 pm EST on NBC. It will air directly after the Olympics. Continue reading to learn 10 things you didn't know about Family Game Fight.
1. Dax Shepard And Kristen Bell Aren't Just Hosts
We've already established that Dax and Kristen will be hosting the show, but that won't be their only role in the series. During each episode, they will be 'adopted' by the competing families and will also go head to head in all of the challenges. Even though they are married, they have no plans to take it easy on each other.
2. There's A Big Cash Prize
The prize is the driving force behind most competitions because people like to know there's something in it for them. Anyone competing on Family Game Fight can rest assured that it'll be worth their time and effort. The winning team will take home a $100,000 prize.
3. The Show Was Inspired The Ellen Show
Sometimes the greatest ideas come when you aren't even looking for them, and that's how Family Game Fight came about. According to Deadline, "Family Game Fight is inspired by the pair's antics on The Ellen DeGeneres Show." Since people loved seeing them together on Ellen, they're hoping to recreate that magic in this new show.
4. The Show Is Still Casting
If you've always wanted to be on a game show, now is your chance. Family Game Fight is still looking for families who are interested in competing. People who are interested can apply online. Since there are probably a high number of applicants, only those who are selected to move forward will likely hear back.
5. The Challenges Will Be Physical And Mental
There are plenty of shows that are about mental challenges and plenty that are about physical challenges. Family Game Fight will bring together the best of both worlds. Contestants will be put through a series of difficult challenges that will test them on multiple levels.
6. The Show Marks Dax And Kristen's First Game Show
Dax Shepard and Kristen Bell both have long histories in the entertainment industry. However, Family Game Fight will be the first time either of them has done a game show. Since acting and doing a game show require two different skill sets, it'll be interesting to see how they navigate this new platform.
7. The Show Is Produced By Ellen Degeneres' Company
Since Family Game Fight was inspired by Ellen's show, it's only right that she be a part of it. The show is produced by Ellen's company, A Very Good Production, and she is listed as an executive producer. A Very Good Production is responsible for several popular game shows including The Masked Dancer and Little Big Shots.
8. Season One Will Have 10 Episodes
Now that so many of us are into binge-watching out favorite shows, lots of people like to know how many episodes they can expect from a season. People will be happy to know that NBC has ordered 10 episodes of Family Game Fight for the first season. If the show gets renewed, there's a chance there could be longer seasons in the future.
9. People Are Already Excited About The Show
Even though we're still a few weeks away from the premiere of Family Game Fight, the show has already created a nice buzz on the internet. There seems to be a good number of people who are looking forward to the show, so hopefully that is reflected in the ratings once it actually airs.
10. The Show Is Replacing Ultimate Slip N' Slide
Any time a new show is introduced, it typically means that another show has come to an end. Family Game Fight will be replacing Ultimate Slip N' Slide which is another game show. Ultimate Slip N' Slide was originally supposed to air after the Olympics, but production had to be shut down due to a diarrhea incident on set. Eventually, bacteria was found in the dirt on set that resulted in 65% of the show's staff getting sick.