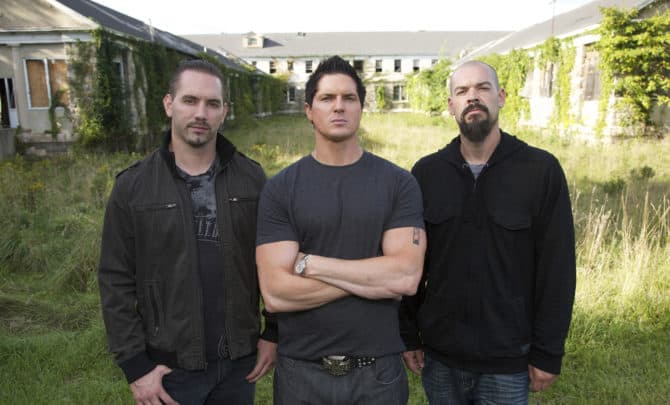 If you're interested in the paranormal, you might find yourself sitting in front of the television watching shows like Ghost Adventures. Maybe it's because you're simply looking for something that's interesting and different and you find yourself being entertained by these types of shows. Maybe you really are interested in gaining a better understanding of things that are, by their very nature, outside of what many people consider the typical realm of understanding. Whatever your motivation might be for watching such television shows, there's a better than average chance that you're looking for other shows that are similar if you are a big fan of Ghost Adventures. Fortunately, there are plenty of shows that can help you explore the paranormal from the relative comfort of your own couch. Below are five more shows that are similar.
As far as shows that are similar to Ghost Adventures, Paranormal Lockdown is very close. It doesn't just discuss matters of the paranormal, but also involves having two investigators that are locked down for a period of 72 hours in each place that they investigate. Basically, they bring all of their equipment in and set up their cameras and they stay in these places for 72 hours straight as they record footage and do various types of investigation in some of the most reportedly haunted locations in the world. By the way, one of those investigators just happens to be Nick Groff, who used to be on Ghost Adventures.
2. A Haunting
This particular show features interviews and reenactments with not only various investigators, but with people that have reportedly come into contact with the paranormal. The show has a definite vibe, as almost everything that they feature on the show is not only unfriendly, but downright evil. It's very rare that the show discusses a benign ghost, and in fact, it frequently focuses on demonic hauntings. Nevertheless, it does focus on actual reports of hauntings and for the most part, it sticks to the things that were actually reported. When you realize that, it just might take your level of fear to an entirely new category.
3. My Ghost Story
This show features various people that have had some type of experience with the paranormal. They're interviewed and their experiences are reenacted so that you can get a better idea of what they went through. Granted, there's not anybody that's locking themselves down in a particular location on the show, but if you're looking for something that discusses reported encounters with the paranormal, this is a good place to start because it typically features three separate stories for every episode.
4. Scariest Night of My Life
Here is another show that discusses the paranormal from the point of view of those who have encountered it. If you remember, Zak Bagans from Ghost Adventures has reportedly stated that that's exactly how he got into paranormal investigation in the first place, because of his own encounter with the paranormal. He has made the statement many times that this single event changed his life in many ways and in essence, these individuals are going through the exact same thing as they discuss the moment that they experienced the paranormal for themselves.
This particular show features some of the most well-known and well-regarded paranormal investigators that are currently active. They talk about some of their most harrowing cases and to be honest, some of the things that they discuss can make the hair on the back of your neck stand straight up just hearing it. These are people that investigate the paranormal on a routine basis, just like the crew of Ghost Adventures. Nevertheless, they're talking about times when they themselves experienced something that was completely outside of whatever they're used to and in some cases, it's downright terrifying.
Whatever your personal feelings are regarding the paranormal, these are shows that are capable of holding your interest and in some cases, they're capable of keeping you up all night long. If you end up watching all of them, you'll gain a more well-rounded picture of paranormal experiences from both sides, meaning that you can hear the stories from the people that they happened to and then in many cases, you can get a different viewpoint about the same type of haunting from a professional investigator. At the very least, it gives you some food for thought.Ghost Adventures
Tell us what's wrong with this post? How could we improve it? :)
Let us improve this post!