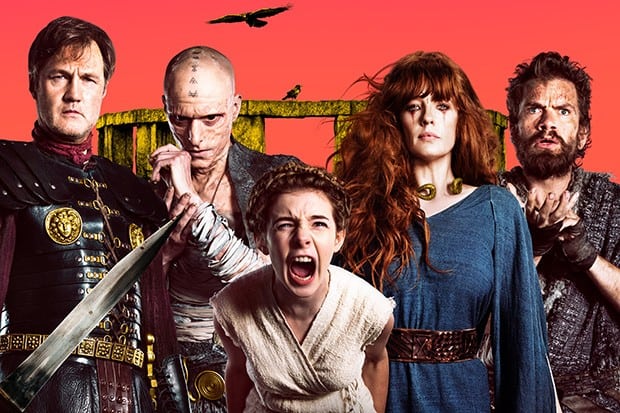 It feels easy to state that a lot of people might look at a show such as Britannia and wonder if any of it is realistic, or if it's all a matter of taking several of the elements that many people feel are more desirable and making a show out of them. Well, the latter is more accurate than the former since the history of England is a back and forth ordeal that Rome has had a lot to do with in the past, even if history feels a little muddled now and then. But Brittania, entertaining as it is, does take historical facts and uses them to create a tale that's fun to watch and feels several steps down from something like Game of Thrones, but is still kind of extreme in its own right. It's also a show that manages to make several big changes within the first two seasons, and more in the third, which makes the comparison to GoT even more possible. From the start with Divis, a man kicked out of the Druids, to the arrival of General Aulus, things go from uncertain to worse and back again very easily.
The real thrust of the show is that Rome is coming to the English shore before it was even England since the country would be founded centuries later. That's why it's so easy to say that England was a mess for such a long time. A lot of countries can be given this description before they were founded, but somehow England finds itself in the spotlight a lot of the time. It could be that a lot of history comes from this location, which would be accurate. But the truth within this show is that it's still mostly fiction, even if the writers did manage to borrow several elements from the actual historical occurrences that went on from the invasion of Rome and how it came to shape the history of Britain.
The direction that the story goes in is kind of interesting since things kick off fairly quick since General Aulus and his forces invade the country in a manner that's not expected as they make it clear that they're there too and that nothing is going to keep them from changing the status quo. Seeking to destroy the old gods that the Druids and the indigenous tribes worshiped for so long became a clear and unrelenting strike that the Romans saw as a way to divide and conquer. It's not surprising to think that at least one tribe would seek to curry Rome's favor, while many others would decide to keep to the old ways and either fight and be annihilated, or make deals with their own devils to preserve at least a few of their ways. The realism that comes from the fictional qualities of the show is easy enough to see since it does highlight the implication of who was to blame for doing this or that to whom. Of the Druids, history doesn't say as much, but what's great about a show like this is that the Druids are made to be what popular fiction has made them out to be.
The Druids have a large stake in what's happening in this show since they're firmly set against Rome, and for the first two seasons are seen to do their best to stymie the efforts of the Romans to move forward, to little effect. One can imagine that there was a good bit of resistance in ancient times when Rome came a-calling, and there's even enough reason to believe that some of the drama that has unfolded in the show would be the type that might have been realistic back in this era. But still, thinking that much of it is dramatized to satisfy the crowds of today is far easier to believe since the mere fact that more modern songs are being used for the soundtrack gives the series a very different feel, and even makes it a little more appealing than trying to remain as stodgy and stuck within the era being portrayed. In other words, it makes the show feel unique and different in a way that some folks might not fully appreciate, but it does elevate it in a way that might not be appreciated in its own time.
As far as realism goes, there is something to be said for the fact that historical elements have been taken and used in this show when it comes to how it all comes together. From Rome's invasion to the current outcome of season 3, Britannia is capable of holding an individual's interest without question. Taking it as historical fact though would be kind of a mistake since the majority of the show is highly fictional, but it's entertaining all the same.