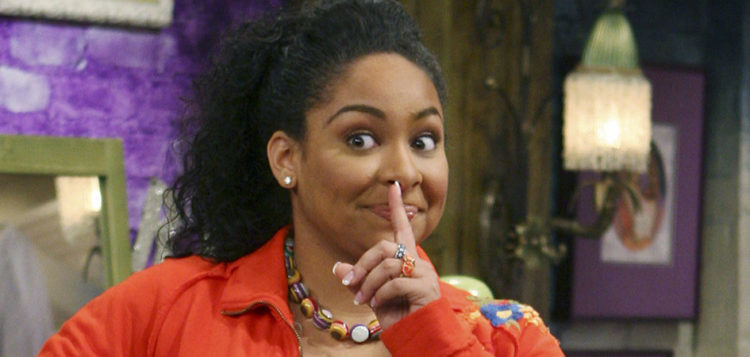 Children of the 90s grew up watching Raven-Symoné Christina Pearman. Life in the limelight isn't always easy, especially for child stars. Raven has made a career and managed to find peace with being herself in a profession where someone is always telling her what to do and who she needs to be. She started her working life exceptionally early as a child actor on the Cosby Show (1989—1992). In addition to that first job, Raven is a working musician and released her debut album at age seven (1993). It's no real surprise that Disney picked up such a talented kid as soon as they could. After the Cosby show, she was on ABC's Hangin with Mr. Cooper for five years, but she joined Disney in 2003. Raven must have liked working for the kid-centric company. In spite of breaking away to do some films, work on The View and even do a Broadway show, she came back to do Raven's Home. The show follows the life of Raven Baxter and is a sequel to That's So Raven. SPOILER ALERT! There are spoilers ahead.
From That's So Raven to Raven's Home
The supernatural sitcom of Raven's school life as a psychic was immensely popular. Raven played a mostly normal teen (Raven Baxter) who was sometimes plagued and sometimes helped by her brief flashes of crystal clear future-visions. While her insights certainly helped her in the long run, oftentimes they upset her when they happened. Cory In the House actually came between That's So Raven and Raven's home. The show starred Kyle Massey as Raven's brother, Cory. While that show centered more around his life, it's also a continuation for Raven Baxter's life story. If you want to follow the complete saga of psychic Raven, then Cory in the House is a must-see.
Learning to work with her unique skill and make the best of every situation was a challenge for the star, but she always managed to make it work in the end. Raven's Home is a continuation of her life as an adult who still has visions. Now Raven, as a character, has twins (Nia and Booker) and lives with her best friend Chelsea who also has a son named Levi. This unique family dramedy shows how the two single women cope with raising children together as roommates. Naturally, there are plenty of personality clashes in a house that's always busy. Moreover, Raven's visions haven't changed. They give her special "mommy powers," but things don't always go according to plan. That's life with Raven at any age. The non-traditional family sticks together through it all, and inevitably they find ways to make things work even with an imperfect psychic in the house.
The Evolution of Raven's Home
All families grow and change over time, but living with a psychic mother and friend who often knows what's ahead for you isn't easy. Having a full house with your BFF and three kids is bound to be chaos even if you never have any other problems. Both Raven and Chelsea are divorcees, so working together is an excellent way for them to maintain their friendship and share the responsibilities of child-rearing. Raven's twins, Nia and Booker are very different from each other, and Booker often gets preferred treatment while his sister is more independent. Meanwhile, Chelsea's son Levi is a couple of years younger and a couple of decades more mature and jaded.
Season One in a Nutshell
Raven is back with her trademark humor and overcompensation for her visions. As a divorced mother of twins, it's almost miraculous that she hasn't let the kids in on her little secret yet. Nevertheless, Raven keeps her powers to herself as she and Chelsea embark on their co-parenting adventure with the kids. Though Chelsea knows her secret and suggests that she should share with her family Raven wants to keep it to herself like a superpower. As it turns out, Raven's son, Booker also develops the family flashes of future vision. It takes him a while to convince his twin that he's not totally nuts, but eventually, he convinces skeptical Nia. Now Raven's Home has two psychics, and they don't always see eye to eye. Though their visions and choices often clash, the family manages to work through everything from a father moving away to a hilarious mom's night out with their own style and humor.
Season Two: Secrets Revealed
By season two Booker has begun to deal with his visions in earnest. Throughout the show, Raven and the rest of the family learn about his talent. Though she tries to help him the best she can with bits of motherly wisdom, Raven herself isn't the best at managing visions of the future. Hilarity and drama ensue as a result of the family coming together to help Booker with his gift. Raven is forced to confess that she's been hiding her powers for a while. The mother and son clash over their visions more often than they manage to work together.
Season Three: Long Term Goals
Season three is all about where the Baxters and Graysons want to be in life. Raven is working on her career as a fashion designer. She tries to manage her clothing line and her home life. Working motherhood is never easy. Yet somehow Raven always finds a way through because of or in spite of the visions. While she's busy with her work, the kids form a band. They're pretty good for child musicians, and they want to take things further, but making it musically is never easy. As always, this unusual family clashes, comes together and goes through more than their share of crazy adventures as everyone works toward their larger goals in life.
Final Thoughts
Will there be another season of Raven's Home? We hope so, but Disney hasn't said anything just yet. Sometimes no news can be a good thing because there's also been no notice that the show is canceled. We know that whatever comes next, the stars will work through it like the fantastic family they are. We're hoping for at least a few more seasons, and we'll keep you posted if we learn anything new.