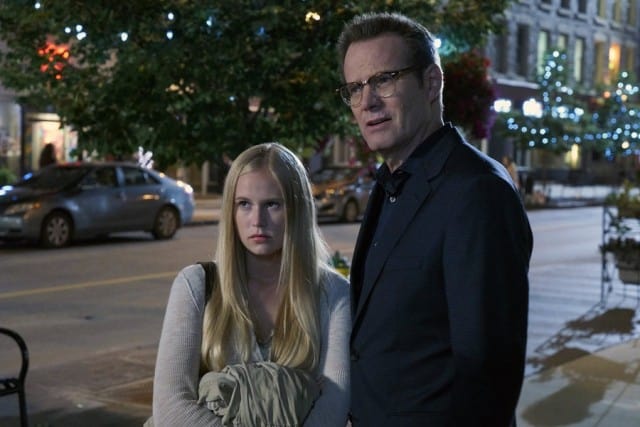 As you may have noticed, I am not the usual reviewer of Heroes Reborn. Filling in for regular reviewers is fun for me, and hopefully fun for readers, as it presents the show from a hopefully fresh perspective. I was familiar with the original Heroes series, but I didn't watch much of it. So, I began watching Reborn with not a ton of background information. I've filled in quite a few of the gaps, and so far have found it to be a pretty compelling story.
This week on Heroes Reborn: Erica convinces Tommy to look at the future, in order to relocate mankind to a post-apocalypse time period. Noah and Malina journey to find Tommy, refusing the aid of Luke. Farah and Carlos are reunited, and join forces with Taylor to locate the leader of "Hero Truther." Miko is charged with finding Tommy.
Like I said, I have no Heroes background, so I'm definitely not a fanboy that lives to see the old Heroes characters grace my screen. I find that watching something like this without watching its predecessor allows for an objective point of view. Inherently, Reborn is watchable and compelling television. It has plenty of flaws, but strong characters and a fairly compelling "fight the apocalypse" storyline make it one of the more interestingly unique TV offerings.
I find Jack Coleman's Noah a fairly compelling main character. From what I've read about the original show, his character ties the worlds together quite nicely. This episode was less about him and that's totally fine, as the threads he's been holding together slowly began to merge. A lot of the actors in this show are quite good, which helps when the story threads are aplenty.
Robbie Kay (Tommy), Danika Yarosh (Malina) and Kiki Sukezane (Miko) are a strong trio of young actors. "11:53 to Odessa" was a particularly strong showcase for them. If the Heroes franchise were to continue, they would be in good hands with these young actors. I think there is plenty of story that could still be told, and I could definitely be convinced to watch if these three were around for it. I'm also very appreciative of Eve Harlow (Taylor)'s talent, from The 100 to Heroes. Harlow's had her shining moments before this week, but she was another standout in this week's episode.
I'm not particularly pleased that Heroes Reborn is wasting a talent like Zachary Levi. I find Luke to be fairly compelling, but so far he's been pretty one-note (redemption journey…rote) and I keep waiting for Sarah and Casey to show up to get him out of a jam (THAT's the show they should be reviving). In all seriousness, his brief journey with Malina was the best work he's done, so I'm hopeful there is more of that to come. He's got so much talent, and just seems a bit underused by the show to this point.
I think Heroes Reborn has a lot of good stuff going on. It can get dragged down by some of its not-quite-yet-linked plots (evident in "11:53 to Odessa) but the stakes seem to rise every week, which is good news. It's well-acted, and serves as a wonderful dessert for Heroes fans and newbies (like myself). I'm not sure it left enough of a cliffhanger for a fall finale, but at least we don't have to wait too long for it to come back!
I would like to thank Andy for tagging me in this week, and I've very much enjoyed expressing my thoughts on this show. Look for Andy's return when the show returns in January!
What did you guys think? Did you enjoy the fall finale? Let us know!
[Photo credit: Steve Wilkie/NBC]
Tell us what's wrong with this post? How could we improve it? :)
Let us improve this post!