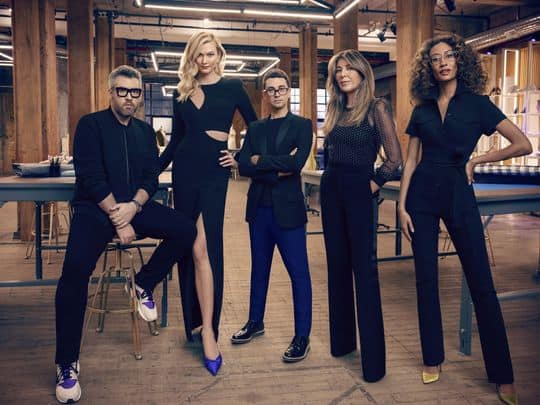 There are instances in which the stars of a show make the show work, but others in which the show can run with or without the primary drive that's been seen to make it run. Project Runway however has entered the stage of having to make it work as it's lost two of its most prominent members in Heidi Klum and Tim Gunn. The host and mentor of the show, respectively, have been around for an eye-popping 16 seasons, and have mad the decision to depart for a different show, a rival no less, being featured on Amazon. They're replaced by Karlie Kloss and Christian Siriano, a model and a designer, who ended up winning the season 4 competition, and thus have at least a good amount of hands on experience and know-how when it comes to the business and how to judge others when it comes down to design and what it takes to compete in this world. Kloss will be serving as a judge alongside several others, among them Nina Garcia, the last original cast member still remaining.
It seems odd and kind of shocking that Klum and Gunn would switch over to the competition after so long, but business is business and there's not a lot of room sentiment in this particular arena, especially not when one's reputation and paycheck are both on the line. When it comes to fashion and modeling the practice is absolutely cutthroat at times and affects a very 'take no prisoners' kind of feel that you can't help but think is capable of keeping people at a distance even in moments when they need to be working together. But the understanding seems to be that once a person enters this business that they learn how to make alliances and how to get along to go along. Then there are those moments when you need to learn how to jump and find a new place to land that's more appreciative and amenable to your skill set.
The show is going to survive for now it would seem since it's been promised by a new panel of fashion experts that what we'll see moving forward will incorporate the best of the original but with a few big changes that will be reflective of how the business has changed since the show first came on the air in 2004. With over a decade of being on TV you can imagine that the changes coming are going to be monumental. For instance, the new season will feature a bigger prize for the winner, promising a quarter million dollars instead of the usual $100,000, and viewers will be able to purchase their favorite designs far quicker than before, at least with some episodes.
Thanks to the desire of the fans the show is going to make the votes for favorite looks and buy them almost instantaneously as compared to before, as the desire to show just how quickly the fashion world moves has become one of the ways that the show will change moving forward. As to the people that are being replaced, Klum actually recommended that Siriano be used to replace Gunn. When Siriano caught wind of this he was pretty confident that he could fill the spot, and that he could offer a new perspective that Gunn couldn't. That kind of bravado is great and his confidence is admirable, but we'll have to wait and see if he can back them up as the new season rolls along. It's a belief that this might be possible since Tim Gunn was never a designer, but instead a mentor and a teacher that never worked in the industry. So it is possible that Siriano will bring something to the table that Gunn never did. But then again, as much as a designer knows, their patience and ability to sit back and teach might not always be their strongest characteristic. At this point it's a wait and watch kind of deal.
The new season is going to be interesting to watch, and not just because Gunn and Klum will be moving on. If anyone recalls, this show was featured by the Weinstein Company, and as a result it was impacted by the #MeToo movement just as many were a couple of years back. It's going to be a subject that will likely come up, but it's not going to be shied away from as it's already been said, as the showrunners do in fact want to discuss the matter and make it a part of public record on screen so that it's apparent that they're willing to talk about it. Apart from that the new season is already promising to be something exciting, full of life and flair, and a new experience that people will thoroughly enjoy. Let's hope the new host and mentor can make it work.
Tell us what's wrong with this post? How could we improve it? :)
Let us improve this post!