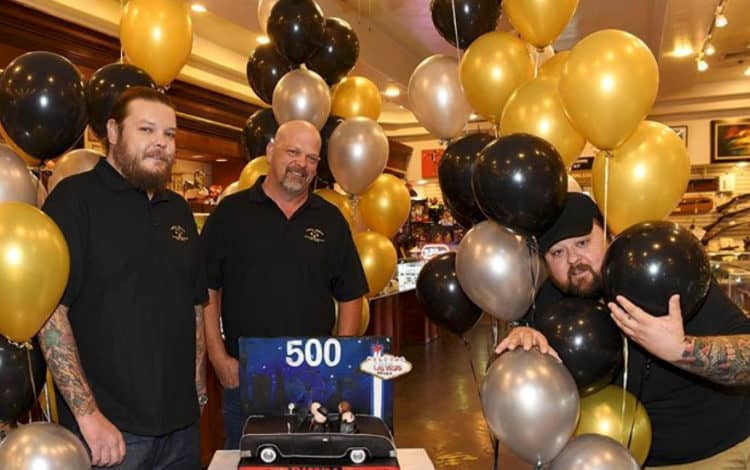 Sometimes controversial, frequently educational, and always entertaining, Pawn Stars is one of our favorite reality TV shows. We've been watching since it premiered in 2009, and things have certainly changed over the last decade. The relatively small pawn shop has been overhauled repeatedly to make more space for the merchandise. Moreover, Gold and Silver Pawn Shop has become a tourist destination in its own right, with fans of the show flocking there to buy, sell, and occasionally just to see what's going on inside. Sadly, the show is only filmed when the shop is closed, but it's still a fun place to stop in Vegas. With all those changes, the cast and crew have certainly raked in the greenbacks, but how much does the crew from pawn stars really make?
According to Pop Culture, Pawn Stars was the most profitable History show airing as of 2016. At that time the show itself was netting nearly $3 million per episode, which is a considerable profit. Of course, the network's income is not the same as the stars' salaries for being on the show. Reality star salaries can range from literally zero dollars (for a supporting character who signed a release to get their face on screen) to millions if you're as famous as Ryan Seacrest. More importantly, the sums can and do change over time.
You might expect the sum to continue its upward trend, but that's also not necessarily the case. A show doesn't have to continue increasing in value to remain worthy of air time. As long as the ratings support keeping it on the air and the network is making decent money. We're not sure how much Pawn Stars has changed in terms of income over the last three years. Still, it's massively popular and well-loved.
Richard Benjamin 'Old Man' Harrison
Before he passed away at the age of 77 on June 25, 2018, the "Old Man" was worth about $5 Million, according to Niki Swift. After spending years enlisted in the military, Richard opened the Gold and Silver as a twenty-four-hour family business back in 1989. He spent between five and ten thousand dollars to get the first iteration of the shop operational, and it was a wise business investment. However, there were years when the shop wasn't growing at all. In the last decade, Gold and Silver has undoubtedly become an icon, but before the show, the Harrison family only saw about seven customers per day. Richard repeatedly tried to pitch the idea of a TV show for the shop and was told that no one would be interested in watching four guys work at a pawnshop. Hopefully, whoever made that call got fired for passing up millions.
Rick Harrison
Rick, like his father before him, has a truly entrepreneurial spirit. In addition to his ten percent stake in Gold and Silver, he's owned a Quiznos franchise and several other small businesses. He opened an express window that allows fans and customers to shop while the show is being filmed. Though we don't know exactly what his current salary from the show is, though back in 2016, it was around $15,000 per episode. Ricks estimated net worth in 2019 is roughly eight million dollars. That's nothing to sneeze at for sure. However, it's not as though Rick was born with a silver spoon in his mouth. Rick worked his way up in the pawn business from a very young age. He's made wise investments over the years and sold some of them for a profit. On top of that, he has an investment portfolio, with 80 percent of his stocks solidly placed within blue-chip companies. The pawnshop is only part of Rick's net worth these days, albeit a big part.
Corey "Big Hoss" Harrison
Corey has always been a significant contributor to the Pawn Stars TV show, though mostly it seems that he brings the drama. Nevertheless, without him, things on the show would be a whole lot duller. He brought Chumlee into the business since the two have been best friends for years. He owns a five percent stake in the company because he once threatened to quit if he wasn't included. His father gave him the smaller share, and we got years more of Big Hoss drama for the investment. Like his brother, we're not sure what his current salary amounts to, but by 2014 he was netting around $300,000 per season from his dramatic contributions to the show. According to the History Channel, Corey's net worth is currently hovering at approximately $5 Million. On top of that income, he and Chumlee also make personal appearances around Las Vegas and tweet their locations so fans can come and take pictures with them. Those engagements net him a thousand dollars per visit.
Austin Lee 'Chumlee' Russell
Chumlee may be the butt of most of the jokes, and the shop's comic relief, but he's not messing around financially. More than a few times on the show, Chumlee has proven his worth by showing off his knowledge and abilities. For example, he's particularly knowledgeable about pinball machines, and he's used that expertise to benefit Gold and Silver more than once. While some remark on his good luck at chancing on a friendship that made him so much money, Austin has given back and provided an essential element to the show. Without him, there wouldn't be as many laughs, and that helps make the whole Pawn Stars show more enjoyable. According to Wiki Celeb Info, Chumlee was making twenty-five thousand dollars per episode as of last year. Though his net worth is also estimated at around five million, the reality star has his fingers in other pies, including a candy shop where you can get a chocolate bar with his face on it. Austin Lee makes the same thousand dollars commission for outings to local clubs as his long-time friend Big Hoss.
Final Thoughts
We'll admit it, when we first heard there was a show coming out about some guys at a pawnshop, we didn't expect to love Pawn Stars as much as we do these days. Sure, we knew there would be some interesting items that came in the door, but that was about all. Learning the history of some of the fascinating things people bring to the shop, and seeing the somewhat staged interactions between the stars has been a guilty pleasure for a decade. Hopefully, we'll still be watching the History Channel favorite for another decade or two. Were you surprised by how much these stars make? Let us know what you think about the reality star's pay-rates in the comments section.