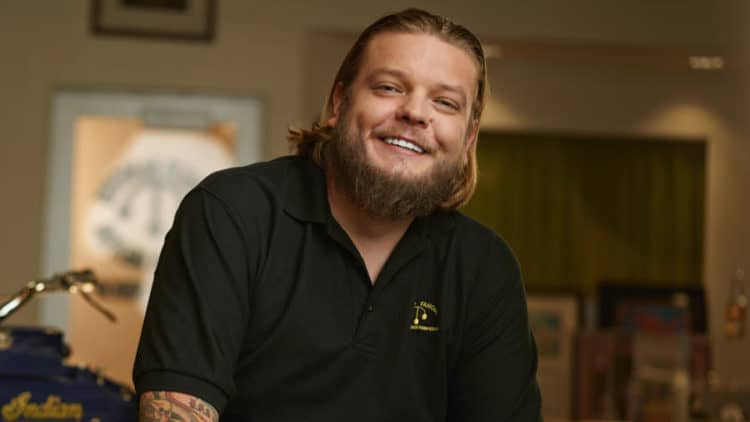 Corey "Big Hoss" Harrison is one of the stars of the History Channel's realty show "Pawn Stars". The show has been one of the most successful realty shows since its debut in 2009. The show follow the Las Vegas pawn shop, World Famous Gold and Silver Pawn Shop, a family owned successful business. Corey is a partner with his dad in the shop and manages the store. Corey has a successful career in realty television as well as the pawn shop and several other business ventures. Here are 10 things you didn't know about Corey Harrison:
1. He started working at the Pawn Shop when he was 9
Richard "Corey" Harrison began working in his family's Las Vegas pawn shop when he was just 9 years old. World Famous Gold and Silver Pawn Shop was opened by Corey's grandfather, Richard Harrison in 1989. Corey's dad, Rick, partnered with his dad. When Corey was still in grade school, he helped out at his father and grandfather's store, polishing knobs, jewelry and antiques. He quickly caught on to the business and would help it become successful in the years to come.
2. He tried other jobs
Corey Harrison was born on April 27, 1983 in Las Vegas, Nevada. Corey's father is Rick and his mother is Kim. His grandfather Richard Harrison, known as "Old Man" on "Pawn Stars" died in June 2018. Corey has three brothers, Jake, Adam and Christopher. While Corey started helping out at his family's Las Vegas pawn shop early in his life, he tried other jobs after school including working as an electrician, in construction and at a sawmill. Corey ended up returning to what he knew best, working at his family's pawn shop. He now owns a percentage of the business along with his father and is geared to take over the business eventually. Corey manages the daily activities at the shop, manages its 30 employees and is the highest purchaser and seller at the shop.
3. World Famous Gold & Silver Pawn Shop
Richard Harrison opened World Famous Gold & Silver Pawn Shop in 1989. Las Vegas is filled with pawn shops, but Harrison's was successful. He brought his son Rick on to help and Rick took over owner ship soon after. The pawn shop mostly bought and sold jewelry but also bought and sold antiques and unique items. The dynamic personalities of the Harrison family caught the eye television and filmmakers. The shop was featured in a 2001 PBS documentary and a 2003 episode of HBO's "Insomniac With Dave Attell".
4. Pawn Stars
Lettfield Studios picked up on the idea to create a realty show about a Las Vegas pawn shop, and developed "Pawn Stars" which first aired on the History Channel in 2009. The documentary filmmakers found the perfect setting and cast for an exciting realty show. The Harrisons eye for a good pawn deal, eye for fakes, connections to experts and charasmatic appeal made "Pawn Stars" an instant success. The dynamic between "Old Man", Rick, "Big Hoss" and Corey's childhood friend Austun "Chumley" Russell" helped create one of the highest rated realty shows. "Pawn Stars recently completed its sixteenth season.
5. Net Worth
Corey Harrison has made a great career out of the pawn shop, the show "Pawn Stars" and other business ventures. Even prior to the premier of "Pawn Stars, Corey purchased a Quizno franchise with his childhood friend "Chumley" but had to sell it when "Pawn Stars" became an instant success. Today, Corey Harrison's net worth is $5 million. Most of this comes from Corey's appearances in more than 500 episodes of "Pawn Stars". Unfortunately, the store has taken a bit of a hit due to the fact that the 24 hour shop has to close down for filming. However, the pawn shop continues to create revenue, mostly with valuable unique and historic items. Corey also has several other business ventures including a Beauty Bar.
6. Other Shows
"Pawn Stars" was an instant hit in 2009 and remains a popular realty show. It also spawned similar shows which Corey Harrison has made appearances in. He's an international star. The show is popular throughout the world including in countries like Argentina, South Africa, Australia and the United Kingdom. Spin off's of "Pawn Stars include "American Restoration" and "Country Cars". Related international shows include "Pawnography", "Pawn Stars Australia", "Pawn Stars UK" and "Cajun Pawn Stars". Corey and "Chumley" also appeared in the Nickelodeon hit series "iCarly". The pair appeared in an episode in 2012 titled "iLost My Head In Las Vegas".
7. Lost Weight
As his rise to stardom as a realty star came about, Corey Harrison soon became concerned about his image, and more importantly, his health. The 6 foot realty star weighed about 365 pounds when he chose to undergo gastric bypass surgery and adopt a healthier diet in 2010. He lost 250 pounds following the surgery and continued to create a healthier lifestyle following the surgery. Corey has been an inspiration to many.
8. Motorcycle Accident
Corey Harrison was injured in a motorcycle accident in 2014. Unfortunately, the accident happened when Corey was headed toward his own birthday party. He suffered a fractured arm as well as foot and back injuries. Fortunately, Corey recovered from his injuries and went on to continue on "Pawn Stars".
9. Personal Life
Corey Harrison married his high school girlfriend, Charlene, but the couple divorced in 2015. In May 2017, Corey married his girlfriend Kiki in San Diego, California. The couple often share Instagram photos with their friends and fans. Corey does not yet have any children but remains close with his ex-wife, his wife and, of course, his family.
10. Biggest Profit
Corey "Big Hoss" Harrison, is well known by fans of "Pawn Star" and his family, as taking a lot of risks when purchasing items to sell. He has grown close with several of the experts he brings on the show. He, of course, has proven he has an experienced eye to catch any fake items that customers try to sell him. While Corey has made some notable deals on "Pawn Stars", one of his biggest was the purchase of New England Patriot Brock William's Super Bowl XXXVI ring. Corey purchased the ring for just $2500, and the World Famous Gold & Silver Pawn Shop still owns it although the value is certainly greater.