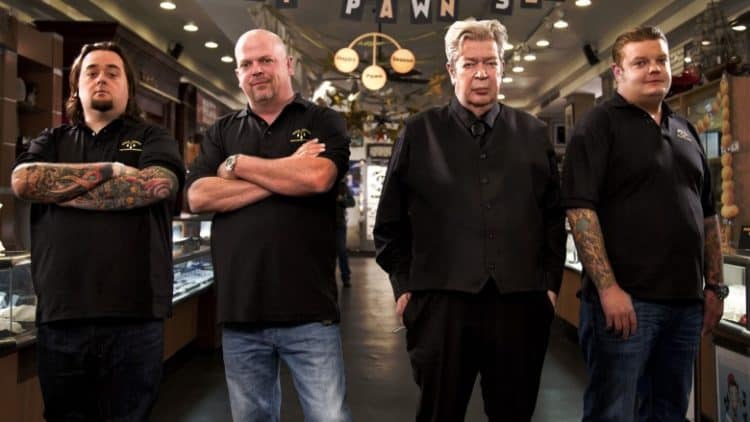 Like a lot of reality shows Pawn Stars took off because of a few different things, not the least of which was the drama that was seen between the staff and the problems that came from running and managing a pawn shop. There have been a few shows like this over the years and some have been more entertaining than others, but Pawn Stars seems to have caught the attention of the public in a big way for some reason. According to the Las Vegas Review Journal they're especially popular in Asia, where they were greeted with smiles and a lot of handshakes by fans. But in America they're still quite popular, so long as people understand that a lot of what's on the show isn't the reality of the business, as Nicki Swift has written. The show as you see it is not necessarily the business as it runs on a daily basis. The popularity of the show has insured that the main stars are never in attendance unless they're filming, and that only the most unique and possibly expensive items are going to be shown. If the truth was to come out on air the whole allure of the show might fade off rather quickly since a pawn shop is in business to make money, bottom line. At this point though it seems like another spinoff might be what's necessary to keep the idea of it alive or at least a pleasant memory in the minds of the people.
Here are a few spinoff ideas that might work.
5. Chummin' With Chumlee
It's kind of obvious who the most popular guy on the show has been, though Chumlee is probably one of the richest as well largely because he's been considered to be that great of a character. In fact if you can believe this, but Sheiresa Ngo of the CheatSheet found out that Chumlee earns around $25,000 every time an episode is shown. It almost seems as though he'd jump at the chance to have his own show just to give the fans something to see. How he spends his days, how he unwinds, that kind of thing, just a kicked-back reality show featuring people's favorite Pawn Star might be good for a few seasons at least.
4. The Weird, The Crazy, The Best
This could be a retrospective of sorts that compiles the many clips that have come before into a trip down memory lane. The show's been running long enough that this should be worth a bit of something, perhaps a couple seasons or so. In truth it's amazing what people bring into the pawn shop at times and it'd be worth it just to see some of the worst, the best, and the oddest things that people come up with at times. It's been done before but for each place it's different since it means a whole new line of thinking and a whole new issue as to what the pawnbroker is going to say or do.
3. Las Vegas Pickers
There's got to be enough spots in Vegas where people are hoarding certain items or have built up various collections that might be worth something to the right buyer. Plus, there are plenty of small towns and cities around the desert that could possibly yield up something. And if that wasn't possible then by knowing how these shows work the producers could drum up a bit of interest by seeding the sites in order for their pickers to 'find' certain items that might be worth something. It's a cheap way to go but enough people buy into it that it could be worth a few seasons until folks start looking for something else.
2. Storage Wars: Las Vegas
Oddly enough there has never been a Storage Wars centered in Vegas yet. It's close enough that it might be able to pull in some of the regulars that have been at it for so long, but focusing it primarily in Vegas would be key. This might hopefully attract some new buyers that might be worth filming and it could even uncover lockers that are just as exciting and even lucrative as those from other programs. If nothing else it would be a way continue the franchise and add a new edge to it. If people in California actually leave so much behind, imagine what people in Vegas might leave in their lockers.
1. Pawn Stars: Reno
They've had success in Las Vegas, why not head north and try opening up shop in Reno? They're not leaving the state and are therefore risking slightly less, and it seems like it would be a good move since both cities are filled to the brim with people and all of them are willing to spend money. It's a thought really, not fully-formed, but it seemed like a good idea at the time.
A spinoff in any direction seems like it might be a good idea at this point.
Tell us what's wrong with this post? How could we improve it? :)
Let us improve this post!