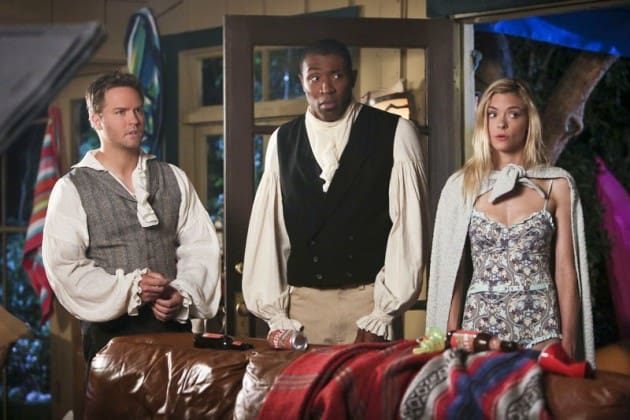 This week's Hart of Dixie was full of pure, swoon-worthy Wade moments and overall fun for almost everyone else. The show was almost completely free of love triangles for the first time ever until the very end, which just spoiled my otherwise good mood. More on that later!
We've never seen Wade like this before. Rather than take the time to freak out privately, he was so desperate to talk to Zoe. He slept on her front porch, not even knowing that she was actually in Lavon's house the whole night. Then when he finally did get a chance to talk to her in the kitchen, he kind of screwed that up, too. He was being honest when he said he doesn't know anything about babies, but by offering his skills of fishing and fixing cars, he wasn't really bringing much to the table as a father. That's all fine though because his nerves only make him that much more sincere. He even lets Earl convince him that proposing to Zoe is a good idea, which obviously freaks Zoe out and makes her head for the hills. Or in her case, New York.
Zoe has a tendency to flee back to New York when things get tough, but I was glad to see that she wasn't folding to her mother's offers to move back there. She's finally accepted Bluebell as her home. She even knows deep down that she still loves Wade. We know they're both on the same page, but they really need to communicate better. Wade does just that by surprising her in New York, marking his first time in the city.
Wade: "You are the love of my life, Zoe Hart. Together we can handle anything."
Come on. All the ladies were melting by this point, am I right?
The secondary storyline of the night involved Lemon, Annabeth, and Crickett attempting to recapture the magic of their high school glory days. It was pretty funny when Lemon was only "simply inquiring" about the status of George's family's lakehouse, which she so famously broke into when they were teenagers. It turns out that memorable weekend in the lakehouse marked the first time Lemon and George slept together. After the three girls got locked out this time around, she needed to call George for help, and I definitely rolled my eyes assuming they'd get back together now. You see, the whole competition between George and Lavon fighting to keep each other from seeing Lemon was getting old. Dash DeWitt actually made their situation all the more funny when he blackmailed them into participating in a weekend-long Pride and Prejudice reenactment, with Lavon as Mr. Darcy and George as Mr. Bingley.
I was pleasantly shocked when George came to the sudden realization that he doesn't love Lemon. I've been saying that for years now! It's such a relief that he doesn't try to kid himself anymore into thinking he loves her. It's normal to love your past but not to this point, where it becomes like beating a dead horse. There's never been chemistry between George and Lemon ever since maybe the beginning of the series, but that's where it ended. So I'm really pleased to see that Lavon/Lemon/George love triangle has been put to rest once and for all.
Of course, by confessing to Lemon that he wasn't the only one who showed up at the cruise dock, he also outed Lavon's reignited feelings for her, which only makes for another uncomfortable love triangle between Lemon/Lavon/Annabeth. Lemon might actually reciprocate Lavon's feelings for her, but if it means hurting her best friend in the process, she's willing to not act on that. Ugh. See what I mean, it was a nearly perfect episode up until the look that Lemon and Lavon shared, both knowing that Annabeth stands to get hurt.
What did you think of the episode?
[Photo via The CW]