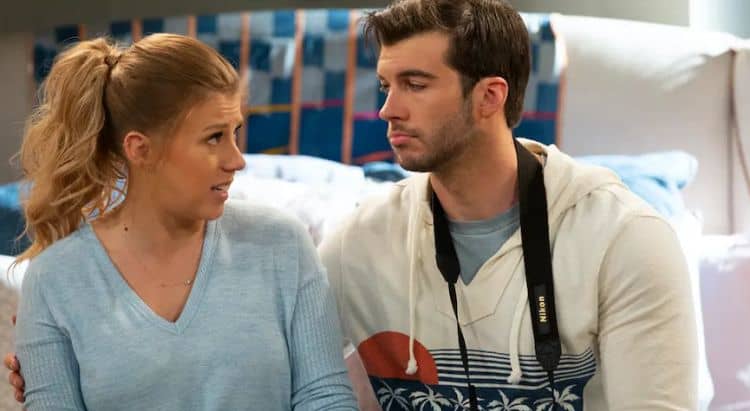 Do you recognize the name Adam Hagenbuch? He's an actor. He's a director. He's been in some of the work you've seen, and we know this because he's been in very big work. He was in "The Perks of Being a Wallflower," back in 2012. He was part of Netflix's "Fuller House," and he was part of "Switched at Birth," way back in 2011. You know him, and you probably enjoy seeing him on the television. That begs the question, however, as to what you know about him, and what don't you know about him?
1. He's In His 30s
He's only been in his 30s for about a week, however. He was born on January 23, 1991. This means he celebrated his big 3-0 in 2021, and we hope that it means he's already off to a great new year. He's working hard, doing more projects, and he's celebrating the best decade of his life. It sounds good so far.
2. He's the Mystery Brother
We all grew up on "Full House," and Uncle Jesse and Michelle and the ever-so entertaining Kimmie Gibbler – next door neighbor/D.J.'s best friend/the object of everyone's sarcasm. She was around for most of our own childhoods, yet we didn't have a clue she was a sister. Not once did she ever tell us she had a younger brother, but Adam Hagenbuch is that brother. At least, he was in the Netflix reboot.
3. He's Not Married
But, he is taken. He's involved in a long-term relationship with a woman by the name of Kayla Radomski. She was part of the "So You Think You Can Dance," franchise way back in season 5. We don't know when they began their romantic relationship, but we can tell that they've been together since at least 2019 – if not longer.
4. He's Been Ashton Kutcher
When the movie "The Brittany Murphy Story," was filmed, he was tapped to play the role of Ashton Kutcher. Kutcher, as fans know, had a longstanding history with the late actress, and he was asked to portray the role of the actor when the movie was filmed.
5. He's Got a Fun Personality
His Instagram profile biography states that he plays a lovable goofball – in reality as well as on television. This tells us he definitely has a fun personality and that he is clearly someone who probably has a lot of fun in his own life.
6. He's Happy in Quarantine with His Girlfriend
Well, let's be clear that he's probably not happy in quarantine. We can't imagine what it's been like for Californians locked in their homes and unable to work for nearly a year now, but he's at least seeing the positive side of things as he has been with the woman he loves. They've been finding ways to entertain one another throughout this time. That's good news.
7. He's Keeping Busy
He made a few Instagram references about keeping himself busy during quarantine to keep from sliding into a depression, and some of his fans commented and thanked him for his open and honest dialogue about mental health issues. It's been a prominent issue in America for a very long time, but even more so than ever with people being told to stay away from their families, their friends, their jobs, their favorite places; the isolation is detrimental to everyone, but especially those with mental health concerns.
8. He's a Talented Artist
If you take a few moments to scroll through his social media accounts, you'll see that he's a very talented artist. We don't know what he draws all the time, but he's done a few cat and dog photos that are beyond impressive. If acting doesn't work out for him forever, he's got a real shot at being a talented artist.
9. He's Got a Cute Nickname
He goes by Hagenboo, and we like it. Everyone has at least one nickname, even if it's just the one your parents call you. However, it's always a little more fun when your nickname is something that doesn't really mean anything to anyone but you – and we hope he decides to one day share what this means with the rest of us.
10. He's Private
Adam Hagenbuch shares enough of his life online to keep his fans happy, but not enough that we know where he lives or what he's doing in his free time. He seems to be the kind of guy who is just happy to be where he is and enjoy the moment all while keeping things to himself.