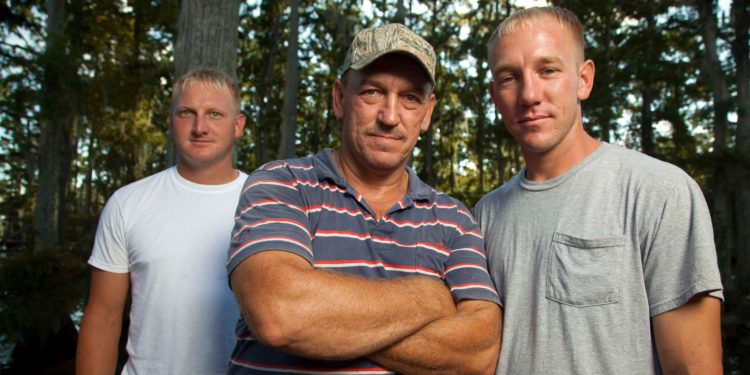 The History Channel series, Swamp People, may not be everyone's cup of tea, but it has garnered a loyal fan base since its debut in 2010. The show follows the lives of alligator hunters, who have experienced a significant change in their financial situation since joining the show. While they may not earn as much as stars from more popular TV shows, their salaries are still quite impressive. So, how much do the cast members of Swamp People make? Let's dive in and find out.
The Landry Duo: Troy and Jacob
Troy Landry is one of the few original cast members who has been on the show since its inception. Although he and his son Jacob never intended to become reality TV stars, they have embraced their newfound fame and become fan favorites. According to Business Insider, Troy and Jacob each earn $25,000 per episode, with their net worth now in the millions.
Willie Edwards: The Seasoned Veteran
Willie Edwards has been a cast member on Swamp People since the first season, making him one of the few remaining original members. Although his exact earnings per episode are unknown, Swamp People Cast reports that his net worth is around $500,000, with most of his income coming from the show.
Terral Evans: The Friend with Benefits
Terral Evans and Troy Landry's long-standing friendship has proven to be mutually beneficial. Terral, an experienced alligator hunter, has a reported net worth of about $1.5 million. While his entire fortune isn't solely due to Swamp People, a significant portion of his income comes from the show.
Daniel and Joey Edgar: The Father-Son Duo
Despite being a veteran in the alligator hunting business, Daniel Edgar only joined the Swamp People cast in season seven. As a result, his earnings per episode are likely lower than those of the original cast members. According to Swamp People Cast, Daniel makes $10,000 per episode. In comparison, the Kardashians reportedly earned an estimated $500,000 per episode for their popular series, Keeping Up with The Kardashians.
Daniel's son, Joey, also joined the show in season seven, but his salary remains unknown. It's likely that he earns a similar amount to his father.
Chase Landry: The Fan Favorite
Chase Landry, another member of the Landry family, joined the cast in season three. Despite his popularity, his salary may not be as high as one might expect. Reality Show Casts reports that Chase earns around $3,000 per episode.
Ashley Jones: The Sharpshooter
Although a newcomer to the Swamp People world, Ashley Jones has already proven herself as a skilled hunter. Known for her exceptional aim, she has earned the nickname 'deadeye.' Since joining the cast in season ten, Ashley's net worth is reported to be around $50,000. However, if she continues with Swamp People, her net worth is likely to increase significantly.
Swamp People Season 12: The Wait is Over
The COVID-19 pandemic caused production delays across the entertainment industry, and Swamp People was no exception. With over a year since the premiere of season 11, fans can finally look forward to season 12, which is set to air on February 4, 2021. Although the wait between seasons was longer than usual, viewers can rest assured that their beloved Swamp People will be back.