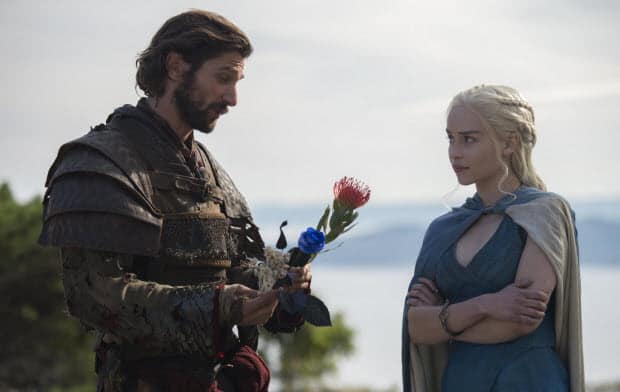 Game of Thrones returns to our screens in April and it is just as anticipated as any other series. Once again another big question is on every fans lips, what happens to Jon Snow. We know some characters who have been confirmed as alive, but unless you want to spend hours trawling sites for the latest conspiracy theories, you will have to wait for the premiers. Why is the series so popular? Is it simply great storytelling, or has other elements featured in its success?
Game of Thrones is the most popular TV show of all time with 170 countries showing it, whilst it also becomes the most downloaded show ever. The show which is known for its graphic violence seems to attract a huge and various demographic. The show is famed for its well-rounded characters who they give plenty of history and background to, but if you're an avid viewer, you know how cruel it can be when they kill off someone you are invested in. Just don't get attached because "When you play the Game of Thrones you win or die".
Executive producers David Beinhoff and DB Weiss wanted to avoid the usual medieval drama clichés of camp and kitsch that can be seen on Xena Warrior Princess, that appealed to a very alternative (nerdy) crowd. Instead they combined thrilling fiction, with what guarantees a certain number to watch, nudity. With 5 million viewers by the end of series 3 and viewers peaking at 7.2 million their gamble has paid off. They have also committed an incredible amount of money to the project, with an average of £6 million being spent on each episode so far.
Timing has played a key role in the success of the show. It filled a void left vacant by the behemoth of Lord of the Rings. The Hobbit series has never lived up to its billing, so it was left to Game of Thrones to provide the fantasy void and with weekly episodes it keeps the hungry viewers fed. The peaking of social media accounts has led to the show creating the buzz that has been so key to its success. You only have to look at when the red wedding premiered, and even if you were not interested in the show you knew something was happening. This exposure has been vital in adding viewer's year upon year. A downside to the success in this modern internet era, is the availability of Game of Thrones on torrent sites and it is the most pirated show of all time/. As long as it it does not get out of control however this attention and buzz will lead to more people becoming interested
The show offers escapism and swift justice from the modern world we experience today. With wars drawn out and injustice in the recent banking crisis, you can feel the fetishisation of a quick slash of a broadsword to solve problems. The show also offers the swashbuckling nostalgia of old 30's Errol Flynn with, and with Peter Dinklage a jewel in the crown, it is safe to say the script has plenty to do with the success.
The show has been partly funded by a government entity 'Northern Ireland Screen', which gives £15m every season to HBO for the production costs. This may seem a lot, but when you consider that the presence of the show in the nation creates £108m for the local economy, you can understand that it is a worthwhile deal. Fans have been swarming over the picturesque country where most of the series is filmed. Even Queen Elizabeth II made the journey to the set to visit, will there be an adventure park in the future?
While Croatia and Malta, among others, are used, Northern Ireland is seen as the shows spiritual home. Tourists flock to the Dark Hedges and Giants Causeway, which were popular before, but have now attracted a completely different kind of clientele. The show is also huge business for HBO. They own all rights for the show, unlike other famous HBO series, and therefore earn nothing but profit. Their shop sells models, clothing and replica swords. Fan fiction, art, visitor tours and also games have been sold off by HBO and they have been handing out the naming rights to anyone it seems!
Game of Thrones is an incredible show full of escapism for the disillusioned masses in the modern world, and its blend of script, adult content and swashbuckling nature has been able to draw in the mainstream as well as the geeks. Don't expect HBO to be looking for the next big thing yet. Series 6 starts in April.
Tell us what's wrong with this post? How could we improve it? :)
Let us improve this post!