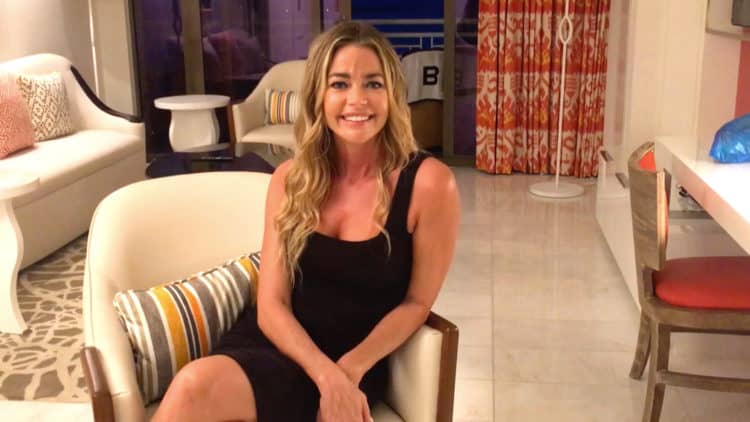 Once upon a time Denise Richards was the young woman that many men wanted to fantasize about because quite honestly she was gorgeous (she still is) and she had a career that kept her in the spotlight and excited pretty much everyone when it was discovered that she was going to be one of featured stars. From the moment she was seen in Starship Troopers it was assumed that she was going to be a big star, despite the fact that this wasn't her first movie. But when Wild Things came along starring her and Neve Campbell, another popular actress at the time, her ratings went sky high for a while since it was established that she was in fact a bombshell that warranted a lot more attention than many others.
But as you might imagine that fame kind of faded away once it was seen that this was kind of the extent of her act. Even a role in the James Bond film The World Is Not Enough wasn't able to bring her back to an even keel, and for a while her fame began to take a serious nosedive into the type of territory that not a lot of people are able to climb out of. For a while it didn't seem like she was going to do much with her career, if she still had one, and during her time with Charlie Sheen it almost felt as though she was just clinging on with her fingernails. But thankfully she didn't really go anywhere, she just had to wait for the moment to finally come back and reinvent herself in a way that would be just different enough to make people start to take notice again. As attractive as she still is, the vixen days are kind of behind her. This has nothing to do with her being a mom or even being in her 40s since none of that has made a bit of difference in her visual appeal. No, it's more accurate to say that she's simply matured and the younger, up and coming actresses, the clique she used to be a big part of, have changed.
Thankfully maturity looks great on her and it does show that she's moved on from the years when it seemed that she was quickly being typecast as the hot chick, much as was seen in movies like Undercover Brother. Even better is the fact that she's stretched out in her acting and, as you can read from Emily Longeretta in US, she's even taken on daytime soap operas. It sounds as though she was genuinely excited to take a role on the Bold and the Beautiful and is truly enjoying herself. You might have never expected to see her in such a role but so far it seems to be treating her just fine at the moment.
Another turning point in her life is that she remarried and even invited her ex, Charlie Sheen, to attend the wedding according to Dave Quinn of People. That in and of itself seems to be a big switch since many people believed that their marriage was simply a train wreck after a while. If you can believe this, Ann W. Schmidt of Fox News even confirmed that she consulted Sheen on her part in Real Housewives of Beverly Hills before saying yes to it. That kind of proves that the two of have let bygones be bygones for the most part and have moved on, which is beneficial for both of them to be certain. If nothing else it shows that she holds no ill will towards Sheen, as after all he is the father of her kids, and has decided to keep the peace likely for their children and their own shared peace of mind. At this point you could say that Denise is quite happy and doing her own thing as she continues to act and light up the screen with her presence, but in a much classier way than we were used to in the past.
Was she trashy at one point? Not really, but she was a definite sex symbol for a while and used to attract a certain demographic thanks to her looks and body. As the years have gone on though Denise has definitely taken a step or two back and reassessed just what show business means to her and has managed to create a reputation that is still based on her looks, but is no longer a byproduct of them. Just reading Denise's Twitter account should make a person realize that she's in a good place as of now and is grateful for what and who she has in her life. It's definitely possible to make something of a career that people have almost forgotten about, but it's even more important to be happy with the result you end up with.