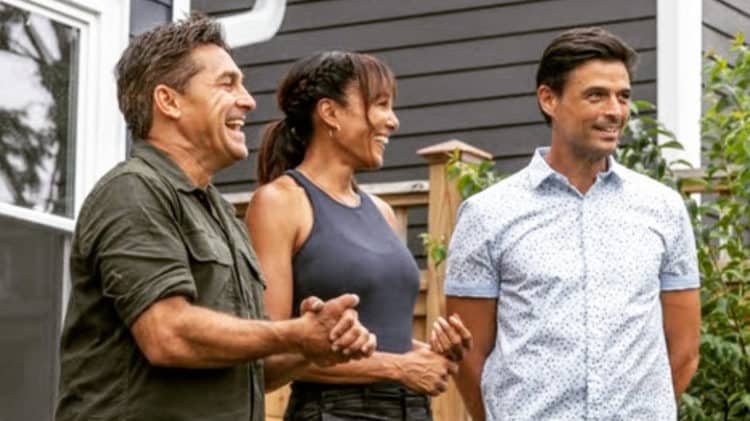 When Curb Appeal debuted on HGTV in 1999, viewers quickly took a liking to the show. The series focuses on helping homeowners improve their property's curb appeal by coming up with and installing beautiful landscaping designs. Initially, the show resulted in a spin-off called Curb Appeal: The Block, but now another spin-off has been added to the bunch. Curb Appeal Xtreme premiered on HGTV in September 2021 and it's brought a little something extra to the franchise. But what makes this new series so different from the original? Continue reading to learn about some of the differences between Curb Appeal and Curb Appeal Xtreme.
1. The Projects On Curb Appeal Xtreme Are More Complex
If you've seen the original Curb Appeal then you know that many of the projects on that show are pretty intricate. However, they've decided to take things to a new level with Curb Appeal Xtreme. The projects in the spin-off will be bigger and more detailed than ever before. On top of that, the team will have less time to work with compared to the original series. As a result, the show's team will find their skills being put to the ultimate test with every property they work on. In a press release for TV Show Ace, John Gidding said, "I've been reimagining home exteriors for years, but the projects in Curb Appeal Xtreme are among the most ambitious challenges I've ever taken on as a designer…we're going far beyond the simple makeovers I did on the original Curb Appeal series…" The reveals in the spin-off will also be more extreme.
2. Curb Appeal Xtreme Has Some New Cast Members
Curb Appeal fans are already familiar with John Gidding, and it's great to know that he's back for the spin-off. But viewers are also seeing some new faces in Curb Appeal Xtreme. Professional landscaper Jamie Durie and master carpenter Rachel Taylor have brought their expertise along for the ride and their insight and skill definitely provide a new layer of craftsmanship to each project. Having a team of people who have different specialties seems to be the perfect formula for these kinds of shows. Plus, seeing all three of their personalities together also adds another layer of entertainment to the show. Although Jamie has worked with HGTV before, Curb Appeal Xtreme marks Rachel's first time working on a TV show.
3. Curb Appeal Xtreme Has A Short Season
If you're the kind of person who likes it when TV shows have long seasons, you'll probably be a little disappointed to know that Curb Appeal Xtreme's first season is only going to have six episodes. This is a drastic change from the 13-episode first season that Curb Appeal had. We weren't able to track down any specific reason for this, but shorter seasons seem to be getting more common for new HGTV shows. Chances are that this is likely done as a way to test the waters when it comes to rolling out new series. Hopefully, future seasons of the show will be a little longer. It's important to note, however, that episodes of the original Curb Appeal were only 30 minutes while Curb Appeal Xtreme's episodes are an hour.
4. Curb Appeal Xtreme Isn't Just About Landscaping
In the original Curb Appeal, the show was essentially about upgrading the property's front lawn. Curb Appeal Xtreme, on the other hand, is more of an all-around outdoor makeover show. According to Celebrity Page, Rachel Taylor said, "We're not just taking it one step further, we're taking it a billion steps further, if I do say so myself. It's extreme because it's an hour filled with a full house renovation. Exterior, facades, all the way around… we've got the lawn, we've got the backyard, we've got murder shacks being transformed into beautiful, amazing, exquisite spaces". The fact that the team will be working with more space also allows for added creativity. When coming up with the plan for each project, the team is also sure to listen to the homeowners' ideas so they can come up with something that everyone will be happy with.
5. The Shows Were Filmed In Different States
The original Curb Appeal series was filmed in the San Francisco area, but HGTV decided to kiss the West Coast goodbye when it came to filming this spin-off. Curb Appeal Xtreme was shot in the Nashville area. This also means that some of the architecture will be different than what people were used to seeing in the original series. If the show is renewed for another season, it'll be interesting to see if they decide to film in another city.
Tell us what's wrong with this post? How could we improve it? :)
Let us improve this post!