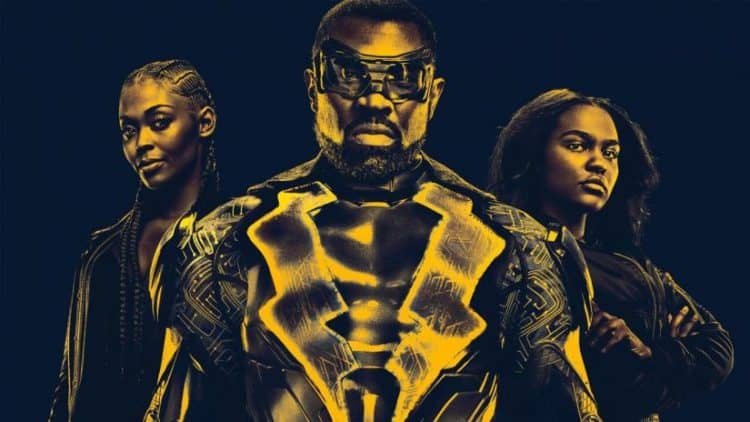 Jefferson Pierce's costume isn't the only logistical problem in his life. This high school principal was once a superhero or vigilante. Which one you call him really depends on where you stand legally. Either way, after years of fighting crime, he retired. Not a whole lot of supers get that chance. Most live and die for the cause, or at best end up injured, going underground and working to help run the support-staff end of the next generation of supes. Not this dedicated hero, though. Nine years after hanging up his super suit, he dons it again to fight The 100 as the crime level rises in Freeland. Meanwhile, he also has to handle the Crisis on Infinite Earths. Therein lies the issue. Did you know Black Lightning's costume was a huge logistical problem? Traveling between countries is a superheroes duty at times, but bringing a high tech suit that requires a special handler is almost as hard as fighting crime.
Another Logistical Issue: Black Lightning is NOT Grownup Static Shock
Let's clear this up once and for all. Okay, if you grew up in the early aughts, then you know exactly who Static Shock is. He got his powers during an altercation with some local gang members where he got splashed with chemicals. The cool kid worked to fight crime while trying not to get busted by his dad was a staple of our cartoon lives. Lots of adult comic and cartoon fans enjoyed the show as well. In an era when there wasn't a whole lot of diversity in comic shows (and let's be honest, there still isn't), Static Shock was a breath of fresh air.
So… Black Lightning is the adult incarnation of Static Shock, right? No, he's not actually. We know that Black Lightning isn't the most popular comic in the DC Universe, though he certainly deserves way more credit and readers than he's been getting. It's okay if you made this mistake. Lots of people did because the two heroes are similar. Jefferson Pierce and Virgil Hawkins are both people who are black and can manipulate electricity in the same universe, but Doctor X and Jean Grey from the X-Men are both people who are white and psychic. The point is that being from the same universe and having some powers in common and a similar logo on your shirt doesn't make you the same person.
Could Static show up in Black Lightning's neighborhood at some point? Well, actually, yes. We're not sure about copyrights and licensing, but these guys live in the same universe, and we'd be thrilled to see Virgil show up, crack a few jokes and maybe even try dating one of Jefferson's daughters. It seems like it's not super likely since he has a wife and child in Justice League Unlimited. Enough about the other electrical superhero in DC. Identity issues aside, let's get back to the wardrobe issues that Black Lightning has faced.
Awesome Costume
We love the costume they created for Black Lightning. Updating the outfit to fit the times is just a part of this eras' Superhero identity. It doesn't take a whole lot of forethought to realize that spandex is more of an '80s and '90s 'thing' and frankly outdated looks, as cool as they are don't speak to today's generation. Hence, Black Lightning got an incredible set of super-duds that has all sorts of lights and fiddly bits that make it fit better with the times.
Having a massive crossover event like Crisis on Infinite Earths is both brilliant and a total nightmare from a production standpoint. Filming Crisis on Infinite Earths in Vancouver makes sense, but that doesn't mean it's easy. Gone are the days when a superhero costume is something a guy like Clark Kent can wear under his everyday work clothing. For Cress Williams, merely flying back and forth between Atlanta and Vancouver would have been challenging enough. However, it wasn't his travel plans that were the most significant issue. The Black Lightning Suit, with all it's technologically advanced features, is a far cry from some stretchy material. In fact, the costume itself has a handler who's in charge of making sure it not only arrives where it's needed but also functions when it gets there.
DC Has Costume Problems
Jefferson Pierce isn't alone in his costume woes. However, while the Black Lightning costume is a pain to transport, other characters are also having wardrobe issues that keep bringing us back to the costumes instead of the incredible storylines in the DCU. Notably, Diana Prince, who you may know better as Wonder Woman, has come under fire for the dual messages she sends. Unfortunately, it's tough to walk the line between being an inspirational, strong female character for a new generation of women, and being a female superhero who was created by a guy in the 40's. There are two problems with being a superhero, especially a female superhero these days. First, you have to look the part, or no one buys it, and you lose your audience. For women, that has always meant cleavage, short skirts, impossible body angles on covers, and very tight pants. The second issue with keeping a modern audience is that, while viewers want to see a better representation of who the characters are and identify them visually as heroes, they don't like the hypersexualized images.
We Don't Envy You
Costume designers these days have to keep their stars looking good. More than that, they absolutely must find ways to stay on-brand and convey the superhero 'look' while trying to keep fans who don't want spandex muscle men and bikini-clad hotties to be the only options for viewing. Whether it's a high tech costume that doesn't travel well like Black Lightning, complaints about over-sexualization, or that time Batman's suit inexplicably had nipples, costume design isn't as easy as it looks. We certainly don't envy the folks who have to make those choices or build them.
Final Thoughts
Luckily for Black Lightning, the travel troubles over the suit are the largest part of their worries so far. It will be interesting to see what designers come up with when Jennifer Pierce comes into her own and gets a costume. In the comics, she was typically represented as mostly nude and glowing. Today's audiences probably wouldn't let that fly. What would you like to see the next generation of superheroes wearing? Let us know in the comments below.