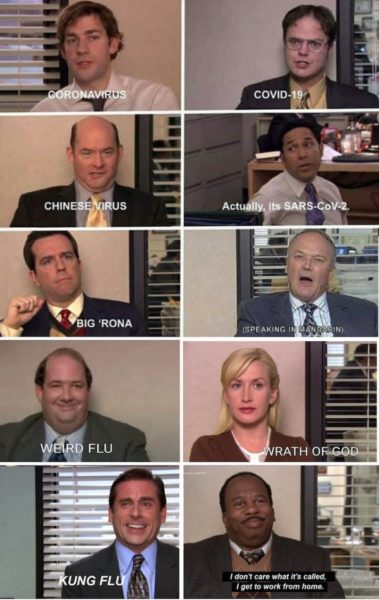 Everyone has their own explanation for the coronavirus at this point and their own way of describing it, and think of how those from The Office would categorize it is kind of funny since they'd likely all have their different way of looking at it. From practical to ridiculous to way over the top and in some cases borderline racist depending on who's paying attention, the reactions would likely be kind of amusing since like Stanley, a lot of people wouldn't really care in the end if the had the chance to work from home. Neda Ulaby of NPR has more to offer on this topic. After all, working from is the dream of a lot of people since you get up, get ready to work, and then sit down at your table, desk, or wherever, and you're on the clock. Being able to work from home is a joy a lot of the time, unless one has a family to look after and finds that they're easily distracted, as can happen a lot of times. Like it or not, when you're at home there tend to be things you want to get done or things that will appear to call to you in their own way whether it's something that really needs your attention or not. In other words, working from home is nice and it does offer a lot of comfort, but it's also kind of a pain in the butt since in your comfort zone you tend to find that you don't want to work as hard.
The Office cast would be kind of hard to see working at home when it comes to all of them since a few of the staff appeared to actually want to come into work and were somehow happy while they were there. Of course that's where we saw them the most and where the show mostly took place, so it could be that the characters would have had a very different happy place had it been shown on screen. But if there had been an episode about a virus such as the coronavirus you can easily bet that multiple episodes would have dealt with the issue and we would have seen a lot more inventive uses of social distancing that would have been showcased. Just imagine how Jim would have pranked Dwight in that case. Then imagine how often Michael would have messed up one thing or another while trying to keep to social distancing and keeping everyone on point. It would have been a wonderful mess that would have likely been even more hilarious since it could have gone on and on for a while without stopping, at least until the studio shut down.
There have been talks about an Office reunion, a single-show event that could possibly happen to see just where everyone ended up and how they're doing at the moment, but nothing has come of it yet and there's no way it's going to for a while so long as the studios are unable to function. As a special it might work just to kind of round up whoever can be found in order to give the fans what they've been asking for, since the end of The Office as a series was definitive enough that it doesn't need to be brought back and it would likely be far less successful if it was. Some shows are great for their time and are well-respected because they capture the era in which they're released. But while The Office might actually funny no matter when it comes out it still feels like the type of show that's best left alone at this time largely because going any further with it is going to mean adding on more and more cast members as the originals were either on the way out or had already left by the time the show finally ended its run. A whole new cast would be a lot to get used to and the attempt might not be as welcomed if only because it would probably be an attempt to outdo the original show, which would be an unfortunate necessity. Stefanie Parker of Parade has more to say about this subject.
As of right now leaving The Office alone is probably the best idea since as it currently stands the show is still a favorite of a lot of people and has endured for a while now as is. In the future it might be possible to pick up and move on again, but it's still going to take someone that has the nerve and the innovative thinking to make it happen, as this is the kind of show that people want to see done right or not done at all. As far as finding a new cast, this might actually be one of the toughest things to do for anyone expecting a renewed show even come close to the original in terms of its humor.