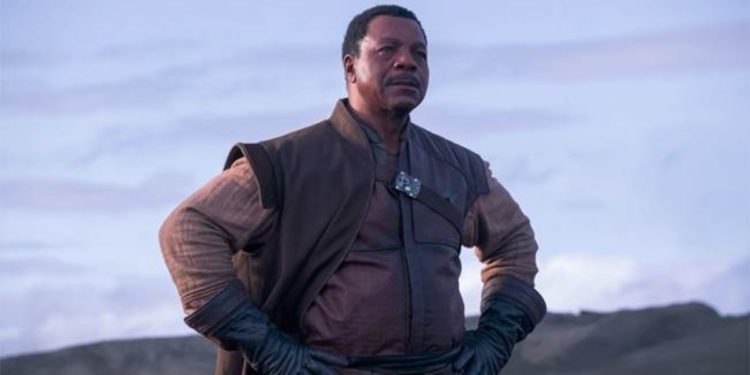 Just when you think you've seen Carl Weathers for the last time we get reminded that he's not bound to just up and disappear thankfully. For The Mandalorian he was probably one of the best guys to call since his character, Greef Carga, isn't really much of a mentor as Weathers has been in movies like Rocky III and Happy Gilmore, but he is the type of person that others look to when they're in need since he's the head of the local bounty hunters guild in The Mandalorian. He knows very well that the Mandalorian is the best in the business, but he also has the responsibility of doling out bounties to other hunters as well. It's interesting to not when the main character enters the bar that he's looked at with a either a great deal of disdain or with a quiet reverence that's born from the wisdom that it's not advisable to mess with him. Carga definitely knows what he's worth as he gives the Mandalorian one of the toughest bids that isn't just for anyone. But it's enough to wonder if Carga is a more pragmatic character when it comes the bounties he hands out. Walter Sumner of the CheatSheet has a little more to say on this matter.
So far there's not a lot of information on Greef, but that's not too surprising since he's a pretty new character and someone that will hopefully be developed as the series goes along. Thus far The Mandalorian is proving to be the show that people were hoping for as the main character is tough, resilient, and yet not invincible since he does get blasted by a small contingent of Jawa's and tossed off their rolling fortress. To give him just enough vulnerability to appear beatable is great since it indicates that he's not perfect and is able to go down if he's caught unawares. But he's definitely the definition of a Mandalorian warrior since they're tough, unbending, and they don't give up and go home when the going gets tough. Carga seems as though he's been around as well, the seasoned warrior that has been through his fair share of bounties and fought his own personal wars either abroad or in a much personal venue. That could be why the Mandalorian seems at least partially deferential to him since he'll actually listen to what Carga has to say instead of just up and leaving when there's nothing he needs. Mandalorians are known to be quite practical and don't tend to mess around when it comes to what they will and won't accept out of another person, so it's fair to say that the character is able to at least see Carga as someone that benefits him at the moment.
But with the bounty that the Mandalorian has collected as of the second episode it's going to be interesting to see what happens from this moment on since the Mandalorian seems a bit confused and even disquieted by the cargo and what it can do. Those that have been with the Star Wars franchise for years now and know about Mandalorians know that the warrior culture does have honor and a lot of heart, but they also know that bounty hunters value credits a little more sometimes and will allow such ideals to slip now and again in order to make good on the bounties they're seeking. Boba Fett has proved this more than once in his various adventures, and the Mandalorian so far seems as though he's not willing to upset the price of the bounty, which would be one explanation for shooting IG-88 in the cranium before the robot could dispatch the tiny green bounty. What will happen next though since the little Yoda-like creature has actually helped to save the Mandalorian will be interesting since keeping in mind what I said about their honor, it's usually never wise to insult a Mandalorian's honor in any way since as warriors they're bound to take it personally. Even if they don't strike quickly and decisively one can bet that they're going to remember the slight for a long, long time.
Carga though still seems like someone that the Mandalorian is going to listen to and possibly trust in most matters since the guild master holds the ability for the character to continue making money, and is obviously a reliable source of income. When anyone takes a bit of business from the Empire, or anyone affiliated with it however, things tend to go sideways very quickly. Even with the Empire all but eradicated in the show, as it seems so far, it would appear as though fringe groups still exist that are interested in various odds and ends for one reason or another. Hopefully Carga will be an honorable character moving forward, but given the reputation of bounty hunters don't bother holding your breath.