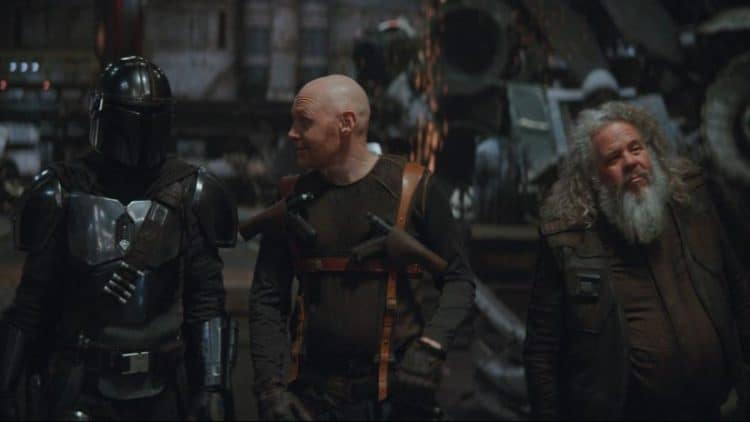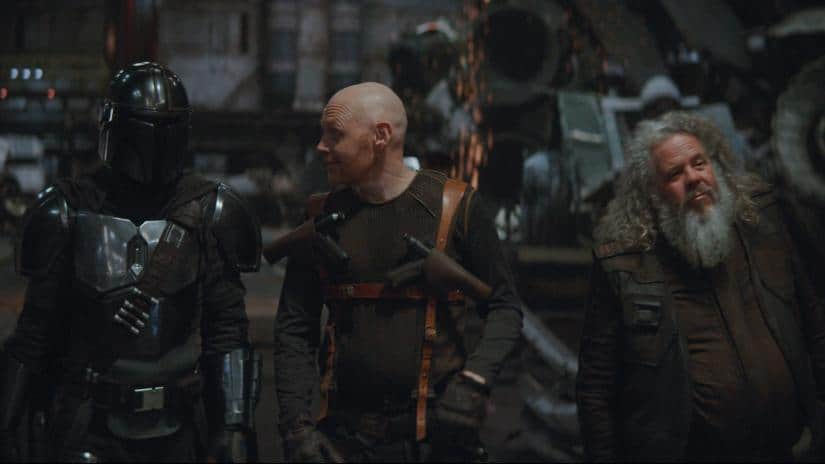 News for The Mandalorian keeps looking up since it's been announced that Bill Burr will take his place on the second season as he takes on the role of the same mercenary from season 1. It's even better since once he and Mando meet up one can only imagine the fireworks that are going to fly since the last time we saw them together, Mayfeld, Q-90, Burg, and Xi'an were all trying to kill the bounty hunter after trying to doublecross him while freeing the group's companion, Qin. In the end of the episode two of the mercenaries that doublecrossed Mando were seen to go down with the lead mercenary's hideout, while the rest of them, apart from Q-90, who was shot by Mando after he discovered Baby Yoda, ended up captured aboard the same ship that they'd been sent to in order to free their companion. So yeah, it's easy to think that the group, if more than just Mayfeld shows up, will be a little cross with Mando for being left aboard the ship, and will want a bit of payback. As Steve Seigh of Joblo states it sounds as though Gina Carano and Carl Weathers will be making a return for season 2 as well, and a lot of people are already looking forward to seeing Rosario Dawson as Ahsoka Tano and Michael Biehn as a bounty hunter that has yet to be named. The hope of course is that the season won't be flooded with too many big actors since Ahsoka Tano is a Star Wars fan favorite and Michael Biehn has been a scifi favorite for some time. Thinking that they might overshadow Mando could be paranoia, but there's only so much room in the series for a few major characters, and the list keeps growing at the moment.
One great thing about the show is that it's been entirely episodic at this point with only necessary overlap between chapters, such as main characters like Greef Karga and Cara Dune, as well as a few others. But given the fact that Moff Gideon, played by Giancarlo Esposito, is going to be coming back as well, there's a full roster of talent that's bound to make this show a hit yet again, or start to sink it with too many big names and not enough overall content. Given what Jon Favreau has already done with the writing of the show it's fair to think that he'll take this into account and will have thought ahead with each episode since at this point the second season has already been filmed as Richard Edwards of Techradar has reported, which means the hardest parts are over and done with. There's still talk that the show might be delayed as right now it's not known whether or not things will be on schedule since the coronavirus is still around and there's no set timeline as to when it might be resolved. Asking anyone to set that kind of timeline however is asking way too much since at the moment it would appear that a lot of folks are just trying to make do as much as they can, especially in the entertainment industry.
The story moving forward with The Mandalorian however is definitely going to feature Baby Yoda as a prominent figure, or we're hoping at least since Mando has been charged with taking the little guy to his people, or at least to someone that can train him in the use of the Force. The fact that Mandalorian's and Force-users don't tend to get along is a big reason why bringing Ahsoka Tano into the mix, ostensibly as a recurring character, could be problematic since there's no way to know how she's going to respond around the bounty hunter, or the fact that a Force-using child is in his care. There's also the fact that what's left of the Empire is still looking for the child, and Moff Gideon will probably be taking out anyone that gets between him and his target, which now includes Mando. Right now there's no way to know just how long this show could last, but hopefully the second season will be coming out in October as planned, with the biggest hope that the coronavirus will be a recent memory at that point. A lot of folks in Hollywood are looking forward to getting back to life in some semblance that they can remember and it's bound to happen that many people will be entirely grateful for it. At this time it's kind of interesting to think of how Bill Burr, Michael Biehn, and Gina Carano will exist on the same screen with Mando since all three of them have been volatile in their own right in their own careers. But whatever happens it's bound to be a lot of fun to watch.