It's been 16 years since Hot Fuzz. Edgar Wright opened the mainstream audiences with his zombie-comedy Shaun of the Dead. However, three years later, the writer/director came out with another satire that is arguably better than his first! Once again starring the top-notch team of Simon Pegg and Nick Frost, Hot Fuzz is about a skilled London police officer who is transferred to a village where a string of grisly murders strikes the town.
The tagline of the 2007 feature proudly boosts its action roots from films like Lethal Weapon or Bad Boys. Despite the clear influences of plenty of action films throughout the generations, Hot Fuzz is a sharp and original film that stands on its own two merits. When it comes to satire, it's a perfect film. Even though the film is a decade-plus old, it's still one of the best parodies ever made.
The Satire Never Overshadows The Story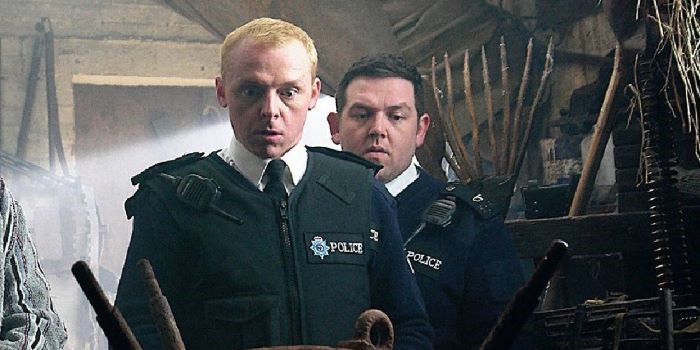 The key to a great satirical film is that it needs to stand on its own two feet. Caddyshack, Airplane, and Jojo Rabbit are partly satirical. But these films have a strong story that keeps audiences engaged from beginning to end. This was a major problem with the Jason Friedberg and Aaron Seltzer parody films. There was never a meaningful plot behind them.
Instead, it relied on meaningless gags and copy-and-paste moments from the original film to carry the story forward. It never worked because films like Date Movie felt better suited as a collection of Saturday Night Live skits. Hot Fuzz has plenty of silliness throughout the feature. The most notable one is arguably the hilarious goose chase. However, those gags need to dominate the story.
In fact, it only enhances the plot further, from the over-the-top climax of watching Nicholas go gun crazy throughout the city to the buddy cop angle. But movies like Lethal Weapon and Bad Boys are fun homages of the action films that come from it. But these moments never feel out of place because it's part of the overall story.
The Story Is Pretty Strong In Its Own Right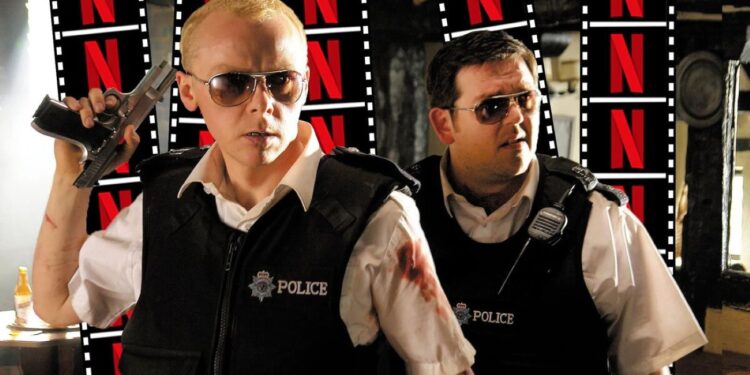 Speaking of which, the plot of the film is the perfect balance of comedy and action. A top and action-driven police officer is forced to leave London into a quiet village that has a record-low murder count. At his core, Nicholas is an arrogant and selfish officer who doesn't play well with others.
The feature does an excellent job of tapping into Nicholas' flaws and developing his character throughout. It's a simple but complex story that makes the character multiple dimensions and brings out the film's best moments. It helps that Hot Fuzz has such a strong cast from top to bottom.
It's actually wild that Martin Freeman is in this film and only has two appearances. Of course, Simon Pegg and Nick Frost have amazing onscreen chemistry with one another. Nicholas's seriousness as a police officer wonderfully bounces off the non-serious cops in the village town. The villains are equally fun. Simon Skinner (Timothy Dalton), as the clearly smarmy and douchebag character, has plenty of fun moments, including every time he's driving by the crime scene of the latest victim.
The Film Has The Right Balance of Gore and Absurdity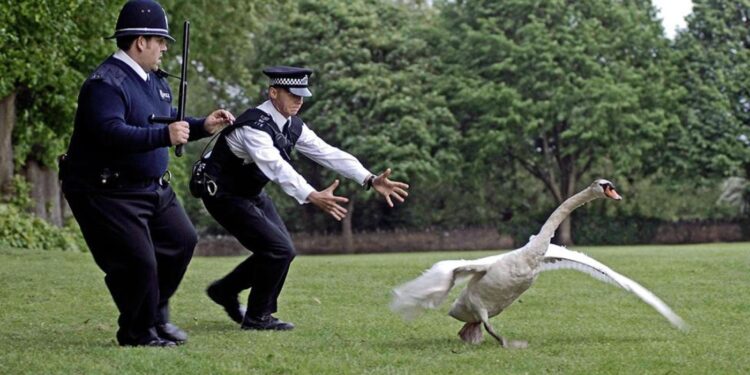 The kills are pretty ghastly. However, they actually fit the story. Sandford, Gloucestershire, is supposed to be a small and quiet town, yet these strange and gore "accidents" keep taking place. Hot Fuzz doesn't hold back on the violence. But considering that it's an action film, it shouldn't have to.
Edgar Wright greatly understands his world and characters, and it's a big reason that the film stands out as truly unique. Knife-stabbing Santa Claus (Fun fact: That's actually Peter Jackson), a gun-toting Priest, and a god-awful opera singer. All this somehow makes sense because Wright embraces the absurdity and never makes an apology for it.