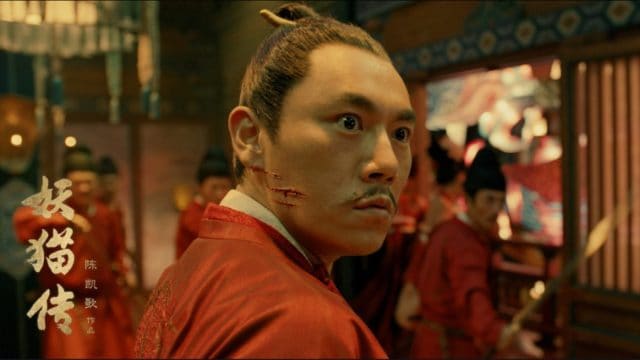 While the United States is normally considered the leader in film production, things have been changing over recent years. Now, everyone in the film industry wants to work with China. Not only do they have an abundance of cash to spend on film production, they also seem to make a killing when they release a movie. In fact, they have even saved some U.S. blockbusters over the past year as box office figures have rocketed once a film is released in China.
For the production of 'Legend of the Demon Cat', Japan and China teamed together. This period horror film is set during the Tang Dynasty more than a thousand years ago. The set that was created to make this film was huge, both in terms of size and cost. A representative of Moonstone Films explained that it took over five years to create the set and cost more than $200 million. It consists of an entire city and includes incredible features, such as rivers, caves, lakes, ornate buildings, parks, and palaces.
While it may seem an elaborate waste to create such a large, detailed and expensive set just for a film, they have designed it so that it can be used again after production of the movie is complete. The intention is, that people will be able to live in some parts of it while the main bulk of the set can be used as a large amusement park.
Creating the movie took 150 days of filming which took place over three seasons. Thousands of extras were used in the film and hundreds of crew were required for everything to run smoothly. Approximately 1,200 visual effects are being designed in Japan to create the mysterious main character in the movie, The Demon Cat. There were also an estimated 15,000 costumes used in the makings of this film.
The main themes of this film are love, death, and revenge. A demon cat possesses the wife of a general and then wreaks hat on the Imperial Court. To investigate this, a Japanese monk and a Chinese poet join forces. During the investigation, there are some unexpected twists and gruesome events. The story results in the poet and the monk discovering what happened to a beautiful concubine Yang Guifei. This legendary woman had died decades earlier and her death had remained a mystery.
The storyline is based on the novel 'Samana Kukai', which was written by the Japanese novelist Yoneyama Mineo, and the movie will be directed by Chen Kukai. Starring in this film are Huang Xuan as the poet Bai Letian and Shota Sometani and the monk Kukai. Also starring in this movie are Kitty Zhang, Qin Hao, Hiroshi Abe, and Keiko Matsuzaka.
The film is set for release in China on December 22, 2017. It will then make its western premiere at the Berlin International Film Festival in February 2018. There is no information as yet about whether or not there will be a wider release of a dubbed version of this movie in the US or the UK. There is also no further information about when the intended amusement park will be ready to receive visitors.