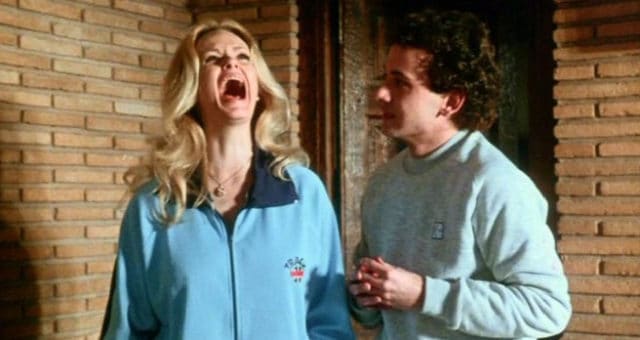 From the 60s to the 80s, we saw some of the best horror cult classics that Hollywood has ever produced. That time also spawned some of our favorite horror characters ever. There's Leatherface from the Texas Chain Saw franchise, Michael Myers from the Halloween franchise, and practically everyone from Night of the Living Dead. The list can really go on an on. But the spotlight should really shine on the actors that made these movies truly memorable. One such actress actually had her career peak from the 60s to the 80s: Linda Day George.
Many might not remember her name, but if you see her face, you'll instantly recognize the beautiful blonde that once appeared on so many horror films from back in the day. She didn't start out doing horror though. She's actually most famous for portraying Lisa Casey in the critically acclaimed series Mission: Impossible. Lynda received a Golden Globe nomination in 1972 and an Emmy nomination in 1973 for that particular role. Before Mission: Impossible, Lynda had guest roles in several shows from the 60s including Route 66, Flipper, The Invaders, and Bonanza among many others.
She met her husband, Christopher George, while working on the 1966 film The Gentle Rain, and while working on the 1970's film, Chisum, the two fell in love. This union would be the driving force for the rest of Lynda's career in Hollywood. The couple made a few television films and guest starred in other shows together for the next decade.
Her first real foray into horror happened with the 1969 TV film Fear No Evil. She also starred in an anthology series called Thriller after that. However, she didn't get into mainstream horror until the 70s. Some of her most notable films include Day of the Animals (1977), Beyond Evil (1980), Pieces (1982), and Mortuary (1983) among a few others.
Day of the Animals alone was a big hit back then, and it had a fairly decent cast including Leslie Nielsen, Andrew Stevens, and of course, her husband. After Day of the Animals, Lynda went back to television and starred in a fantastic creepy horror called Ants (1977), which she followed up immediately with Cruise Into Terror (1978). 1980's Beyond Evil was about possession, and she starred opposite another horror legend, John Saxon. Lynda got into slasher flicks with 1982's Pieces, and before anyone noticed, she was starring in Mortuary, a 1983 cult classic, alongside another legendary actor, Bill Paxton.
After Lynda's husband passed away at the age of 52, Lynda's career slowly started to dwindle away. She stopped making movies in the 80s and focused instead on guest starring in a few TV series. Her last credit was a reprisal of her role as Lisa Casey in a 1989 reboot of Mission: Impossible. It's an almost eerie way to end a career, but some may say that it's actually fitting.
In 1990, Lynda remarried Doug Cronin, a fellow actor and a producer. They lived mostly in Los Angeles and occasionally in Gardiner, Washington. Cronin passed away in 2010.
Some say that Lynda frequents convention circuits, and this year, Lynda will actually by in Hannibal, Missouri along with a few other stars to be part of the Mark Twain Nostalgic Film Festival. Some other stars that will be joining Lynda at the festival include Ed Asner (Mary Tyler Moore Show), Kim Lankford (Knots Landing), Buck Taylor (Gunsmoke), and Judith Chapman (The Bold and the Beautiful) among a few others. This is the first time that Lynda will be making a public appearance in many years, and we're sure that we're not the only ones excited about it.
Tell us what's wrong with this post? How could we improve it? :)
Let us improve this post!