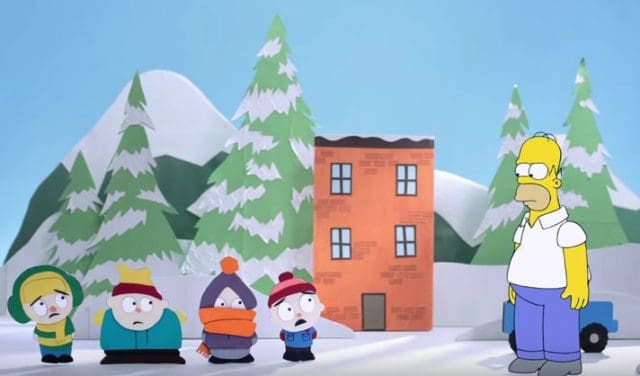 Over the course of 28 seasons The Simpsons has had a chance to not only pay tribute to famous actors and singers, but also the very shows that are on along with it. And in three decades that's a considerable menu of shows. Some more notable ones from my younger days would include a crossover with the show The Critic, King of the Hill, and even Rick and Morty. To make an entire list would take an eternity.
One of their best ways to pay homage to other shows as been the "Couch Gag." Basically in the opening into to a particular episode they'll decide to do something funny, different, and usually unexpected. So for season 28, episode 14 the Simpsons are involving South Park and Robot Chicken. They've done South Park before but you can never do too much South Park. According to Uproxx
In the opening for Sunday's all-new episode, "The Cad and the Hat," Marge realizes the family's iconic boat painting is missing. Bart suggests that another animated series stole it ("or maybe I sold it on Craigslist," he teases), leading Homer to interact with Stan, Kyle, Kenny, and Cartman, pick a fight with the California Raisins, and take the painting back from Robot Chicken's stop-motion nerd.
I think it's safe to say this couch gag is awesome.
Tell us what's wrong with this post? How could we improve it? :)
Let us improve this post!