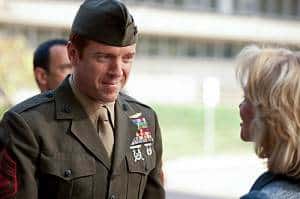 None of my scenarios when I dared imagine the finale of Homeland started as did "Marine One." The Brody in my head would not have filmed that video. Eighty three children killed at the hands of the Vice President of our United States wouldn't be a free pass to kill anyone in our country. Even after the idiots admitted it in the car, I found them abhorrent, but wouldn't kill a bunch of other innocent people so they could pay for their involvement.
What has been missing from Homeland has been the atrocities that normally are committed by a country against their own citizens. Some of the images coming out of Egypt this weekend have been horrific. An army that once stood on the side of their country's protesters have now turned violently against them. If Nicholas Brody thinks he was not brainwashed, then he is sorely mistaken.
Every day the media in our various countries brainwash us in one direction or the other, and those directions fluctuate depending upon where the story lies. Something we have to remember. What upsets more people, and makes more of them want to tune into their news? That's their focus.
Ironically, we are supposed to believe that in a country that hates war as much as the United States claims to, they are all aflutter at having a POW run for political office. I find it confusing. Do any of us really know what we stand for and against? Homeland is making me question pretty much everything I believe in.
It's really easy for Abu Nazir to tell Brody and all of the others he commands what to do, how to take their lives and how to make amends for the cruelties suffered from the actions of other countries, but did you notice he doesn't get his feet dirty? Brody is busily cleaning his before praying to Allah, but Nazir has no reason to clean his feet, as he ensures others do his dirty work. Just like every other political religion. I'm sorry to say, most religions are political. Flame away.
I was still shocked as I saw Brody put on the vest. I was trying to imagine the ending, but my mind was literally reeling. He had every intention of blowing himself up. To take out as many of the government leaders as possible and leave his family to suffer the consequences of his actions. Their lives would have been destroyed. Utterly decimated. For what? Issa?
Meanwhile Tom Walker kidnapped some lonely woman and was using her apartment as Sniper Headquarters. And he kept her alive. The real shocker was that Walker had his crosshairs on Brody. I figured when he got out of the car, Brody wouldn't have the chance to pull the plug on his vest, because Walker would kill someone first. I expected the Vice President, but it was Elizabeth Gaines.
It was freaky when Carrie figured it all out. That Walker would create a distraction so Brody could get everyone into a sequestered room, bomb vest in tact, to take them all out. Brody walking across the room toward the blood covered Vice President, red button plainly in hand, "Remember Issa" in his head…and his bomb vest failed to explode. Some terrorist he turned out to be. Sweating profusely, wearing explosives, unable to explode. Could there be a nightmare more unimaginable? "Excuse me, I have to go to the rest room to check my bomb vest. It seems to be working improperly. Be right back!"
Seriously, it was a stroke of brilliance on the part of Carrie to go to Dana to try to have her talk down Brody. So sad that she went against her gut, but what would a teenage girl do? Even one who so evidently questioned her fathers every move since he has been back. It didn't turn out well, to put it mildly, but it gave Brody plenty of time fix his vest.
As the phone rang, and Dana begged for her daddy to come home, what could Brody do? Could he really put the child of his captor before his own children? Had he ever even given it a thought before that moment of confrontation?
Brody's meeting with Tom was a bit of a letdown, especially when Nazir ended up being on the line. "Why kill a man when you can kill an idea." Blah blah blah. He needs a demonstration of his commitment in order to allow him to continue to carry out terrorist acts on his behalf. Oh how so very generous. Granted, it was no great loss, killing Walker, but it just proves what incredible whimps are the terrorists that give us such nightmares. My guess? Nazir never killed a person in his life.
So Carrie was able to stop Brody once. It seems the second season has set up Carrie and Brody for a confrontation beyond anything we can imagine. He knows, better than anyone, just how smart she is, how perfectly capable she is of putting the pieces of his puzzle together. I think he will let her go for the time being only because the world thinks she's crazy. Now he's going to be walking with the greatest men in the free world, with the love and support of his family. Only Saul and Carrie to defend the entire country.
But what will remain of Carrie, after she chose to get shock treatments? Where will she stand? Saul, obviously, will always support her and value her input. But the government is done with her. In this world where so many are on anti anxiety medications, etc., you don't have that right when supporting your country. What ideas will Brody help his country to promote? After all, he was a POW, respected and honored. Certainly what he says has weight.
Too bad returning in 2012 doesn't mean January.
Tell us what's wrong with this post? How could we improve it? :)
Let us improve this post!