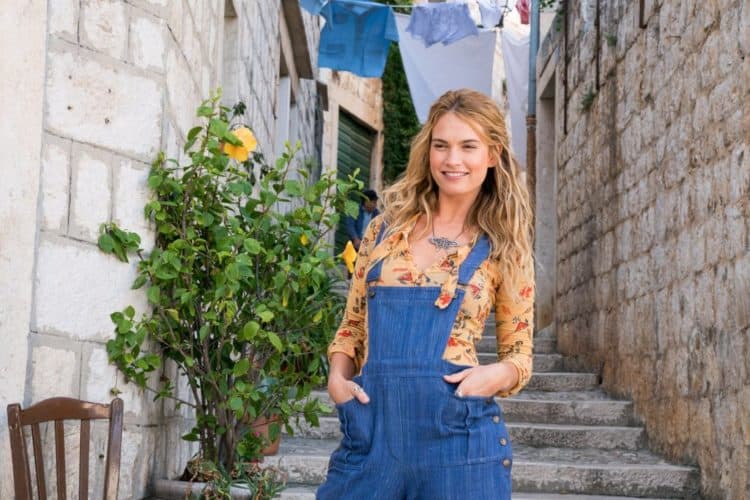 John Orquiola from ScreenRant makes a pretty good case as to why Lily James didn't get placed into the Downton Abbey movie and it's rather simple: she's moved beyond it. When she came in as Lady Rose a while back she was a great addition considering that she brought a bit of life to the show and a good deal of intrigue as well as drama. But seeing as how she first took off to do the live-action Cinderella movie for Disney and then continued to climb the ranks from there it was kind of easy to see that she would be elevating herself to a level that would prevent her from coming back to the show anytime soon, if ever. In a way it's kind of like going back to being a dishwasher after finally attaining the rank of manager in a top-rated restaurant, you don't generally do it unless there's no other choice and it means surviving. Lily James is on top of her game at the moment and is riding the fame in a big way, meaning that as great as her time on Downton Abbey was, she'd be given little more than a cameo at this point and it would be kind of a waste of her talents.
Maureen Lee Lenker from Entertainment Weekly explains that despite the disappointment of the fans, Lily's fellow cast members and others that worked with her can understand her absence at this point since it simply makes sense. There's not as much ego or attitude involved as some might like to think as there is the practical notion that she's become a big star and is quite busy taking on other roles as people continue to realize just how good of an actress she really is. It might seem as though she's getting a big head, but in truth she was noticed for her talent, her looks, and as a result has been kept for both when its comes to being a star. Hollywood has deemed that she's worthy of having a movie career that continues to soar and she's taking full advantage of it as any thinking person would at this time, so there's no need to sour grapes at this point when it comes to a role that helped her to get there. There doesn't seem to be much if any doubt that Lily is extremely grateful for her time on the show since after all it was beneficial and it does sound like it was a good bit of fun for just about everyone involved.
If you've never watched the show it might be a good time to brush up on it and figure out why people are a little bummed as to why she's no longer there, but seeing as how Huw Fullerton of RadioTimes has reported that the director of the Downton Abbey movie has even stated that Rose's character arc was pretty much done it would appear that there's not much else to discuss. When a character has been used to the extent that they're no longer as useful or can have as much of an impact then it's usually time to say goodbye to them and move on. Even a character that's been loved for a while by fans can become kind of bothersome if they overstay their welcome, and while Rose was a favored character for a while there's no need to hold to her if the show has moved forward and she's been left behind. Thankfully though this won't be the case as Lily continues to ascend the ranks and sees her status continually rise as she takes on one role after another and becomes a truly impressive actress that people already have a lot of faith in. It is a little regrettable that she might not show up for one surprising moment out of the movie but at the same time it would be too much of a waste to have her appear in one scene and be gone the next instant.
One of the worst things to do in show business it would seem is stick around when you've already made your way up and away from the place you started, as this almost seems like an insult to the actor and the show if they come back. Every now and then it might be fun just to pop in to say 'hey' and then pop right back out, but an extended stay is something that can end up killing reputations and shows. James has done the right thing by staying busy and those that are still with the show and the movie have done the right thing by admitting that she rose above them a bit and found her own path. In short it's a win-win all around.