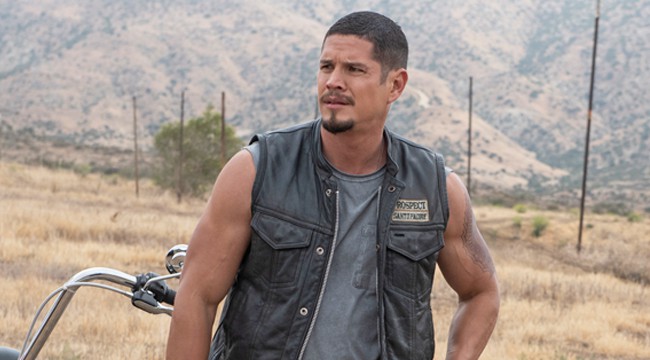 One thing you can expect from the third season of Mayans M.C. is that Kurt Sutter won't be there as he was let go after a less than pleasing joke led to his eventual firing. This is kind of funny since without Sons of Anarchy there would be no Mayans considering that Sutter had a lot to do with bringing this idea forward. Of course now that Disney owns Fox you can easily guess that any jokes pertaining to the corporation or any of its properties that aren't approved are going to be swiftly edited and dealt with in a manner that may or may not ruffle the feathers of the general public if they were informed of it. In a big way it would seem that Disney doesn't mind some content that might be rough around the edges, but as I've said before the Mouse House is slowly but surely wearing those edges down no matter if it's a kids show or not. So far season 3 of Mayans might still be the show that people are enjoying but it's never going to be the same as SOA. Abby Robinson of DigitalSpy has more to say on this matter.
Another thing to count on is that most of the cast will be coming back, barring those that met their end in the second season of course. The story will continue on as it has been and the general feeling that things are going to stay the course might comfort a lot of people that have come to enjoy the show. Speaking as a fan of SOA there was a lot of expectations for Mayans since they're an MC much like SOA in that they're tight-knit and tend to stick close to their own borders, but when you realize that there's a great deal of overlap between the gangs it becomes easier to see that while they're bound to stick to their own people they're not above dealing with others when it's a matter of convenience and sometimes survival. Obviously the Mayans had no love for SAMCRO in the past, but things have obviously been patched up time and again and respect has been levied on both sides. This show however is all about presenting the Mayans as their own entity and not diluting it too much with mention of the other gangs all that often. While SOA was definitely into bringing other gangs in to show the scope of their network and the problems that could occur throughout so many different deals it would seem that the Mayans almost always kept things closer to the vest and operated on the premise of convenience.
Season 3 will be releasing in 2020 as most fans should realize and will likely be picking up right where season 2 left off so as to keep the continuity and to maintain the integrity of the show. It's still going to be kind of different realizing that Kurt Sutter is no longer in on the project since his ideas and his edgy nature and dialogue have been a big influence on the show so far. One has to wonder just how this is going to affect the show overall and if it will in fact alter anything in a profound and obvious way. It's also interesting to wonder just how far Disney is going to let things go until they decide that they need to put their signature touch on the show and perhaps interrupt what has already been a successful outing for the most part. Mayans has a long way to go until it's as popular as SOA at this point, but the hope is that it will prove to be every bit as gripping as the show that spawned it, as there's nothing to stop this from happening apart from Disney's continued interference. Mick Joest of CinemaBlend has a few things to say on this subject.
In a way it's kind of hard to see Disney allowing this show to go on as it has been, but maybe that's being a bit cynical. The Mouse House has, so far, allowed certain things to slide unless they've been in direct conflict with their own standards, but given that it was a joke about Walt Disney that caused Sutter's eventual departure it would almost seem that Disney is playing the victim card in a way by not allowing freedom of speech within the dialogue. Reid Nakamura of The Wrap has more to say that might be interesting. It's a small case of course, and one that might divide people when it comes to whether or not Sutter was in the right or if he went too far. But the hope is that it won't affect the show in a negative manner since at this point things are still moving forward as they need to and will hopefully remain unchanged for the most part. Season 3 is bound to heat up even further as the gang continues to deal with their various struggles and seeks to keep things rolling, so we'll have to wait and see how it all turns out.