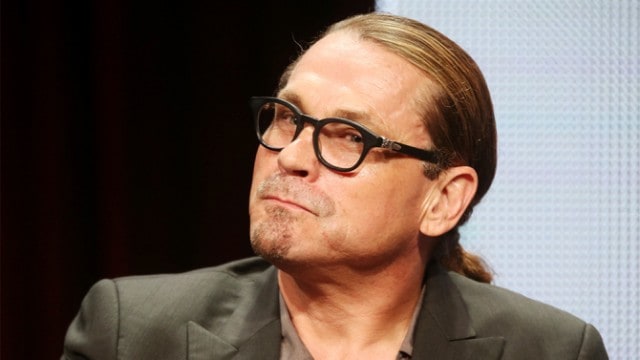 If youwere a fan of Sons of Anarchy, the names Jax (Charlie Hunnam), Gemma (Katey Sagal), and Chibs (Tommy Flanagan) should have been a part of your Wednesday morning water cooler discussion. Well, the name Kurt Sutter should have also be included in those conversations. The Sons of Anarchy creator, and the guy who plays Big Otto is one of the finest television writers out there. Here are five fun facts you may not have known about the man behind one of your favorite television shows of all-time.
1. Kurt Sutter was a writer, producer, story editor, actor, and director for the gritty FX drama The Shield. Sutter's first episode he penned was the fifth outing from the first season entitled, "Blowback." He also appeared as hitman Margos Dezerian in that same episode. Sutter was credited as a staff writer on three episodes prior to this.
2. Kurt Sutter is married to Sons of Anarchy star Katey Sagal. They were married on October 2, 2004 and the couple have a daughter named Esme that was born in January of 2007. Sagal also has two other children from a previous marriage born in 1994 and 1996 that Sutter helps raise.
3. Kurt Sutter was nominated for a 2009 Primetime Emmy for Outstanding Original Main Title Theme Music for the pilot episode of Sons of Anarchy. In 2013, Sutter won an American Society of Composers, Authors, and Publishers (ASCAP) award for Top Television Series. He shares the honor with Dave Kusher, Curtis Stigers, and Bob Thiele whom all been credited for writing the theme song "This Life" for Sons of Anarchy.
4. Kurt Sutter is active on many social media outlets. He currently has over 300,000 foll0wers on Twitter (Tweet him @sutterink) and over 100,000 likes on his Facebook page: SutterInk. He also has his own blog: sutterink.blogspot.com that he has been posting on since 2007.
5. Kurt Sutter looks exactly like Leonard from The Big Bang Theory in the photo above but certainly not all the time. Just in that picture. We think.