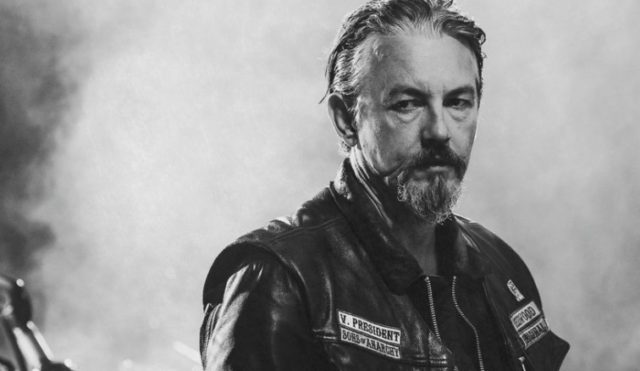 One of our first memories of watching Tommy Flanagan was in 1995's Braveheart. He had his scars then, and we'd have to admit that if he didn't, his character probably wouldn't have been as effective. Still, from there on, we recognized Flanagan with his scars as part of his entire look, and we absolutely dig it. The rest of Hollywood does as well because his body of work is proof that you don't have to have the most flawless face to be successful in Hollywood. As a matter of fact, Flanagan's appeal goes way beyond that. In one of his famous roles on television as Telford ("Chibs") in Sons of Anarchy, he had a look that was the perfect bad boy appeal.
Many people have wondered how Flanagan might have gotten the facial scars that he bears today. You can probably imagine that if he weren't as popular and if his face wasn't as recognizable today, it'd probably be a little uncomfortable looking at his face. However over the years, his scars have become his staple and his sell. As great as his look may be for his job today, the way Flanagan got his scars wasn't exactly the best story to tell (or probably relive for that matter).
The Scottish actor was born is Easterhouse, Glasgow, in what wasn't the best part of the neighborhood. The story goes that Flanagan was out at a pub one night having a normal time, and as he was leaving the pub, a group of people attacked him and tried to rob him. You can imagine that Flanagan probably put up a fight, but there were just too many attackers for him to contend with. These attackers slashed his face from ear to ear, leaving him with an injury that was to scar him for the rest of his life. This scar became known as the Glasgow Grin or the Glaswegian Smile.
This scar will also be Flanagan's most recognizable feature. How he recovered from such a horrific experience and personal ordeal isn't entirely lost on us; though we're not sure how he did it. But it's all a sentiment to what kind of a person he truly is and how much he is willing to push the boundaries for his passion for acting and performing. Soon enough, he got a role in Braveheart, and the rest was history.
Some of Flanagan's most prominent movie roles besides Morrison from Braveheart include Scarface from The Saint (1997), Leo from Face/Off (1997), Cicero from Gladiator (2000), Mark Verheiden from Alien vs. Predator (2004), Lazlo Soot from Smokin' Aces (2006), and most recently Tullk Ul-Zyn from Guardians of the Galaxy Vol. 2 (2017). On television, his most recent guest roles in shows since he starred as Filip Telford ("Chibs") in Sons of Anarchy (2008-2014) include shows such as Revenge (2015), Peaky Blinders (2013), Gotham (2015), and Motive (2016).
Flanagan never once let his scars slowed him down, and he's not slowing down any time soon. He's got at least 9 projects currently in production or just completed.