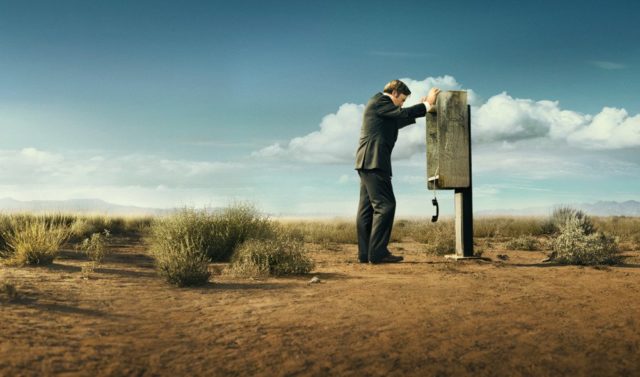 How many of us watched the series finale of Breaking Bad with a sense of triumphant loss? Where we loved our villainous hero and sank with him to the depths of desperation while vicariously living through his desires to wrench success's heart out with his bare hands. That show gave us a lot, apart from being, arguably, one of the best TV shows ever made, it also gave us Saul Goodman- the shadiest, sloppiest and most crooked yet sincerely straightforward lawyer in Albuquerque, New Mexico.
The character of Saul in Breaking Bad had so many nuances that seemed to have much potential, that creators Vince Gilligan (of Breaking Bad fame) and Peter Gould decided to make an entire show around his agonizing misadventures. The premise of the story is a small-time lawyer James Morgan "Jimmy" McGill played by Bob Odenkirk, and follows his misadventures six years before his character on Breaking Bad as Saul Goodman.
The main reason why the show is on a roll and well into its third season is because it appeals to the viewers' sense of wit and empathy. This is a clear case of siding with society's mediocre class and hoping they make it in life through their wit and wily ways. This show makes so much sense to the person who has had to deal with more than their fair share of crappy relationships. And this is why we root for the underdog- Jimmy McGill who has his unique take on everything and never wants to admit that he has an almost half-decent heart buried in there somewhere. Watching this show, you find yourself grappling with how you can find a sleazy, corrupt lawyer with a greasy comb over, this endearing.
The show took a while to set the tone in its genuine goodness as is with any show that would succeed Breaking Bad, but it really came to its own. Bob Odenkirk truly has owned his title character and never disappoints to bring out his sharp, wry and vulnerable presence. He shines as Jimmy McGill, a lawyer who seems to be going around in circles of nothingness and just when you think he and the show is out of ideas, there is something that will happen that will cause us to understand that nothing in life is caused by major light bulb moments, it's the slow metamorphosis of events that lead to life's changes. Jimmy and his yellow Suzuki esteem are exactly in the right place and at the right time.
Critics and fans are delighted at how the show is going from strength to strength. The third season is only just half way done and there are claims that this show could be better than Breaking Bad. In the beginning there were genuine concerns whether or not it could shake off Breaking Bad's shadow but now all that is put to rest as Jimmy navigates these waters in impressive fashion.
The show has won many accolades and has also delighted loyal viewers with the return of familiar characters from Breaking Bad.
We live in an age of truly stellar TV shows. Each one is more mind blowing that the next, where there is no dearth of sex, drama, comedy, blood, gore, deception. It is such a joy to consider Better Call Saul a TV show that has made its mark in its truest fashion. Kudos to Gilligan and Odenkirk for their amazing contribution and here's hoping that they will continue to keep up the great work.
We can't wait to see how Jimmy will become Saul Goodman. We know how this story will pan out; such is the nature of prequels. Jimmy will sink deeper into seedier depths of corruption and will be reborn as the unapologetic, money laundering dirt bag, Saul Goodman. Or better yet, since the show is this good, we won't mind the wait that much. So why not enjoy the ride and immerse yourself into the masterful storytelling and the top notch performances in Better Call Saul. If you loved Breaking Bad, and haven't seen this one yet… what are you waiting for?