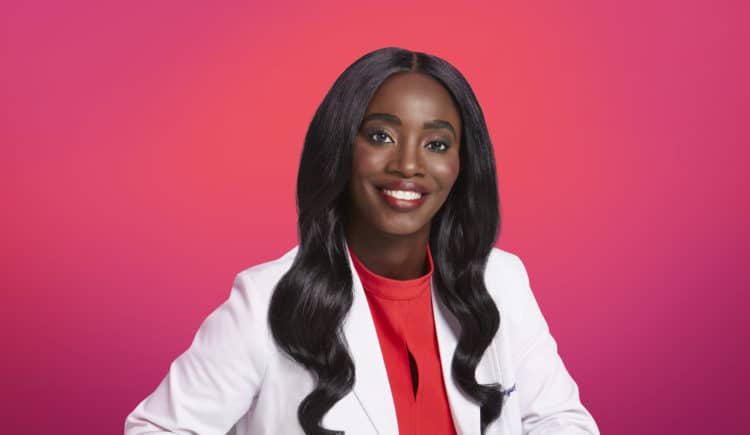 Over the last few years, there has been an increase in the number of reality shows centered around doctors treating patients for various conditions and injuries. However, since reality TV is known for being the opposite of real, every time one of these shows pop up people can't help but wonder about the doctor's credentials. As one of the latest doctors to get their own show, lots of fans are wondering whether or not Dr. Mercy is the real deal. While it appears that she's excellent at what she does, it'll be interesting to see if she has the credits to back up what she's been showing the world on TV. Is Dr. Mercy Odueyungbo a real doctor? Keep reading to find out.
What Is Dr. Mercy's Show About?
Before we get into Dr. Mercy's credentials, it's probably a good idea to get into why she's on TV in the first place. Her show, which is simply titled Dr. Mercy, debuted on TLC in 2021 and it quickly became popular among viewers. Similar to another TLC favorite, Dr. Pimple Popper, Dr. Mercy's show is all about handling issues involving the skin. However, instead of popping pimples and other fluid-filled bumps, Dr. Mercy treats rare skin conditions. Throughout her work, Dr. Mercy has been able to change people's lives both mentally and physically. Thanks to her treatment, countless people have been able to rebuild their confidence and sense of self-worth.
Is Dr. Mercy Really A Doctor?
Okay, now it's time to get down to the nitty-gritty. The good news is that Dr. Mercy isn't just playing a doctor on TV. She's a real-life doctor and she's had top-of-the-line training. Not only is she well-liked by her patients, but she's also well respected by her colleagues. After earning a bachelor's degree from the University of Iowa, she went on to attend Indiana University School of Medicine. She completed her residency in New York City at Mount Sinai-St. Luke's Roosevelt Hospital. According to her website, she "is committed to excellence in dermatologic care and specializes in general medical dermatology. She is recognized for her expertise in the treatment of skin cancer using Mohs micrographic surgery. Dr. Odueyungbo also holds special interest in aesthetic enhancements including botox, fillers, laser treatments and has completed extensive training in liposuction surgery". The scope of her practice extends far beyond what we've seen her do on the show. She is the medical director at Lilly Dermatology and the practice prides itself in providing high-quality healthcare to its patients.
How Did She Get The Opportunity For The Show?
As a dermatologist, Dr. Mercy probably never imagined that she would eventually become a reality TV star. However, things in life tend to have a funny way of working out. When asked how the idea for the show came along, Dr. Mercy told Essence Magazine,
"…the network was looking to do a new show with five dermatologists in New York. They came across me on social media and reached out and said that they had a feeling about me and added me as the sixth dermatologist. From there, they decided to focus on me and my life in this little town in Michigan. However, due to COVID-19 constraints, they decided to focus the first season on my Chicago practice."
At the moment, the show has not yet been renewed for a second season, but there are lots of fans who are hoping the announcement is made soon.
Who Is Dr. Mercy Outside Of Her Show?
Thanks to reality TV, we've all gotten the chance to see Dr. Mercy's professional side. However, there's a lot more to her than that. Dr. Mercy was born in Nigeria and she relocated to the United States with her family when she was 10 years old. The importance of education is something that was instilled in her from an early age, and her father's work as a nurse was a great inspiration to her. During her interview with Essence Magazine, Dr. Mercy said, "Growing up I was always around surgical equipment, etc., as my father was an ER nurse. In school, I was going to be a plastic surgeon, but something just didn't feel all the way right about it. A professor suggested I look into dermatology and I just knew it was meant for me." In addition to having a successful career, things in Dr. Mercy's personal life have also gone well. She is happily married to former professional football player Tony Jackson. The couple tied the knot in 2015 and they have one child together. When she isn't busy with work, Dr. Mercy loves spending time with her family.
Tell us what's wrong with this post? How could we improve it? :)
Let us improve this post!