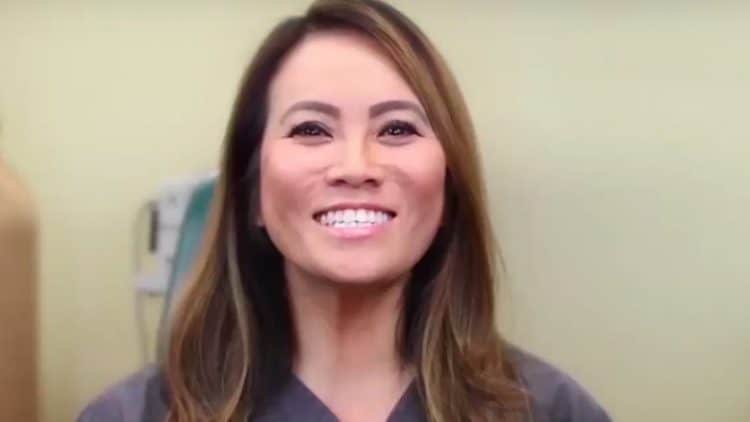 Dr. Sandra Lee, better known as Dr. Pimple Popper, has become one of the most well-known dermatologists in the business. After finding success on YouTube with her pimple popping and extraction videos, she was given her own TV show on TLC. Although some people are completely grossed out at the thought of watching blood and pus ooze from someone's skin, there are a surprising number of people who love it. But while watching the show is enough for some people, there are people who would love the chance to get an appointment with the famous doctor. If you're interested in knowing just how much it costs for a session with Dr. Pimple Popper, today is your lucky day. Keep reading to find out how much it costs to go on Dr. Pimple Popper.
The Cost Of Being Featured On The Show
When most people dream of going to see Dr. Pimple Popper, they also dream of being featured on her show. The good news is that if you are selected to be on the show, you won't have to pay out of pocket for your visit. According to an article from Allure, the show pays for travel, accommodations, and treatment for all patients on the show. With that said, however, not just anyone can be on the show. Since the producers are obviously looking for content that will draw viewers in, people who want to be featured must meet a few requirements. Allure says, "Dr. Pimple Popper is looking specifically for people with lipomas, cysts, large growths, undiagnosed skin conditions, or something "oozing, draining, or bleeding."
In order to be considered, applicants must send a photo of their skin to the production team as long as a backstory on how issues with their skin have impacted their lives. At the moment, it doesn't look like the show is currently casting. According to Refinery 29, however, here are casting agents who are hired by TLC to find potential patients for filming. But they're always reaching out on open forums — like Reddit or Facebook Ads — asking for public submissions, which can be made to Popper@aberrantcreative.com."
Prior to the popularity of the show, Dr. Pimple Popper also offered free treatment for patients who were willing to let her film their procedures for her YouTube channel.
How Much It Costs To See Dr. Pimple Popper Without Being On The Show
Of course, there are plenty of people who have no interest in being on TV but would still like a chance to score an appointment with Dr. Pimple Popper. The good news is that it's totally possible to get an off camera appointment. Dr. Pimple Popper's office, Skin Physicians and Surgeons, is located in Upland, CA. There is a contact form on the office's website where patients can request a consultation. Patients who don't live in the area can also opt for an online consultation for a fee of $200.
The prices for all of the services offered at Skin Physicians and Surgeons aren't listed on the website, but Mamma Mia reports that an extraction can cost between $500 and $600. If that price sounds a little steep to you, you may still be able to save some money if the procedure is covered through your insurance.
It's important to note though, that some insurance providers will only covered the cost of procedures that are deemed necessary. As always though, you'll want to look at the specifics of your policy so you can fully understand exactly what's covered. You should also keep in mind that Dr. Pimple Popper's schedule is usually pretty full and people come from all over the world to see her. So even if you request an appointment with her you may be seen by another physician at the office. Dr. Pimple Popper's husband, Jeffrey Rebish, is also a dermotologist who works at Skin Physicians and and Surgeons.
The Future Is Looking Bright For Dr. Pimple Popper
Now in the fifth season of her show, business is better than ever for Dr. Pimple Popper and it isn't showing any signs of slowing down. She's written a book and launched a skincare line, and more and more opportunities just keep pouring in. Not only is her skill level a force to be reckoned with, but people just love being around her. The level of care and compassion she brings to each appointment is unmatched. There are very few people who can make something as gross as an oozing pimple seem interesting and entertaining, and Dr. Pimple Popper is proud to be one of them.