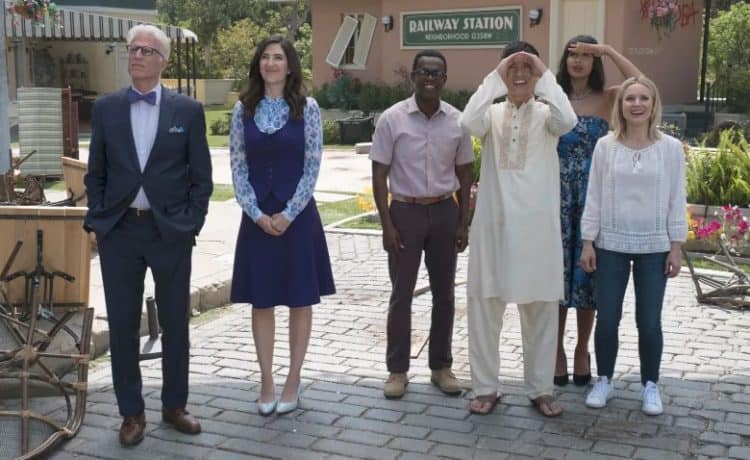 The Good Place is the advanced philosophy class you never had in college. The sitcom, created by The Office's and Parks and Recreation's Michael Schur, talked about heavy stuff like death, mortality, the afterlife, and the philosophical concepts of good and evil, all the while featuring the comedy chops of Kristen Bell and Ted Danson. The show aired for four seasons on NBC and starred Bell as Eleanor Shellstrop, a woman who didn't exactly live a decent life on Earth, but still finds herself roaming heaven — or in the show, "The Good Place" — in the afterlife. All is not what it seems, however, as Eleanor discovers more about what it means to live beyond death. The show also features Danson as Michael, the architect of The Good Place; Jameela Jamil as Tahani, a British socialite who also finds herself in The Good Place; Manny Jacinto as former disc jockey Jason Mendoza; and William Jackson Harper, a philosophy professor who finds himself being the afterlife soulmate of Eleonor. The sitcom also featured brilliantly written recurring characters, played by actors like Adam Scott, Maya Rudolph, and Marc Evan Jackson. The Good Place is a highlight on the already-impressive careers of Kristen Bell and Ted Danson, and it also catapulted Jameela Jamil, Manny Jacinto, and William Jackson Harper to stardom. Without counting guests and recurring stars, here are the three richest cast members of The Good Place.
Jameela Jamil ($2 million to $5 million)
Jameela Jamil portrayed Tahani Al-Jamil in The Good Place, a one-percenter socialite who, during her life on Earth, spent most of her time doing what rich people do: philanthropy, hanging out in yachts, and settling conflicts between Mark Zuckerberg and Eduardo Saverin. Jamil spent her early showbiz career as a presenter, hosting popular British shows like Freshly Squeezed, T4, and Playing It Straight. She also frequently appeared in shows like Celebrity Juice and The Great Comic Relief Bake Off. She moved to Los Angeles in 2016 to pursue acting, where she landed a lead role in The Good Place. Talking to CNBC about the story behind her audition for the role, Jamil admitted to having fabricated a few things about her past acting experience (which was zero): "I also told the casting director that I had acting experience, which was a lie. I told her I'd been onstage, but I was talking about my school days," she says. When Schur asked if she had improv comedy experience, she fibbed once again. "I was like, 'I love Improv! Did loads of that on the theater in England!'"
After The Good Place, she returned to TV hosting, becoming the face of The Misery Index. She also recently landed a role in the Marvel Cinematic Universe as Titania, a main antagonist in the upcoming Disney+ series She-Hulk. TheWikiFeed estimates her net worth at $5 million, while TheThings report a more conservative number at $2 million. Earlier this year, Jameela Jamil and her beau, musician James Blake, were reported to have purchased a nice mansion atop Mount Olympus in Los Angeles for $4 million. The Dirt described their new digs as follows: "Custom built in the late '90s, the house is best described as not adhering to any particular architectural persuasion. The offbeat structure rests on a steeply sloped hillside lot and is marked out front by an austere cream-and-white façade that's somewhat contemporary but also vaguely Grecian and Italian, with a columned portico, a handful of arched windows and a border of towering cypress trees."
Kristen Bell ($40 million)
It's no surprise that Kristen Bell ranks second in this list, reportedly enjoying a decent Hollywood net worth of $40 million. The actress has constantly played lead roles in TV and film before she landed the main character in The Good Place, a project that she's truly enjoyed. Speaking with Entertainment Weekly, Bell talked about the lasting impact the show has on her life: "I am taking some time to look inward, to be present for my family. I will keep up the friendships with these people and the crew. I know where all the camera guys have landed and on what shows. I know where the grips have landed. These friendships will be forever. As far as my life, I am hoping to affect people in a little bit more personal, intimate way. I think I'm going to take a step back from shooting anything for a while, be there for my kids, be there for my husband, do some charity work and affect the people directly around me." Before becoming the star of The Good Place, Kristen Bell was most popularly known as the titular character in Veronica Mars. She also appeared in Heroes, Unsupervised, and even Parks and Recreation. In movies, she portrayed characters in Forgetting Sarah Marshall (her first lead film role), When In Rome, and Scream 4. She received worldwide acclaim for providing the talking and singing voice for Anna in the Frozen movies, alongside Idina Menzel and Josh Gad. She also played roles in hilarious comedies such as Bad Moms and Queenpins. Kristen Bell and her husband, actor Dax Shepherd, own a $4.3 million mansion in Los Angeles, which they recently had renovated, according to The Daily Mail. The two also run a startup called Hello Bello, which sells all-natural baby products like diapers and wipes. The company is expected to hit $200 million in sales in 2021, according to CNBC.
Ted Danson ($80 million)
It's not a coincidence that the oldest and most accomplished actor of the main cast also has the most impressive net worth. According to Celebrity Net Worth, Ted Danson has a current net worth of $80 million. Danson is a veteran of TV and films. He played the main character, Sam Malone, in the NBC comedy Cheers. He also frequently appeared in the CSI franchise as Director D.B. Russell. Danson portrays a fictionalized version of himself in Larry David's Curb Your Enthusiasm, a role he started in 2000 and continues to reprise to this day. On the big screen, he's played roles in Saving Private Ryan, Three Men and a Little Lady, and Big Miracle. Ted Danson has an impressive real estate portfolio. In 2018, he and his wife, actress Mary Steenburgen, purchased the house next to theirs for more than $5 million, according to Daily Mail.
Tell us what's wrong with this post? How could we improve it? :)
Let us improve this post!